Photography
Photography posing tips! – PinLaVie.com. Home – PinLaVie.com. 40 Awesome Photo Effect Tutorials. No matter how long you've been working with Photoshop, its abilities are always bound to impresses us.
The modern world of social networks and mobile applications can help you to edit a shot and share it with friends in no time. But if you want to create something really amazing, go through a few photo effect tutorials. They will improve your editing skills and take you to the next level. Inspiring Photography by Stefan Hefele.
Blog / Halloween Costume Ideas. If you are looking for last minute Halloween ideas, be it costume, makeup or photo shoot inspiration, then check out these beautiful images by Rebeca Saray.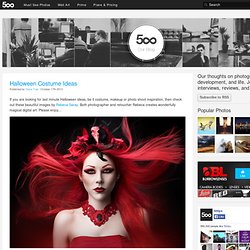 Both photographer and retoucher Rebeca creates wonderfully magical digital art. Please enjoy... We hope you enjoyed Rebeca's work. To follow her future progress and to get in touch with Rebeca visit her 500px page. Blog / Meet Liat Aharoni. Over a year ago Liat picked up a DSLR camera for the first time, which is impossible to guess from looking at her photos.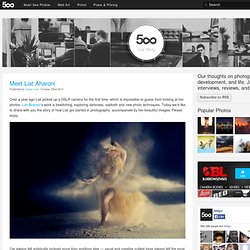 Liat Aharoni's work is bewitching, exploring darkness, sabbath and new photo techniques. Today we'd like to share with you the story of how Liat got started in photography, accompanied by her beautiful images. Please enjoy. I've always felt artistically inclined more than anything else — visual and creative outlets have always felt the most natural to me. 50 Beautiful River Photography. Rivers are a natural course of water which generally rises from the snow clad mountain tops and after traversing through mountains, hills, plains and other landform features end up in the sea.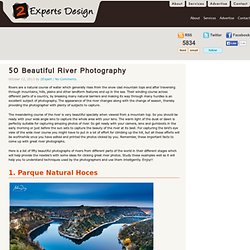 Their winding course across different parts of a country, by breaking many natural barriers and making its way through many hurdles is an excellent subject of photography. The appearance of the river changes along with the change of season, thereby providing the photographer with plenty of subjects to capture. The meandering course of the river is very beautiful specially when viewed from a mountain top. So you should be ready with your wide angle lens to capture the whole area with your lens. Senegalese Wedding (Babs & Jayna) on Behance. NASA Officially Joins Instagram, Already Uploading Awesome Space Photography. Although there's no shortage of accounts on Instagram where you can see some great space photography courtesy of NASA, the space agency just upped the ante by officially joining the social photo sharing platform itself.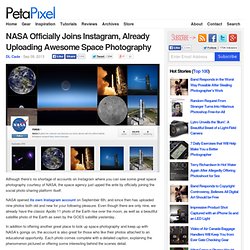 NASA opened its own Instagram account on September 6th, and since then has uploaded nine photos both old and new for your following pleasure. Even though there are only nine, we already have the classic Apollo 11 photo of the Earth rise over the moon, as well as a beautiful satellite photo of the Earth as seen by the GOES satellite yesterday. Aurora Natural Phenomenon. Auroras are stunning visual displays of light, which may appear to dance across the sky.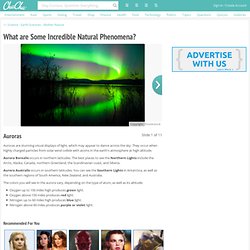 They occur when highly charged particles from solar wind collide with atoms in the earth's atmosphere at high altitude. Aurora Borealis occurs in northern latitudes. The best places to see the Northern Lights include the Arctic, Alaska, Canada, northern Greenland, the Scandinavian coast, and Siberia. Aurora Australis occurs in southern latitudes. 30 Photoshop and Photography Tutorials. On Psdtuts+, we are know that many of you reference our content in your studies.
Lots of our readers are students in schools all over the world. Unfortunately, summer is coming to an end for many of you. Nikon Patent Solves Camera Overheating by Integrating Removable Heat Storage. As DSLRs become more and more capable video capture machines, the problem of overheating becomes a more pressing one.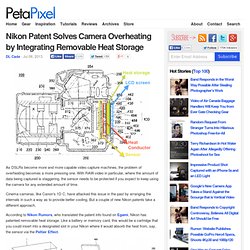 With RAW video in particular, where the amount of data being captured is staggering, the sensor needs to be protected if you expect to keep using the camera for any extended amount of time. Cinema cameras, like Canon's 1D C, have attacked this issue in the past by arranging the internals in such a way as to provide better cooling. Noir 2. Get 10 free photos every 10 days | Photography. Unsplash is a simple site that offers 10 free images, every 10 days, that you can do whatever you want with.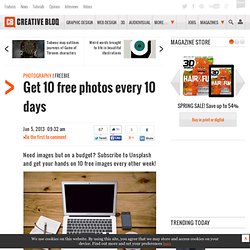 A fantastic resource, Unsplash was created by ooomf, an invite-only online marketplace for creative talent. Free of charge and free of copyright, under a Creative Commons CC0 designation, you can use the posted photos for any project you choose. To get 10 free photos deivered to your inbox every 10 days, subscribe here. Photography in Action: Sports Photography Tips and Inspiration. We are certain that you have seen a local paper with an image of your favorite boxer giving a powerful punch to his opponent or maybe a picture of the baseball team you so fancy, raising the trophy they have won in the championship game.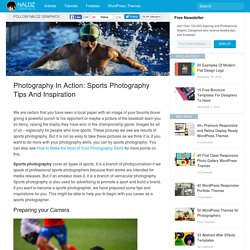 Images for all of us – especially for people who love sports. These pictures we see are results of sports photography. But it is not as easy to take these pictures as we think it is. If you want to do more with your photography skills, you can try sports photography. 30 Magnificent Examples of Cloud Photography. One of the most interesting subjects to be photographed is the stunning beauty of our mother nature. Our nature has a number of aesthetically pleasing elements which amazes us through its majestic beauty in existence. Clouds is one example which can be breathtaking to look at. Its rare formations, textures and impressive colors can really produce extraordinary shots regardless of whether it is puffy white fair-weather clouds, light cirrus clouds or dark storm clouds. Gallery of Backlit Photography.
Creative backlights are often used to lend an artistic and enigmatic touch to photographs. In fact, if done properly, backlights can single-handedly transform an ordinary photograph into a masterpiece. In this gallery, we present to you some of the finest examples of backlit photography. Portrait of my Sister and my Son Love's Spark Julie & Pete. Back to The Future - 25 Old and New Photographs by Irina Werning. 25+ Death-Defying Photographs by Vadim Mahorov. 30 Beautiful Examples of Sunrise Photography. Sunsets are some of the most beautiful things we have in life. Every single day is like a brand new beginning. You have to wake up early to seize the day, and catch the sun at one of it's most beautiful moments. Apart from the heat, uvrays, and other bad things that the sun outputs, we should be really thankful for it. 45 Beautiful Examples of Animal Photography. Landscape Photography by Antony Spencer. 20 Fast Tips for Portrait Photography. 30 photographs that will blow your mind.
Photography and Photos of the Day - National Geographic. Beautifully Webdesign Links. Editor's Choice.
---