Schach
NEW USERS: Getting Started Chessgames.com is a database of historical chess games combined with discussion forums, forming the internet's oldest and best chess learning community. You are encouraged to participate and learn from players stronger than yourself, while guiding those who are weaker. Register now. It's quick, free, and anonymous.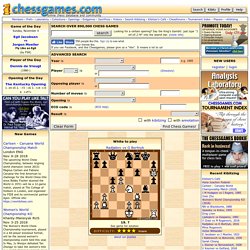 Chess in Translation: Russian chess news and interviews in English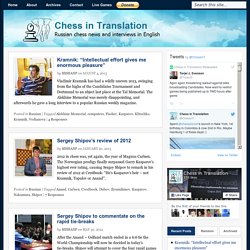 Sergey Shipov's review of 2012 By mishanp on January 20, 2013 2012 in chess was, yet again, the year of Magnus Carlsen. The Norwegian prodigy finally surpassed Garry Kasparov's highest ever rating, causing Sergey Shipov to remark in his review of 2012 at Crestbook: "He's Kasparov's heir – not Kramnik, Topalov or Anand". Sergey Shipov to commentate on the rapid tie-breaks By mishanp on May 30, 2012
GM Damian Lemos: Crushing the Queen's Indian Defense GM Damian Lemos: Crushing the Queen's Indian DefensePosted on January 13,2014 By GM Damian Lemos in All Articles w/ Videos, General Chess Articles. The Queen's Indian Defense is an extremely popular chess opening for black against 1. d4 because it retains a very solid foundation on key positional concepts. In the below chess video, Grandmaster Damian Lemos demonstrates several dangerous attacking ideas for white against the Queen's Indian Defense by analyzing an impressive victory of Veselin Topalov over Ruslan Ponomariov. Topalov responded to Ponomariov's play on the queenside by pushing fo[...]Tata Steel Chess 2014 - Round 1 - Analysis by GM Damian LemosPosted on January 12,2014 By GM Damian Lemos in Tournament Updates, All Articles w/ Videos, General Chess Articles. Sergey Karjakin - 2776 - Russia In this video GM Damian Lemos analyzes the 1st round of Tata Steel 2014 between Grandmasters Loek Van Wely and Sergey Karjakin.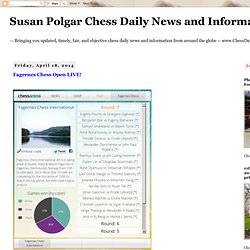 Schach, Schachprogramme, Schach spielen im Internet
Jan Gustafsson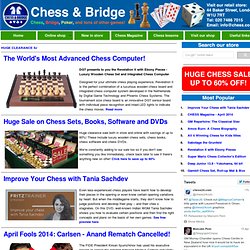 Dominic Lawson takes on public figures Across The Board as chess comes to Radio 4 Chess author and aficionado Dominic Lawson will square up to former heavyweight champion boxer Lennox Lewis, among others, as part of a BBC Radio 4 series that sees chess moves return to BBC radio for the first time in half a century. BBC The Master Game The eagerly awaited Master Game series will be available for sale in store and online from Monday 29th July 2013. All UK pre-orders will be received on this day - order yours now to get it first! Both series are available to order here: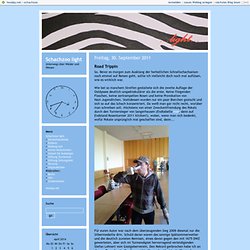 Irgendwie ist mir aufgefallen, dass es keinen echten Vorteil bietet, den nächsten Beitrag immer und immer wieder aufzuschieben. Immerhin wird die Themenauswahl von Woche zu Woche auch nicht gerade kleiner. Also los. Den letzen Artikel schrieb ich am 7. September, am Vorabend des LGA-Cups in Nürnberg. Vielleicht war gerade das der Fehler und ich hätte in dieser Zeit lieber zum Arzt gehen sollen.
Schachzoo light