Londres Novembre 2010
Broadcast Yourself.
in® Forum | Protein Forum #7
Home - Textile Design Laboratory
greyworld | Playing in the City
Parasol unit: EXPOSURE 10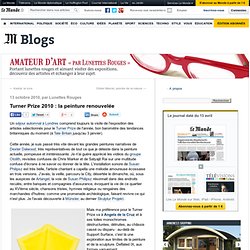 Turner Prize 2010 : la peinture renouvelée - Amateur d'art - Blog LeMonde.fr
Un séjour automnal à Londres comprend toujours la visite de l'exposition des artistes sélectionnés pour le Turner Prize de l'année, bon baromètre des tendances britanniques du moment (à Tate Britain jusqu'au 3 janvier). Cette année, je suis passé très vite devant les grandes peintures narratives de Dexter Dalwood, très représentatives de tout ce que je déteste dans la peinture actuelle, pompeuse et inintéressante. Je n'ai guère apprécié les vidéos du groupe Otolith , revisites confuses de Chris Marker et de Satyajit Rai sur une multitude confuse d'écrans à ne savoir où donner de la tête.
Au sous-sol de White Cube Mason's Yard (jusqu'au 13 novembre), on s'installe dans la pénombre sur des canapés confortables et on regarde le film. C'est un montage, un collage de séquences de films hollywoodiens et on repère très vite qu'il y est toujours question de l'heure, et qu'un cadran, une montre, un réveil, une horloge, une pendule apparaissent constamment à l'écran. on commence donc par tenter d'identifier les scènes, les acteurs, les films, pour suivre les petits bouts de narration ainsi offerts. Il faudra quelques minutes de plus au spectateur innocent pour réaliser que l'heure à l'écran est la même que celle sur son bracelet montre, devenu inutile : The Clock de Christian Marclay dure 24 heures et a été projeté, le premier soir, pendant 24 heures à la galerie*.
Quelle heure est-il ? et autres galeries londoniennes - Amateur d'art - Blog LeMonde.fr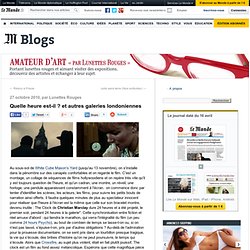 Chris O'Shea
Events: St Bride Library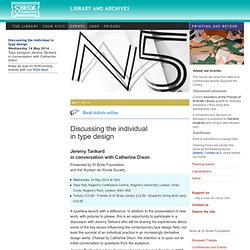 London: Mapping the Data City Wednesday 10 April 2013 How the millions of digital traces recorded each day give a better understanding of our great city Alan Fletcher's Colophon Thursday 9 May 2013 An overview of this influential designer's career and an insight into his largely unknown series of books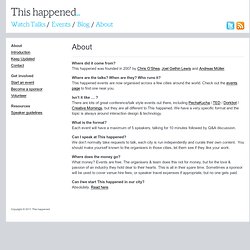 This happened...
Where did it come from? This happened was founded in 2007 by Chris O'Shea , Joel Gethin Lewis and Andreas Müller . Where are the talks? When are they? Who runs it? This happened events are now organised across a few cities around the world.
FULL FESTIVAL PROGRAMME ANNOUNCED: Pioneering festival onedotzero_adventures in motion returns this year to London's BFI Southbank from 10 – 14 November 2010, presenting the most exciting international moving image work, from the offbeat to the radical, aiming to push the boundaries of creativity, innovation and technological wonder. The festival permeates every space of BFI Southbank and the BFI IMAX , showcasing the most progressive new short film from around the world, feature film previews, playful interactive installations, startling live audiovisual performances, talks, workshops, director Q&As and this year for the first time at BFI Southbank, a gallery show. For specific event information for this year's onedotzero_adventures in motion 2010 festival, follow the links below: screening programmes + feature film previews installations Live AV events innervisions: talks + workshops onedotzero_cascade education 2010
_adventures in motion festival 2010 - onedotzero