Code lv3
Squeak is a highly portable, open-source Smalltalk with powerful multimedia facilities. Squeak is the vehicle for a wide range of projects from educational platforms to commercial web application development.
Smalltalk: About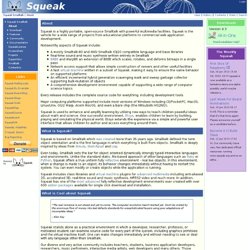 Apprendre la programmation aux enfants — Numahell's
Pour programmer
Apprendre la programmation à des enfants « guyhom.net
In a recent PC Pro article, Professor Steven Furber, developer of the ARM microprocessor, laments the sharp decline in interest in computer science classes in the UK. And although the U.S. hasn't seen that same drop in enrollment, a recent survey of some 14,000 U.S. high school teachers by the Computer Science Teachers Association found that only 65% of respondents taught in a school that offered some sort of introductory computer science course. As our world becomes more tech-oriented, educators are faced with not just teaching children how to use computers, but how to build and program them as well. ReadWriteWeb's Back to School Coverage: "We need to get students interested in computer science and that has to be done at an early age before they decide (incorrectly) that they can't do computer science or that it is dull and boring," says Alfred Thompson , Microsoft's K-12 Computer Science Academic Relations Manager.
Main Page - Teach Your Kids to Code
ART && CODE Symposium: Hackety Hack, why the lucky stiff on Vimeo
Environments for Teaching Kids to Program and Explorer the World Through Code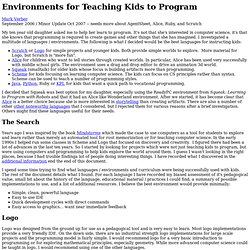 Mark Verber September 2006 / Minor Update Oct 2007 -- needs more about AgentSheet, Alice, Ruby, and Scratch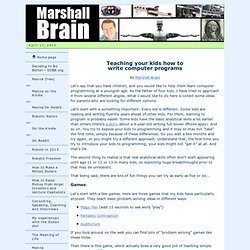 Teaching kids how to write computer programs, by Marshall Brain
by Marshall Brain
La programmation pour les non-programmeurs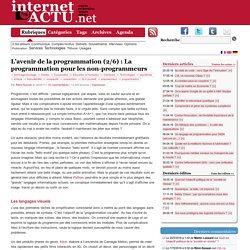 Par Rémi Sussan le 24/05/11 | 10 commentaires | 8,168 lectures | Impression
Teaching Kids Programming | The Baheyeldin Dynasty
In order to teach kids how to program, you need first to get them interested in something that is computer related. One of the best ways to get them interested in computers is games. They may want to write their own games, and that could be their entry into programming.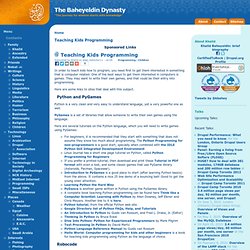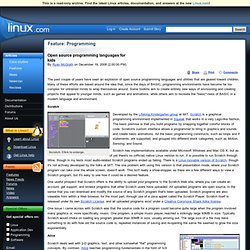 Scratch Scratch. Click to enlarge.
Open source programming languages for kids
Lifelong Kindergarten :: MIT Media Lab
MIT Media Lab Making Programming Fun For Kids
2006 August « Ideas for Teaching Computer Technology to Kids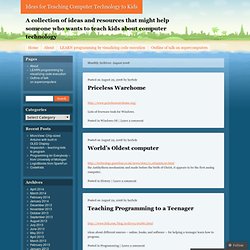 http://www.pricelesswarehome.org/ Lists of freeware tools for Windows. http://technology.guardian.co.uk/news/story/0,,1854509,00.html the Antikythera mechanism and made before the birth of Christ, it appears to be the first analog computer.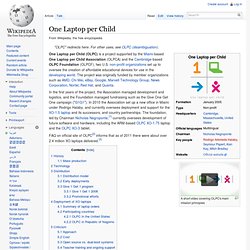 A short video covering OLPC's main mission principles One Laptop per Child (OLPC) is a project supported by the Miami -based One Laptop per Child Association (OLPCA) and the Cambridge -based OLPC Foundation (OLPCF), two U.S. non-profit organizations set up to oversee the creation of affordable educational devices for use in the developing world .
One Laptop per Child
Teaching Primary School Students Programming?
Scratch is a programming language learning environment enabling beginners to get results without having to learn syntactically correct writing first.
Lifelong Kindergarten :: MIT Media Lab
The Lifelong Kindergarten group is fortunate to be located within the MIT Media Lab, a hotbed of creative activity. In one corner of the Media Lab, students are designing new musical instruments. In another corner, students are designing new social-networking software.
Elementary school
Elementary school in Japan
Un article de Wikipédia, l'encyclopédie libre. Smalltalk est un langage de programmation orienté objet , réflexif et dynamiquement typé .
Smalltalk
ASAP Tutor, Homework Help for Accounting, Statistics, Business administration
The Genius behind HyperCard: Bill Atkinson
Author: from Quick Connect Date: November , 1987 Keywords: release profile interview Text: He is a dreamer, an inventor, a soft-ware artist, and one of the biggest names in personal com ing.
So - you want to Teach your Kids Computer Programming?
Build IT
How To Teach Programming To Kids
Three Things I Learned About Software in College
Plan informatique pour tous
Technology | Why Johnny can't code
Steve Furber: why kids are turned off computing | Interviews
chel Resnick
Apprendre à faire de la programmation à l'école et apprendre la programmation en dehors de l'école
Steve Furber: why kids are turned off computing | Interviews
A Change at Apple Causes Trouble for Adobe
Apple Removes Teaching App From App Store, and Educators Complain
MediaShift Idea Lab . Programming Language for Kids Banned from Apple App Store
Lifelong Kindergarten :: MIT Media Lab
web.media.mit.edu/~sylvan/SylvanDissertation2007.pdf
On the Education of Digital Natives | Suite101.com
www.mit.edu/~amonroy/papers/interactions.pdf
web.media.mit.edu/~mres/papers/Clubhouse/clubhouse-origins.pdf
llk.media.mit.edu/papers/ch-phd.pdf
web.media.mit.edu/~mres/papers/Learning-Leading-final.pdf
But at the same time, we made it harder for the... - viz.
Tech Know: Recreating the era of 8-bit computers
Teaching Kids To Code
Scratch Team Blog: Scratch on the iPhone
List of educational programming languages
Using Linux to Teach Kids How to Program, 10 Years Later (Part II) LG #167
Using Linux to Teach Kids How to Program, 10 Years Later (Part I) LG #166
‎4 Tools for Teaching Kids to Code