Ameublement
A BOHEMIAN HOME - INATTENDU
Home - Chesterfields1780 | Chesterfield Settees & antiqued Traditional Furniture, Chesterfield Sofas and Chesterfield Furniture
" Strafor, Jielde, Roneo, Gras... retrouvez les marques phares du mobilier industriel " Les sites Internet dédiés au mobilier industriel fleurissent sur le Web. Tant mieux pour les adeptes de ce style qui n'ont ni le temps ni les compétences pour dénicher eux-mêmes des pièces d'exception. Découvrez notre sélection de bonnes adresses. atelier159.com Spécialiste du design et du mobilier industriel, la boutique 'Atelier 159' a ouvert ses portes fin mai 2009, au 159 de la rue Breteuil dans le 6ème arrondissement de Marseille. Chaque objet de la boutique a été chiné et restauré avec soin.Chaque pièce conserve les traces de son passé en usine ou atelier, ce qui en fait un objet industriel unique.
Very Déco -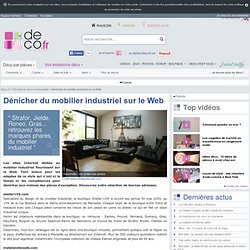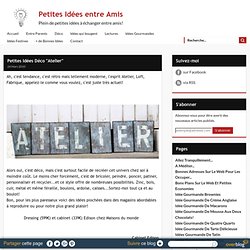 Ah, c'est tendance, c'est rétro mais tellement moderne, l'esprit Atelier, Loft, Fabrique, appelez-le comme vous voulez, c'est juste très actuel! Alors oui, c'est déco, mais c'est surtout facile de recréer cet univers chez soi à moindre coût. Le moins cher forcément, c'est de bricoler, peindre, poncer, patiner, personnaliser et recycler...et ce style offre de nombreuses possibilités. Zinc, bois, cuir, métal et même féraille, boulons, ardoise, caisses...Sortez-moi tout ça et au boulot! Bon, pour les plus paresseux voici des idées piochées dans des magasins abordables à reproduire ou pour notre plus grand plaisir! Dressing (599€) et cabinet (339€) Edison chez Maisons du monde
Petites Idées Déco "Atelier" - Petites Idées entre Amis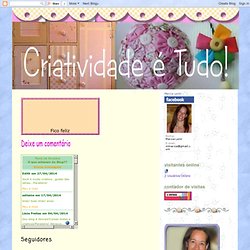 Decorar uma casa pra mim é uma tarefa tão fácil. Olhar td com capricho, combinar detalhes e as cores das paredes, estofados e objetos para valorizar o ambiente, apesar que uma combinação mal feita pode destruir sua decoração. É normal que, quando temos o nosso cantinho, sempre procuremos deixá-lo com a melhor aparência possível. Porém, pintar uma parede não é o mesmo que errar na composição do vestido e sapato.
Criatividade é Tudo_.@·._.·´¯)
▶ Spor - Pacifica (Kito & Reija Lee Vocal Remix) by Kito.
small-apartment-with-retro-touches-9.jpg (500×749)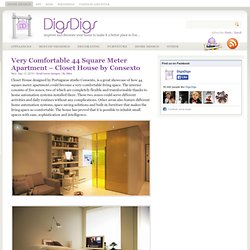 Closet House designed by Portuguese studio Consexto, is a great showcase of how 44 square meter apartment could become a very comfortable living space. The interior consists of five zones, two of which are completely flexible and transformable thanks to home automation systems installed there. These two zones could serve different activities and daily routines without any complications. Other areas also feature different home automation systems, space saving solutions and built-in furniture that makes the living space so comfortable. The house has proved that it is possible to inhabit small spaces with ease, sophistication and intelligence.
Very Comfortable 44 Square Meter Apartment – Closet House by Consexto
Cozy Interior of 45 Square Meter Apartment With Pink Accents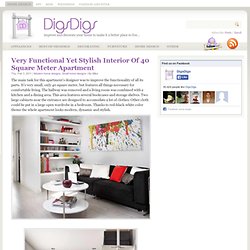 The main task for this apartment's designer was to improve the functionality of all its parts. It's very small, only 40 square meter, but features all things necessary for comfortable living. The hallway was removed and a living room was combined with a kitchen and a dining area. This area features several bookcases and storage shelves.
Very Functional Yet Stylish Interior Of 40 Square Meter Apartment
This apartment is a perfect example of how you well you can style and decorate a small living space. It's cozy, bright and cheerful. There aren't many walls in it because that is the only way to make small space more spacious. Everything is painted in white because that is an another way to visually enlarge the space. Some gray and lime accents make the interior more livable and interesting. The apartment doesn't feature a lot of furniture.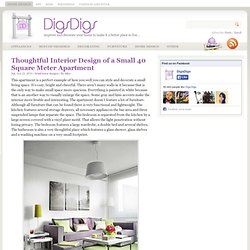 Thoughtful Interior Design of a Small 40 Square Meter Apartment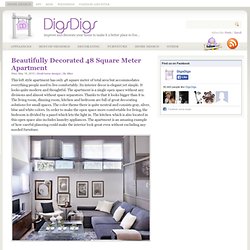 This loft style apartment has only 48 square meter of total area but accommodates everything people need to live comfortably. Its interior decor is elegant yet simple. It looks quite modern and thoughtful. The apartment is a single open space without any divisions and almost without space separators. Thanks to that it looks bigger than it is.
Beautifully Decorated 48 Square Meter Apartment
Kids Art Studio - eclectic - kids - boise - by The Vintage Glitter House
When They Need DesksAnd then there are the desks, which seem more necessary then ever these days. I am astounded by how much homework my three first-grade grandchildren have. Memory certainly dims, but I'm adamant that my sons' homework load was nowhere near what their children are bringing home. (OK, maybe they just never did theirs, but that's beside the point.)The twins would joyously embrace this desk arrangement, with its two identical chairs and shared workspace.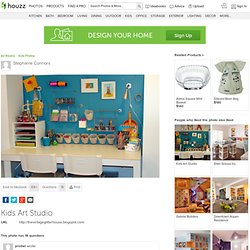 Interior Design Ideas from Greg Natale | Interior Design, Decorating, Furniture, - eclectic - home office - other metros
Home Office Ideas for Those of you Who are Working from Home
In the last few years working from home become easier and easier because of the internet. I'm one of those lucky people who work from home and I have to admit that I enjoy a great flexibility. Today I though to make a selection of a few home office ideas for those of you who are looking to decorate their new home office.
The small apartment that we would like to showcase in this post can be characterized by tastefulness, space and functionality, despite its modest size (40 square meters). It consists of one room and an alcove, plus bathroom. The living room is the core of this beautiful crib. The openness and direct contact with the kitchen makes this apartment the obvious place for entertaining and socializing. The wide windows ensure a proper amount of natural light which during day time is reflected by the white walls, creating the feeling of expansion. A charming wooden dining table and a home office were also well integrated in the living room.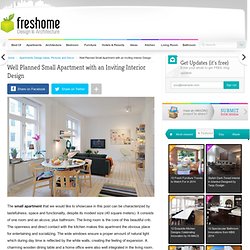 Well Planned Small Apartment with an Inviting Interior Design
Elegant Studio Design at Small Apartment Design with lots of Cool Ideas small studio apartment with cool ideas 1 – mytopinteriordesign
Small and Elegant Apartment Design Decorating in Tokyo - Apartment, Interior, Exterior, Office, Kitchen and Garden - Top Home and Decorating Ideas
40 Square Meter Apartment Comfy Design Ideas - Apartment, Interior, Exterior, Office, Kitchen and Garden - Top Home and Decorating Ideas
Amazing and Contemporary House Design Ideas – A Barn That Became A House - Apartment, Interior, Exterior, Office, Kitchen and Garden - Top Home and Decorating Ideas
MTH Woodworks and MTH Designs
Elegant and Minimalist Apartment with Clean White Small Design Ideas - Apartment, Interior, Exterior, Office, Kitchen and Garden - Top Home and Decorating Ideas
Amazing Airy Apartment With Storage Wall In Gothenburg - Apartment, Interior, Exterior, Office, Kitchen and Garden - Top Home and Decorating Ideas
Compact mais aérien, Ransa exprime à travers son esthétique et ses fonctions la quintessence du salon de lecture. Aussi à l'aise dans les petits espaces que les grands, ce canapé-bibliothèque se compose d'un sofa aux dimensions généreuses, doté d'une assise profonde, d'une structure enveloppante, qui semble léviter sur une base abritant un rangement pour les livres. Sacralisation de l'acte de lire, on s'y allonge, on s'y love, on s'y installe confortablement, seul ou à deux, pour un voyage immobile entre farniente et littérature… ses auteurs favoris toujours à portée de main.
Canapé-bibliothèque Ransa de Younes Duret | YOUNES DURET DESIGN
Canapé lit 2 places Nani - Canapés convertibles - Canapés et Fauteuils - Alinea.fr - Canapé lit 2 places
CHESTY , Canapés fixes, Canapés , Salons
435€d'économie 213454CHEST3CBLAPlein écran Canapé 3 places noir - Cuir buffle (1,1 mm) - Dos en refente de cuir (1 mm) - Assise mousse polyuréthane densité 22 Kg/m² - Structure en bois - Pieds en bois - Coloris : wengé. Descriptif détaillé (2 avis)Donnez votre avis Haut de page
CHESTERFIELD Canapé cuir noir - Achat / Vente CANAPE CLASSIQUE CHESTERFIELD Canapé cuir noir
CHESTY , Canapés fixes, Canapés , Salons
Five Small Rooms at the Interior Design Show
Salle à manger | Tabourets et bancs | BJURSTA | Banc
500 Internal Server Error
Canapé lit 2 places noir Wifi - Canapés convertibles - Canapés et Fauteuils - Alinea.fr - Canapé lit 2 places noir
Chaises et tables de bar
Table mange-debout avec allonge acacia massif certifié FSC KEWAN, Tout pour le salon, salle à manger collection Printemps Eté 2011
Alinéa, Meubles et décoration d'intérieur : salon, chambre, cuisine, salle de bain et bureau