Musique
Shigeto. Find your tracks.
Vidéos
Broadcast Yourself. UKFDubstep's Channel. Feed your hunger for new music with UKF - the destination for the most exciting electronic music from around the world.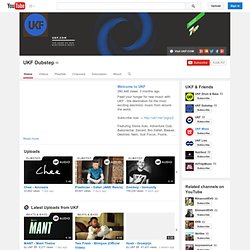 Subscribe now → Featuring Steve Aoki, Adventure Club, Bassnectar, Savant, Bro Safari, Baauer, Destroid, Nero, Sub Focus, Flume, Dillon Francis, Kill The Noise, Flux Pavilion, Wilkinson, Noisia, I Am Legion, Culprate, Far Too Loud. Check out for more.Sign up to the UKF Newsletter → Dubstep | Drum & Bass | Electro | House | Trap | Bass & Beats.