Facebook Use 2
Citroën
Fnac Officiel
Inbound Zombie - Social web strategies for non-profits and small businesses
American Apparel
Yeasty Mobs
Colorz | Creative Digital Agency
Advertisement Despite its privacy issues, Facebook clearly has a key role in global Internet activity. It has become a kind of universal social network, being used for both personal and business needs. For many individuals, companies and organizations, Facebook has become an integral part of their branding strategy and promotional campaigns. Facebook provides many tools for maximizing the effect of your presence on the social network, most of all by means of business pages, also known as fan pages.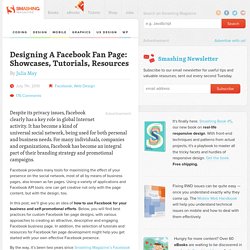 adidas Originals
Webdigi - Web Development
Buffalo Wild Wings
Room 214
HyperArts Examples
Digital Hill Multimedia, Inc.
TabSite - Bringing Websites to Facebook
The Corcoran Group
lissie
BURN MAROC
Media Aces
Crédit Agricole
Irena Vaksman, DDS