Social Networking
Top 50 Community Software, Social Network Scripts and Platforms | Vivalogo Resources. This is Vivalogo's list of best social network scripts and CMS', community software solutions and social networking platforms (kinda hard to say all these words :) ).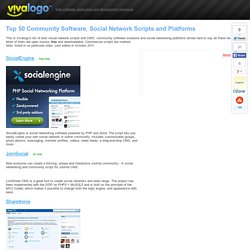 Most of them are open source, free and downloadable. Commercial scripts are marked.Note: listed in no particular order. Last edited in October 2011. SocialEnginefree trial. Build a Microblog with Django. Thus far in our introductory Django tutorial, we've installed the open-source Django framework, set up a blog and beefed it up by adding some extras like semantic content tags, some handy template tags and a list of our bookmarks from delicious.com.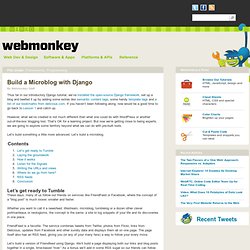 If you haven't been following along, now would be a good time to go back to Lesson 1 and catch up. However, what we've created is not much different than what one could do with WordPress or another out-of-the-box blogging tool. That's OK for a learning project. But now we're getting close to being experts, we are going to explore some territory beyond what we can do with pre-built tools. Create your own private Twitter site using WordPress. Getting ready Twitter success is the proof, microblogging is definitely something useful and efficient.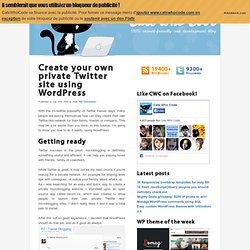 It can help you staying tuned with friends, family or coworkers. How to Build a Mini-Twitter Site With BuddyPress: Your Open... An exciting new BuddyPress plugin by Rich Fuller has arrived on the scene that enables users to add hashtags to their activities.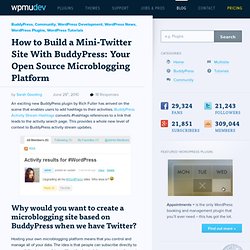 BuddyPress Activity Stream Hashtags converts #hashtags references to a link that leads to the activity search page. This provides a whole new level of context to BuddyPress activity stream updates. Hosting your own microblogging platform means that you control and manage all of your data. The idea is that people can subscribe directly to your activity stream updates, without having to join a new network, create a new profile, and pass all their data through a proprietary micro-blogging platform such as Twitter. In BuddyPress a user can subscribe directly to your feed, ie: or the feeds of any of your users.
Create your own private Twitter site using WordPress.
---