Time Management & Cals
Easy scheduling. Export your Google Calendar events to Excel. The Pomodoro Technique® Using the Pomodoro Technique? Time Yourself With Tomatoi.st: Online Collaboration « If you're using the Pomodoro Technique (a method that uses a timer to help improve concentration and focus that Meryl wrote about recently) you might like to check out Tomatoi.st, a simple but nicely designed web app that can time your pomodoros and your breaks.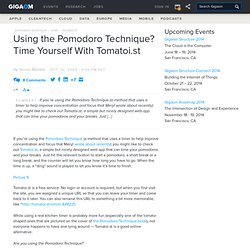 Just hit the relevant button to start a pomodoro, a short break or a long break, and the counter will let you know how long you have to go. When the time is up, a "ding" sound is played to let you know it's time to finish. How to focus. Doodle - easy scheduling. Have you ever wanted to demonstrate the simplicity of Doodle to your friends who haven't heard of us before?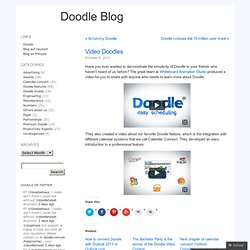 The great team at Whiteboard Animation Studio produced a video for you to share with anyone who needs to learn more about Doodle. They also created a video about our favorite Doodle feature, which is the integration with different calendar systems that we call Calendar Connect. They developed an easy introduction to a professional feature.
---