Perso INFO
Aquarius - Complete information about your sun sign. Aquarians basically possess strong and attractive personalities.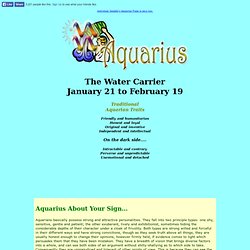 They fall into two principle types: one shy, sensitive, gentle and patient; the other exuberant, lively and exhibitionist, sometimes hiding the considerable depths of their character under a cloak of frivolity. Both types are strong willed and forceful in their different ways and have strong convictions, though as they seek truth above all things, they are usually honest enough to change their opinions, however firmly held, if evidence comes to light which persuades them that they have been mistaken.
Autobiography (J. Pietri) I was born (6 weeks premature) on Monday morning, January 23, 1950 at my parent's home on the grounds of my grandfather's coffee plantation, Hacienda Esperanza, in Barrio Guilarte (1843 feet up in the central mountains) of Adjuntas, Puerto Rico.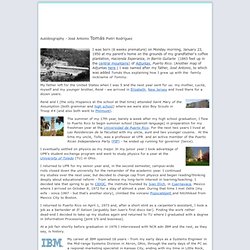 (Another map of Adjuntas here.) I was named after my father, José Antonio, to which was added Tomás thus explaining how I grew up with the family nickname of Tommy. My father left for the United States when I was 5 and the next year sent for us: my mother, Lucila, myself and my younger brother, René - we arrived in Elizabeth, New Jersey and lived there for a dozen years. René and I (the only Hispanics at the school at that time) attended Saint Mary of the Assumption (both grammar and high school) where we were also Boy Scouts in Troop #4 (and also both went to Philmont).
José Pietri.
---