Other recipes
Popcorn Recipes: Tips for Popping Heirloom Corn Varieties. Photo Cooking a pan of popcorn is so simple and satisfying that I'm always surprised when people say it seems like too much trouble.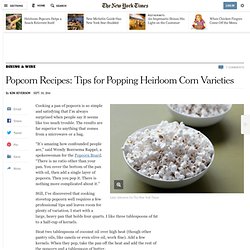 The results are far superior to anything that comes from a microwave or a bag. Tempura Recipe. Directions Whisk the cake flour and rice flour together in a medium glass bowl and divide it in half.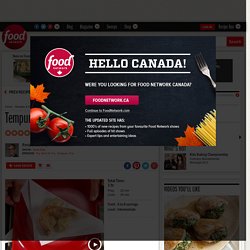 Set aside. Heat the vegetable oil in a 5-quart Dutch oven over high heat until it reaches 375 degrees F on a deep-fry thermometer. Once the temperature reaches 365 degrees F, whisk the egg, seltzer water and vodka, in a medium mixing bowl and divide it in half. Put half of the mixture in the refrigerator to reserve. IHM Sriracha, Lime, and Sesame Popcorn. Ice Cream Basics - Video.
Ice Cream
Millet Polenta With Tomato Sauce, Eggplant and Chickpeas. Spiced Mango Chutney With Chiles - Recipes. Preserving Mangoes and Pineapples at Their Peak. Mary F.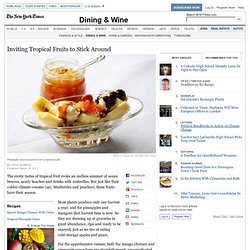 Calvert for The New York Times Pineapple sauce poured over a banana split. Most plants produce only one harvest a year, and for pineapples and mangoes that harvest time is now. Sauce Soubise. The sauce soubise or onion sauce is dedicated to the Marechal de France Charles de Rohan, Prince de Soubise who like a lot aristocrates of his time (XVIII's Century) was very interested in culinary arts.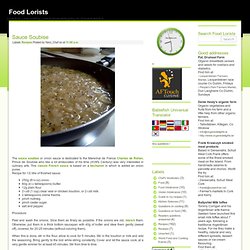 This classic French sauce is based on a bechamel in which is added an onion puree. Recipe for 1/2 litre of finished sauce: 250g (87/8 oz) onion.60g (41/2 tablespoons) butter.12g plain flour.21/2dl (1 cup) clear veal or chicken bouillon, or 21/2dl milk.2 tablespoons creme fraiche.pinch nutmeg.pinch caster sugar.salt and pepper. Soubise - Recipes. Foodie pearl. Enjoy the Best Fondue Tonight. Gwynnett St. Chef Justin Hilbert's Walnut Soup -- New York Magazine In Season Recipe. "Kimy" chocolate and hazelnut tartlets. Creamy Custards That Put Pudding to Shame. Culinary cliff dives « More Than Food. Several years after the Velvet Revolution freed Slovakia from Russia's perverse over-lording, the exit from the bus stop in Bratislava was lined with 4-5 makeshift food kiosks selling a variety of wares; shriveled potatoes, stray pieces of pork, homemade cheese (the kind that never melted) and bright red hot dogs whose flavor came from the fiery mustard slathered on them.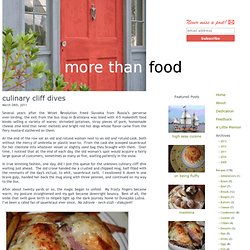 At the end of the row sat an old and rotund woman next to an old and rotund cask, both without the mercy of umbrella or plastic lean-to. From the cask she scooped sauerkraut for her clientele into whatever vessel or slightly used bag they brought with them. Better Living Through Homemade Yogurt | GOOD.
---