Education
UPR Recinto de Río Piedras. The University of Toledo : Ivan Illich. Ivan Illich (/ɪˈvɑːn ˈɪlɪtʃ/;[1] 4 September 1926 – 2 December 2002) was an Austrian philosopher, Roman Catholic priest, and "maverick social critic"[2] of the institutions of contemporary Western culture and their effects on the provenance and practice of education, medicine, work, energy use, transportation, and economic development.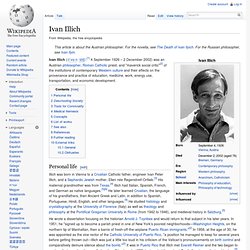 Personal life[edit] Centro Intercultural de Documentación. Un article de Wikipédia, l'encyclopédie libre.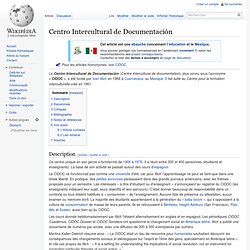 Pour les articles homonymes, voir CIDOC. Le Centro Intercultural de Documentación (Centre interculturel de documentation), plus connu sous l'acronyme « CIDOC », a été fondé par Ivan Illich en 1966 à Cuernavaca, au Mexique. Il fait suite au Centre pour la formation interculturelle créé en 1961. Description[modifier | modifier le code] The University of Akron : Home Page. Babson College. IBM Presidents Class.
---