Education
UPR Recinto de Río Piedras
The University of Toledo :
Ivan Illich (/ɪˈvɑːn ˈɪlɪtʃ/;[1] 4 September 1926 – 2 December 2002) was an Austrian philosopher, Roman Catholic priest, and "maverick social critic"[2] of the institutions of contemporary Western culture and their effects on the provenance and practice of education, medicine, work, energy use, transportation, and economic development. Personal life[edit]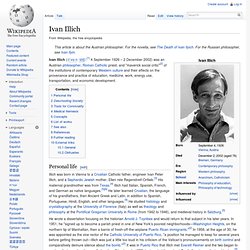 Un article de Wikipédia, l'encyclopédie libre. Pour les articles homonymes, voir CIDOC. Le Centro Intercultural de Documentación (Centre interculturel de documentation), plus connu sous l'acronyme « CIDOC », a été fondé par Ivan Illich en 1966 à Cuernavaca, au Mexique. Il fait suite au Centre pour la formation interculturelle créé en 1961. Description[modifier | modifier le code]
Centro Intercultural de Documentación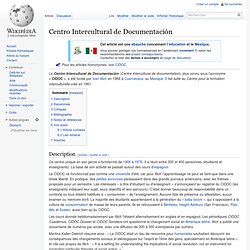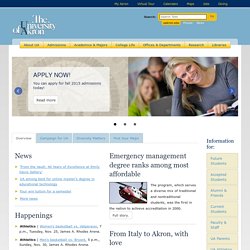 Aspirational Goals of Vision 2020 Twelve distinctive aspirations provide a foundation for achieving Vision 2020 and reflect the University's commitment to the principles of relevance (delivering tangible benefits to the campus and community), connectivity (achieving greater impact through partnerships, collaborations, and collective initiatives), and productivity, (adding value to the ecosystem with the University as an active agent of opportunity and innovation). These aspirational goals are: Enroll up to 40,000 studentsIncrease diversityIncrease graduation ratesEnhance job placementDiversify revenue sourcesIncrease annual research expendituresIncrease private philanthropyAttain national recognition for The Akron ExperienceRevitalize the campus neighborhoodAchieve recognition as a leader in academic innovationAttain national recognition for The Akron ModelBenchmark achievements against national and international peer universitiesSee also:UA's strategic plan: "Vision 2020"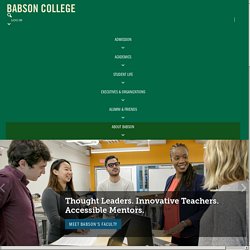 Jumping into the Food Fray From concept to cart, succeeding in the retail grocery industry poses challenges to entrepreneurs. Finding Success in the Nonprofit World Insight from Babson alumni and staff on the rewards of transitioning from for-profit to mission-driven career paths. A New Class of Entrepreneurial Leaders Masterclass entrepreneurs bypass conventional models and scale to reach important outcomes and create value.
IBM Presidents Class