Appetizers/Starters
Recette du Bonheur Le Cordon Bleu. Le Cordon Bleu 100-star recipe. Fresh Mozzarella, Tomato and Olive Pizza Pockets. Stuffed courgette flowers. Bon appétit bien sur - France 3. 1) Faire bouillir 1 dl de crème liquide dans une casserole.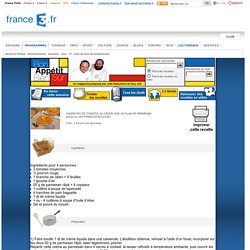 L'ébullition obtenue, remuer à l'aide d'un fouet, incorporer sur feu doux 50 g de parmesan râpé, saler légèrement, poivrer. Répartir cette crème au parmesan dans 4 verres à cocktail, la laisser refroidir à température ambiante, puis couvrir les verres d'un film alimentaire et les entreposer 2h00 minimum au réfrigérateur. 2) Monder 3 tomates moyennes, les couper en quartiers et les épépiner. Recette Aumônière aux abricots ganache au basilic - Refaire Aumônière aux abricots ganache au basilic.
Ingrédients : framboise basilic 5 citrons abricots sucre oeufs 4 feuilles de brick riz soufflé chocolat blanc batonnet de citronnelle crème liquide vinaigre de vin Préparation : Faire revenir des quartiers d'abricots dans une poêle avec 2 cs de sucre.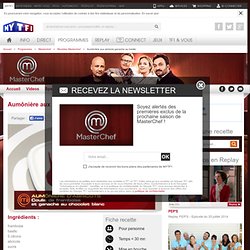 Ajouter ½ jus de citron et râper ½ branche de citronnelle. Vietnamese-style Rice Paper Rolls Recipe - Chinese.Food.com. Confit mediterranean vegetables and fresh ewe's curd cheese napoleon, served with pesto. Black olive spread from Provence. Black olive spread from Provence Tapenade – formerly hard to find in the north of France but now stocked by Parisian supermarkets – is best when homemade.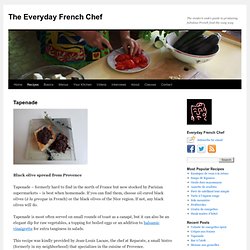 If you can find them, choose oil-cured black olives (à la grecque in French) or the black olives of the Nice region. If not, any black olives will do. Tapenade is most often served on small rounds of toast as a canapé, but it can also be an elegant dip for raw vegetables, a topping for boiled eggs or an addition to balsamic vinaigrette for extra tanginess in salads. Georges Blanc's pumpkin gratin. Georges Blanc's pumpkin gratin This recipe is ultra easy and rather quick — unless you wish to do it Georges Blanc's way from beginning to end.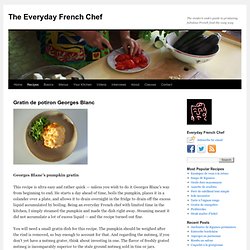 He starts a day ahead of time, boils the pumpkin, places it in a colander over a plate, and allows it to drain overnight in the fridge to drain off the excess liquid accumulated by boiling. Being an everyday French chef with limited time in the kitchen, I simply steamed the pumpkin and made the dish right away. Deep Fried Eggplant Recipe : Emeril Lagasse. Directions Place the flour, egg, and bread crumbs each in 3 small bowls.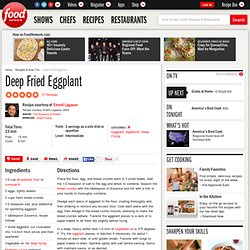 Add the 1/2 teaspoon of salt to the egg and whisk to combine. Kale Chips. Crispy, Creamy Potato Puffs. Gâteau de Savoie aux herbes / Gnocchis à la betterave. Ingrédients 8 personnes Gâteau de Savoie aux herbes :100 g Herbes effeuillées (persil et cerfeuil) 150 g Eau 50 g Beurre 100 g Farine 5 g Levure chimique 3 Œufs 4 g Sel Gnocchis à la betterave :1,5 kg Betteraves rouges crues 250 g Pommes de terre 50 g Farine 1/4 Œuf battu QS Sel de Maldon, poivre, parmesan 100 g Beurre (50 + 50) 150 g Bouillon de légumes (50 + 100) 1 Œuf mollet Gâteau de Savoie Dans un blender, déposer les herbes, verser dessus l'eau bouillante avec le beurre, mixer, ajouter la farine avec la levure chimique, les œufs puis le sel.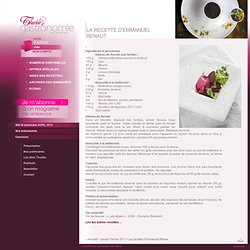 Mixer à nouveau, passer au chinois. Verser dans un siphon et gazer avec 2 cartouches. Réserver au froid. Au moment, garnir 1/3 d'un verre en plastique avec l'appareil du siphon et cuire dans un four à micro-ondes en puissance maximum, pendant 45 secondes environ. Pretzel Pork and Chive Dumplings With Tahini. Jacques Pepin's Oysters Rockefeller Recipe.
Chez Jacques: Traditions and Rituals of a Cook | Stewart, Tabori & Chang, 2007 I always enjoy going back to classic recipes and reinventing them in a more modern way closer to my own tastes, keeping most of the same ingredients but interpreting them differently.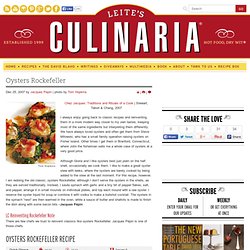 We have always loved oysters and often get them from Steve Milowski, who has a small family operation raising oysters on Fisher Island. Kromesky fritter of cultivated mussels. Crab cone with cilantro. Marinated salmon with langoustines and Granny Smith apple. Christmas amuse-bouches. Dumplings Are a Good Thing in a Small Package. By Erik Olsen Dumplings to Die For: New and exciting variations on the classic dumpling have recently appeared on menus in New York City.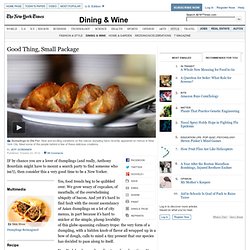 Meet some of the people behind a few of these delicious creations. Yes, food trends beg to be quibbled over. We grow weary of cupcakes, of meatballs, of the overwhelming ubiquity of bacon. Recettes Flan au parmesan et oignons confits au vinaigre balsamique - recettes de cuisine - Epicurien. Three Dishes at Gwynnett St. Welcome to the weekly blog feature formerly known as Five Dishes.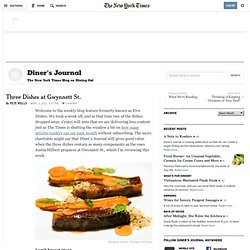 We took a week off, and in that time two of the dishes dropped away. Cynics will note that we are delivering less content just as The Times is shutting the window a bit on how many articles readers can see each month without subscribing. Easy, Elegant Holiday Appetizer Recipes : Recipes and Cooking. Banana Chocolate-Chip Souffles Recipe at Epicurious.
Yield Serves 6 Can be prepared in 45 minutes or less.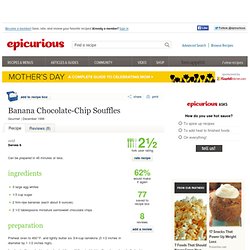 Preparation Preheat oven to 450°F. and lightly butter six 3/4-cup ramekins (3 1/2 inches in diameter by 1 1/2 inches high). In a bowl with an electric mixer beat whites until they just hold soft peaks and gradually beat in sugar until meringue holds stiff peaks. Coarsely grate bananas onto meringue and gently fold with chocolate chips into meringue. Toasted Ravioli Recipe : Food Network Kitchens. Spinach and Goat Cheese Tartlets Recipe : Directions Preheat the oven to 350 degrees. Melt 1 tablespoon butter. Place 1 phyllo sheet on a clean surface (cover the other sheets with a damp towel), brush with melted butter and sprinkle with 1 teaspoon parmesan. Cover with another phyllo sheet, brush with more butter and sprinkle with another teaspoon parmesan. Goat's cheese flan on mini ratatouille with crispy pink peppercorn twist.
Baked Zucchini Sticks and Sweet Onion Dip: that bloomin' zucchini! Today, class, it being late July and all, we're going to examine our zucchini facts: •Zucchini is always at the end of any A-to-Z food list; •Zucchini and fruitcake are the undeserving targets of many a joke; •The zucchini plant literally grows like a weed, making it absolutely ubiquitous in vegetable gardens across America; •And for that reason, enterprising cooks have discovered ways to turn it into muffins, and cake, and pancakes, and… Baked Zucchini Sticks.
You know that onion appetizer that came into bloom back in the late '80s? (47) Some of today's starters. Garlic Pork Potstickers. IHM Pea Pesto Crostini. IHM Garam Masala Deviled Eggs. IHM Feuilleté de brick au chèvre. IHM Carpaccio de topinambour. IHM Szechwan Eggplant Stir-Fry. IHM Crisp Kale Chips With Chile and Lime. IHM Bulete Cascaval Reteta Bulete Cascaval : 19 Retete.
---