Appetizers/Starters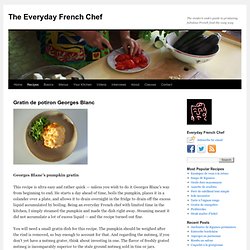 Georges Blanc's pumpkin gratin This recipe is ultra easy and rather quick — unless you wish to do it Georges Blanc's way from beginning to end. He starts a day ahead of time, boils the pumpkin, places it in a colander over a plate, and allows it to drain overnight in the fridge to drain off the excess liquid accumulated by boiling. Being an everyday French chef with limited time in the kitchen, I simply steamed the pumpkin and made the dish right away.
Georges Blanc's pumpkin gratin | The Everyday French Chef
Directions Place the flour, egg, and bread crumbs each in 3 small bowls. Add the 1/2 teaspoon of salt to the egg and whisk to combine.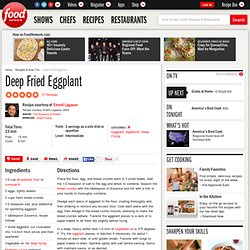 Deep Fried Eggplant Recipe : Emeril Lagasse
Kale Chips
IHM Crisp Kale Chips With Chile and Lime
Crispy, Creamy Potato Puffs
Ingrédients 8 personnes Gâteau de Savoie aux herbes :100 g Herbes effeuillées (persil et cerfeuil) 150 g Eau 50 g Beurre 100 g Farine 5 g Levure chimique 3 Œufs 4 g Sel Gnocchis à la betterave :1,5 kg Betteraves rouges crues 250 g Pommes de terre 50 g Farine 1/4 Œuf battu QS Sel de Maldon, poivre, parmesan 100 g Beurre (50 + 50) 150 g Bouillon de légumes (50 + 100) 1 Œuf mollet Gâteau de Savoie Dans un blender, déposer les herbes, verser dessus l'eau bouillante avec le beurre, mixer, ajouter la farine avec la levure chimique, les œufs puis le sel. Mixer à nouveau, passer au chinois. Verser dans un siphon et gazer avec 2 cartouches. Réserver au froid. Au moment, garnir 1/3 d'un verre en plastique avec l'appareil du siphon et cuire dans un four à micro-ondes en puissance maximum, pendant 45 secondes environ.
Gâteau de Savoie aux herbes / Gnocchis à la betterave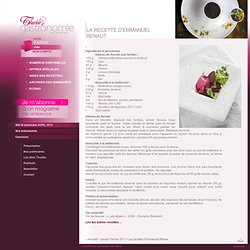 Pretzel Pork and Chive Dumplings With Tahini
Log In Register Now Home Page Today's Paper Video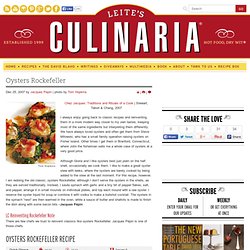 Chez Jacques: Traditions and Rituals of a Cook | Stewart, Tabori & Chang, 2007 I always enjoy going back to classic recipes and reinventing them in a more modern way closer to my own tastes, keeping most of the same ingredients but interpreting them differently. We have always loved oysters and often get them from Steve Milowski, who has a small family operation raising oysters on Fisher Island.
Jacques Pepin's Oysters Rockefeller Recipe
Kromesky fritter of cultivated mussels
Crab cone with cilantro
Marinated salmon with langoustines and Granny Smith apple
Recipe: Christmas amuse-bouches
Dumplings Are a Good Thing in a Small Package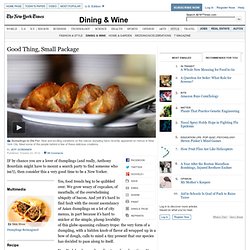 By Erik Olsen Dumplings to Die For: New and exciting variations on the classic dumpling have recently appeared on menus in New York City. Meet some of the people behind a few of these delicious creations. Yes, food trends beg to be quibbled over. We grow weary of cupcakes, of meatballs, of the overwhelming ubiquity of bacon.
IHM Pea Pesto Crostini
photo by Tina Rupp yield Makes 12 This take on curried deviled eggs has a more authentic Indian flavor, thanks to the inclusion of mango chutney and garam masala (an aromatic spice blend used in South Asian cooking). Preparation Shell eggs, then cut in half lengthwise.
IHM Garam Masala Deviled Eggs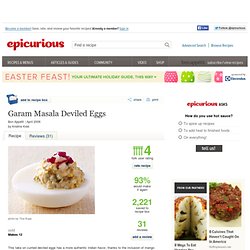 IHM Feuilleté de brick au chèvre
INGRÉDIENTS : pour 6 feuilletés 6 feuilles de brick 100g de fromage de chèvre une poignée de champignon 1 oignon 1 carotte 1cc de basilic filet d'huile d'olive une noisette de beurre pour la dorure sel et poivre écraser le chevre avec une fourchette pour le rendre crémeux; dans une poêle mettre à dorer, l'oignon émincé et la carotte rappé.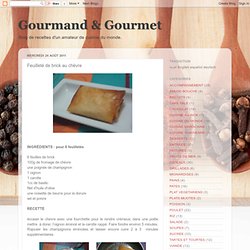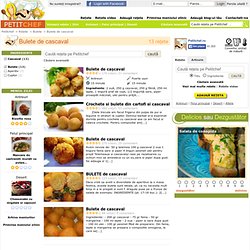 13 rețete Bulete de cașcaval 170 voturi, 21 comentarii AntreuriFoarte ușor15 minute15 minute Ingrediente: 2 ouă, 250 g cașcaval, 250 g făină, 250 ml lapte, 1 lingură praf de copt, 1/2 linguriță sare, piper proaspăt măcinat, ulei pentru prăjit....
IHM Bulete Cascaval Reteta Bulete Cascaval : 19 Retete
IHM Sriracha, Lime, and Sesame Popcorn
The only thing we can predict with 100% certainty about the Oscars ceremony on Sunday is that it will be boring. The Oscars have been boring every year, without fail, since that dusty, bygone era when moving pictures didn't make noise and Anne Hathaway was still (almost) likable. But people continue to throw Oscars-watching parties anyway, and those parties continue to involve popcorn (The Official Snack of The Movies™), and you know what DOESN'T have to be boring?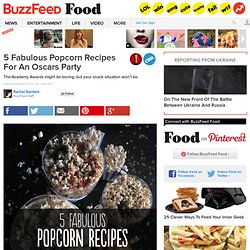 IHM Szechwan Eggplant Stir-Fry
IHM Carpaccio de topinambour
Ingrédients: - 4 à 5 topinambours assez réguliers - 1 échalote - 2 CS de vinaigre de noisettes, de noix ou de xérès - 4 CS d'huile de sésame à défaut de l'huile d'olives - quelques noisettes (12 à 15) - sel, poivre Mettre les noisettes dans un plat et les passer au four préchauffé à 180° 10 minutes pour les torréfier (attention, ça peut brûler très vite!), laisser en attente.
Recettes Flan au parmesan et oignons confits au vinaigre balsamique - recettes de cuisine - Epicurien
Three Dishes at Gwynnett St.
Welcome to the weekly blog feature formerly known as Five Dishes. We took a week off, and in that time two of the dishes dropped away. Cynics will note that we are delivering less content just as The Times is shutting the window a bit on how many articles readers can see each month without subscribing.
Easy, Elegant Holiday Appetizer Recipes : Recipes and Cooking
Banana Chocolate-Chip Souffles Recipe at Epicurious
Toasted Ravioli Recipe : Food Network Kitchens
Spinach and Goat Cheese Tartlets Recipe :
Recipe: Goat's cheese flan on mini ratatouille with crispy pink peppercorn twist
(47) Some of today's starters
Garlic Pork Potstickers