2011 March
JAUNAY CLAN, écrivain. Le lieu media. CleanTuesday : Association pour la promotion des cleantech moteur de l'innovation - Participer à Cleantech Irlande mardi 8 mars. Date : 2014-04-09 Evénement exceptionnel "Objets connectés et cleantech" organisé avec IE-Club, Club Cleantech AFIC, Echangeur PME et GreenUnivers le 9 avril 2014 Après le rachat de Nest par Google et le grand intérêt pour les startups françaises au salon CES, nous ferons un focus sur les objets connectés et les opportunités dans les cleantech : efficacité énergétique, eau / air / déchets, mobilité, énergies renouvelables, smart grids / cities / home / building / ...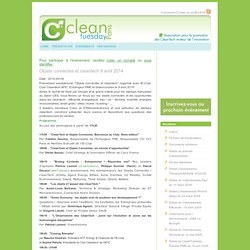 Nualight. SELC. Crowley Carbon. Gaelectric. Working within the confines of an industry that needs to take account of regulation, planning, politics and a natural resource we balance opportunity with geographical spread.
Whilst Ireland is our home, in many respects our 'jewel' is in the United States. Montana has a true natural wind resource that blows from the Rockies across its vast prairies.
---