Bookmarks
Petit article comme j'en fais que trop rarement autour des outils. Je parle souvent ici d'usages, de stratégie, de démarches, de bonnes et mauvaises pratiques, de décryptage de certaines tendances. Donc j'ai décidé aujourd'hui de donner la part belle aux outils de bookmarking. Mais si vous savez, ces outils sur lesquels vous vous êtes inscrits et que vous ne pensez que trop rarement à consulter pour y retrouver vos favoris préférant encore trop souvent utiliser l'onglet Favoris ou Marque-pages de votre navigateur Internet. Pearltrees : le frenchy Pour autant, nul doute qu'avec la densité de contenus et de types de source, il devient de plus en plus urgent d'utiliser avec une certaine productivité un outil de bookmarking.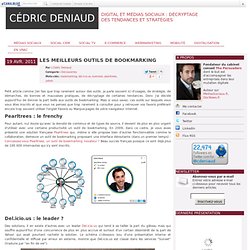 Mister Wong est à la pointe du social bookmarking, avec un site en 6 langues et plus de 4 millions de visiteurs par mois. Qu'est-ce que Mister Wong peut faire pour moi? Mister Wong vous permet de sauvegarder vos sites préférés sur votre compte perso. Vous les aurez ainsi à portée de clic, et ce, où que vous soyez. Mister Wong à votre service
Bookmarks - Excite France
Le premier album du groupe britannique Rolling Stones a été édité le 17 avril 1964 et a remporté un succès immédiat. Un anniversaire important pour le rock. Emploi Ces métiers... qui rendent heureux Bien-etre S.O.S acné Le masque visage fait maison Femmes Cheveux et humidité Ennemis jurés ?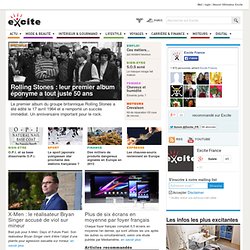 Nos bookmarks: Conservez, partagez et taggez vos liens favoris
Have you ever forgotten a password? We all have. With 1Password, it will never happen again. 1Password is a password manager that goes beyond simple password storage by integrating directly with your web browser to automatically log you into websites, enter credit card information, fill registration forms, and easily generate strong passwords. Your passwords, identities, and credit cards, are just some of the confidential information that 1Password stores in one secure place, protected by the only password you will need to remember.
Agile Web Solution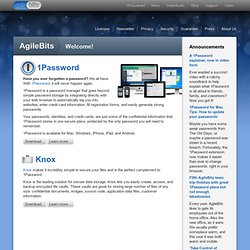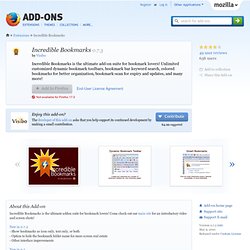 Incredible Bookmarks
Warning: This will create a NEW toolbar and just like any other toolbar, it can be hidden or shown via the Firefox 'View > Toolbars' menu. Please do not post a review complaining IB is wasting your screen estate. IB is only useful to people who prefer an enhanced version of Bookmark Toolbar (since you can simply hide your current 'Bookmark Toolbar' and use an IB toolbar instead). Thank you. We suggest you to view our blog or video tutorial to understand the benefits of IB.