Websites and blogs
CI Circle Parent Blogs - www.cicircle.org. Erin Toes and Her Cochlear Implant JourneyErin's deafness was discovered soon after birth.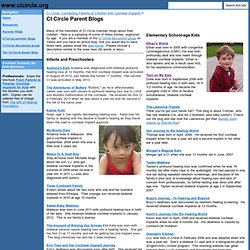 She received her first cochlear implant at 14 months of age and her second about a year later. Her deafness is caused by connexin-26, a recessive gene that is a very common cause of hearing loss. Sophia did not pass her newborn hearing screen. She got bilateral cochlear implants when she was 8 months old. For The Love of AvaAva got bilateral cochlear implants at 9 months of age in the spring of 2009. Live*Laugh*Love*Family. Ben's journey into a hearing world.
Learning to listen sounds. ... for all of Aiden's upcoming appointments!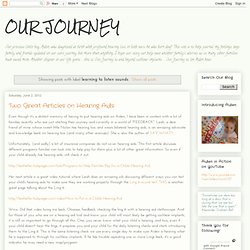 It was a nice two weeks off, but we're home and back into the swing of things. Aiden has really done a lot the past couple of weeks! I cannot believe how fast he is growing and changing! I have to say too, his hearing aids have become such a daily routine ... almost like changing his diaper, they go in when he gets up and come out when he lays down. The buzzing can drive me crazy, but I've become good friends with Otoferm! Talk and Play, Everyday!: Sleigh Bells Ring, Are You LISTENING? | Cochlear Implant Online. From time to time, I'd like to post some of my lesson plans for listening and spoken language activities.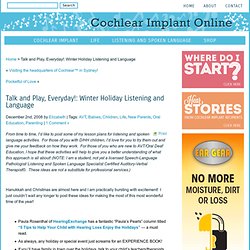 For those of you with D/HH children, I'd love for you to try them out and give me your feedback on how they work. For those of you who are new to AVT/Oral Deaf Education, I hope that these activities will help to give you a better understanding of what this approach is all about! (NOTE: I am a student, not yet a licensed Speech-Language Pathologist/ Listening and Spoken Language Specialist Certified Auditory-Verbal Therapist©.
---