Sectors
Cosmetics
Report: American Indian tribes key in renewable energy development - World - GMANews.TV - Official Website of GMA News and Public Affairs - Latest Philippine News. FLAGSTAFF, Ariz. – American Indian tribes have huge potential to develop renewable energy resources on their lands but first must overcome a number of challenges, namely financial, according to a report released Tuesday.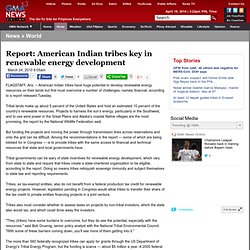 Tribal lands make up about 5 percent of the United States and hold an estimated 10 percent of the country's renewable resources. Projects to harness the sun's energy, particularly in the Southwest, and to use wind power in the Great Plains and Alaska's coastal Native villages are the most promising, the report by the National Wildlife Federation said. But funding the projects and moving the power through transmission lines across reservations and onto the grid can be difficult.
Retail
Hospitals. Breweries. Data Centers. Electricity Shortage in California: Issues for Petroleum and Natural Gas Supply. Refineries.
---