Renewable Energy
Welcome to the Pennsylvania Alternative Energy Portfolio Standard Program website The Pennsylvania Alternative Energy Portfolio Standard (AEPS) requires that an annually increasing percentage of electricity sold to retail customers in Pennsylvania is from alternative energy sources. The program requires that retail energy suppliers utilize Alternative Energy Credits (AECs) for demonstrating compliance with the standard. An AEC is created each time a qualified alternative energy facility produces 1000 kWh of electricity. The AEC is then be sold or traded separately from the power. This makes it easy for individuals and businesses to finance and invest in clean, emission free solar power.
Pennsylvania AEPS Alternative Energy Credit Program | Welcome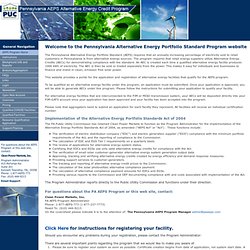 Alternative Energy
By Renewable Energy Focus staff Technip says the acquisition is part of its strategy to "develop a leading position in the renewables market in the coming years, focusing on offshore wind services." Technip launched its operating centre in Aberdeen, Scotland, as its headquarters for all European offshore wind projects in early 2010. Subocean Group Ltd and its subsidiaries went into administration on 28 January following cash flow pressures in recent months. Around 300 of Subocean's 380 strong workforce will be taken on by Technip. Bruce Cartwright, Head of Business Recovery Services at PwC and Joint Administrator for Subocean, says: "Subocean operate in what is still an emerging and immature market, and over recent weeks and months, the directors have worked tirelessly to find a solvent solution that would protect creditors and jobs.
Technip buys Scottish offshore wind subsea cable installer Subocean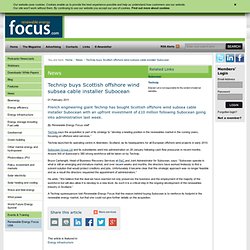 Renewable energy news - Recharge - wind, solar, biomass, wave/tidal/hydro and geothermal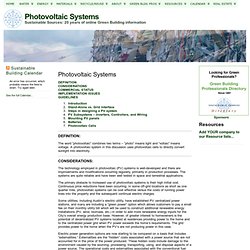 SustainableSources.com: Photovoltaic Systems
The word "photovoltaic" combines two terms – "photo" means light and "voltaic" means voltage. A photovoltaic system in this discussion uses photovoltaic cells to directly convert sunlight into electricity. The technology employed in photovoltaic (PV) systems is well-developed and there are improvements and modifications occurring regularly, primarily in production processes.
The cost to build a new coal-fired power plant in Cassville or Portage has soared because of higher construction prices, Alliant Energy Corp. said Friday. The 300-megawatt power plant, which would generate enough power to supply 150,000 homes, is now projected to cost $1.1 billion if it is built in southwestern Wisconsin and $1.2 billion if it is built in Portage, the utility said. The cost of building power plants has risen in recent years as the prices of steel, concrete and other materials have escalated, Alliant Energy spokesman Rob Crain said.
Power plant cost to top $1 billion
Energy Information Administration (EIA) | State/Territory Energy Profiles | Energy Data, Information, and Maps
August 2013 The Energy Statistics Database contains basic statistics for more than 200 countries/territories. Currently, the database provides time series for the period 1950-2010 and is updated annually. The most recent four years in the database are disseminated through the Energy Statistics Yearbook and the Energy Balances and Electricity Profiles. Data from 1990 to 2010 are available on-line through the UNdata portal.
ited Nations Statistics Division - Energy Statistics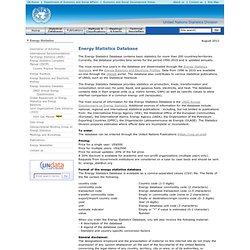 Citation "All countries compared for Energy > Electricity > Consumption by petroleum refineries", Source: Energy Statistics Database | United Nations Statistics Division. Aggregates compiled by NationMaster. Retrieved from http://www.nationmaster.com/country-info/stats/Energy/Electricity/Consumption-by-petroleum-refineries "All countries compared for Energy > Electricity > Consumption by petroleum refineries, Source: Energy Statistics Database | United Nations Statistics Division. Aggregates compiled by NationMaster." 1990-2005.
Electricity consumption by petroleum refineries by country. Definition, graph and map.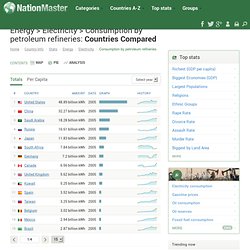 Energy Information Administration - Previous Featured Articles from the Annual Energy Outlook
Suntech Power at leading edge of renewable jobs | Phoenix Business Journal
From left, John Ruggles, Dan Price and Mike Starr each joined Suntech Power Holdings Co. Ltd. in Goodyear after substantial job layoffs by their previous employers. Mike Starr has a lot of work ahead of him at the Suntech Power Holdings Co. Ltd. plant in Goodyear, which is set to start production next week. For Starr, it represents a shift from 18 months without employment to working as production manager for the Wuxi, China-based company on its maiden voyage in the U.S. "This is kind of a starting industry," he said.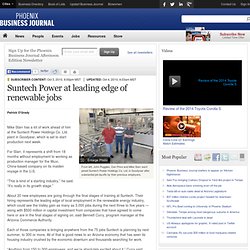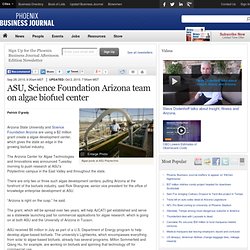 ASU, Science Foundation Arizona team on algae biofuel center | Phoenix Business Journal
Algae pools at ASU Polytechnic Arizona State University and Science Foundation Arizona are using a $2 million grant create a algae development center, which gives the state an edge in the growing biofuel industry. The Arizona Center for Algae Technologies and Innovations was announced Tuesday morning to push research at ASU's Polytechnic campus in the East Valley and throughout the state. There are only two or three such algae development centers, putting Arizona at the forefront of the biofuels industry, said Rick Shangraw, senior vice president for the office of knowledge enterprise development at ASU. "Arizona is right on the cusp," he said.
Ocean and Marine Standards