Organizations
Electricity in the United States - Energy Explained, Your Guide To Understanding Energy. Most of the electricity in the United States is produced using steam turbines.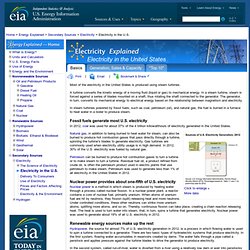 A turbine converts the kinetic energy of a moving fluid (liquid or gas) to mechanical energy. In a steam turbine, steam is forced against a series of blades mounted on a shaft, thus rotating the shaft connected to the generator. The generator, in turn, converts its mechanical energy to electrical energy based on the relationship between magnetism and electricity. Texas Renewable Energy Industries Association - Login. Home | ISEAL Alliance. DSIRE: DSIRE Home. Texas Renewable Energy Industries Association. Nov. 6 - 9 - Corpus Christi The Texas Renewable Energy Industries Association TREIA represents over 500 member companies, organizations, agencies and individuals providing products, services and information in the areas of solar electric generation, solar hot water, large and small-scale wind electric generation, biomass electric generation and liquid renewable fuels, geothermal heating and cooling, geothermal electric generation, and sustainable (green) building design and construction.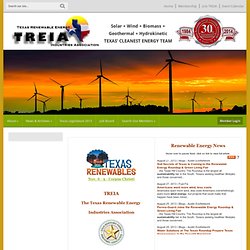 Solar + Wind + Biomass + Geothermal + Hydrokinetic RENEWABLE ENERGY - IT'S HERE TO STAY. Association for the Advancement of Sustainability in Higher Education | News, Resources, Events, and Assessment Tools for the Campus Sustainability Community.
---