Blogs
The Secret to Student Podcasting « Tech:-)Happy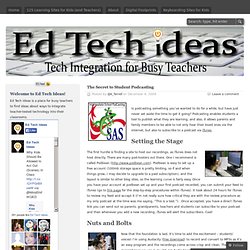 Is podcasting something you've wanted to do for a while, but have just never set aside the time to get it going? Podcasting enables students a tool to publish what they are learning, and also, it allows parents and family members to be able to not only hear their loved ones via the internet, but also to subscribe to a podcast via iTunes. The first hurdle is finding a site to host our recordings, as iTunes does not host directly. There are many pod-hosters out there. One I recommend is called Podbean (http://www.podbean.com). Podbean is easy to set up a free account (100mb storage space is pretty limiting, so if and when things grow, I may decide to upgrade to a paid subscription), and the layout is similar to other blog sites, so the learning curve is fairly easy.
Listen A few weeks ago I worked and attended North Carolina's ISTE affiliate conference. I opened the NCTIES conference with a breakfast keynote address and Marc Prensky closed it with a luncheon keynote the next day. Sadly, I missed the second day of the conference.
Blog » A Worldwide Audience for Six Year Olds?
Cross posted on TechLearning Advisor Blog Podcasting has been around for a while now. It has also made it's entry into the world of schools. Teachers of younger students are venturing into the world of digital storytelling in the classroom and are recording their students digitally. The benefits for students to practice skills such as the following are part of a growing list. listeningspeakingpresentingcomprehensionstorytellingperformancevoice actingoral fluencymediatechnology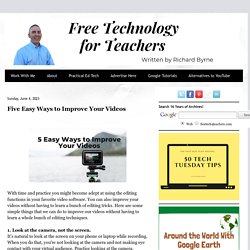 This is a guest post from Samantha Morra of EdTechTeacher.org, an advertiser on Free Technology for Teachers. Many of us using technology in the classroom find ourselves caught between two worlds: Apple and Google. Apple's iPad is a fantastic tool in the classroom which provides students with various opportunities to consume, create, and communicate. Similar to a swiss-army knife, it is only limited by how we choose to use it. At the same time, Google apps provide students with cloud-based services, from search to document creation and sharing, that work seamlessly on iPad.
Last weekend I had the honor of co-leading the Flat Classroom Workshop (pictures here) with Julie Lindsay at the 21st Century Learning Conference in Hong Kong. I have to admit that although I knew it would be amazing after everything I had heard about the Flat Classroom Conference in Doha earlier this year, I had no idea just how amazing the whole experience would turn out to be! Workshop Structure The flat classroom workshop is a 2.5-day project-based learning experience for both students and teachers. We had about 30 high-school students and 10 teachers participating face-to-face, and about 20 registered virtual participants. The goal of the workshop is to allow participating students and teachers to experience a flat classroom project in a condensed amount of time.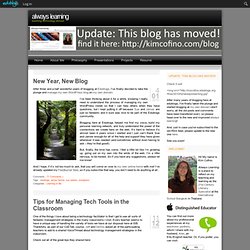 always learning