Blogs
The Secret to Student Podcasting « Tech:-)Happy. Is podcasting something you've wanted to do for a while, but have just never set aside the time to get it going?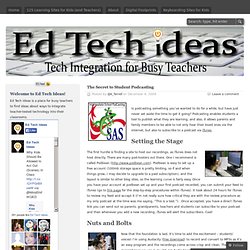 Podcasting enables students a tool to publish what they are learning, and also, it allows parents and family members to be able to not only hear their loved ones via the internet, but also to subscribe to a podcast via iTunes. The first hurdle is finding a site to host our recordings, as iTunes does not host directly. There are many pod-hosters out there. One I recommend is called Podbean ( Podbean is easy to set up a free account (100mb storage space is pretty limiting, so if and when things grow, I may decide to upgrade to a paid subscription), and the layout is similar to other blog sites, so the learning curve is fairly easy.
2¢ Worth. Listen A few weeks ago I worked and attended North Carolina's ISTE affiliate conference.
I opened the NCTIES conference with a breakfast keynote address and Marc Prensky closed it with a luncheon keynote the next day. Sadly, I missed the second day of the conference. Blog » A Worldwide Audience for Six Year Olds? Cross posted on TechLearning Advisor Blog Podcasting has been around for a while now.
It has also made it's entry into the world of schools. Teachers of younger students are venturing into the world of digital storytelling in the classroom and are recording their students digitally. The benefits for students to practice skills such as the following are part of a growing list. listeningspeakingpresentingcomprehensionstorytellingperformancevoice actingoral fluencymediatechnology. Free Technology for Teachers. November Learning. Always learning.
---