SM research/news
7 Easy Ways to Give Your Résumé the Psychological Edge. Getting your résumé picked for interview is about more than just education, experience and background… It's estimated that 1 billion résumés are screened around the world each year.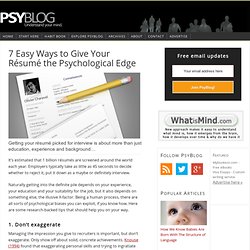 Employers typically take as little as 45 seconds to decide whether to reject it, put it down as a maybe or definitely interview. Naturally getting into the definite pile depends on your experience, your education and your suitability for the job, but it also depends on something else, the illusive X-factor. Being a human process, there are all sorts of psychological biases you can exploit, if you know how. Here are some research-backed tips that should help you on your way. 6 Ways B2B Companies Are Using Facebook.
Is Facebook applicable for B2B companies?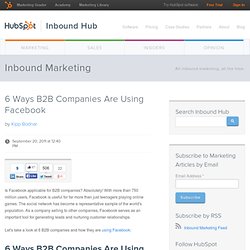 Absolutely! With more than 750 million users, Facebook is useful for far more than just teenagers playing online games. The social network has become a representative sample of the world's population. As a company selling to other companies, Facebook serves as an important tool for generating leads and nurturing customer relationships. Merck Goes Social. Launching any company into social media requires planning, integration of multiple departments and a strong training program.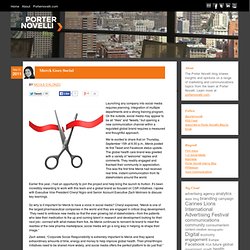 On the outside, social media may appear to be all "likes" and "tweets," but opening a new communication channel within a regulated global brand requires a measured and thoughtful approach. We're excited to share that on Thursday. September 15th at 6:30 p.m., Merck posted its first Tweet and Facebook status update. September 21, 2011. 3 Ways to Improve Your Company's Social Media Architecture. Joshua-Michéle Ross (@jmichele) is SVP and director of digital strategy, Europe with Fleishman Hillard and an O'Reilly Radar blogger.
His free ebook on social media architecture is available here. While the pressures on large organizations to use social media have gone up, creating a social media presence has reached one-click simplicity. The result is a sprawling mess. Take one look at the social media footprint of any large brand and you find dozens of social sites that lie abandoned with no active engagement. Publications Social Media & Marketing Daily 09/20. 15 strange and twisted pillows. You may have left the sweet haven that is bed only hours (or moments) ago and the right pillow makes that an even harder task to accomplish, but certain designers have decided to redesign that comfortable standby with more nightmare than sweet dream in mind.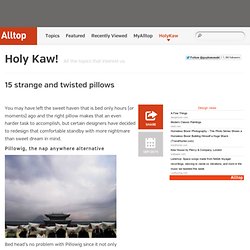 Pillowig, the nap anywhere alternative Bed head's no problem with Pillowig since it not only guarantees no one will spot your tousled tresses, but it offers up a comfortable place to nap on the go. Oddly enough, designer Joo Youn Paek sold forty-seven of the fifty strange pieces of headgear he produced.
---