Incredible edibles
EarthBox. The Garden Patch. Riverside County Master Gardeners - Blogs. People who are most "food insecure"--those unable to use traditional means for acquiring and managing their family food supply--are at greater risk for obesity and poor health.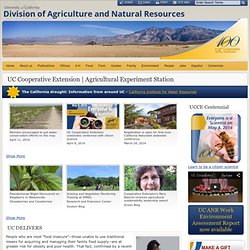 That fact, confirmed by a recent UC study, is one reason that poor health is more common among low-income and minority populations. Obesity is not just a matter of personal health. It is a costly and deadly public health concern that affects economic productivity and state budgets as well as personal and family well-being. Blackberries - California Garden Web. Blackberries make good additions to the home garden.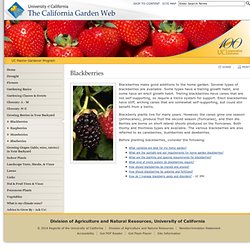 Several types of blackberries are available. Some types have a trailing growth habit, and some have an erect growth habit. Raspberries - California Garden Web. Strawberries - California Garden Web. Growing Grapes (table, wine, raisins) in Your Backyard - California Garden Web. Riverside County - Extension Office Home Page. Edible Landscaping with Charlie Nardozzi. Here is a listing of some of the many vegetable, fruit, and herb mail-order companies that can provide plants and seeds for your edible landscape.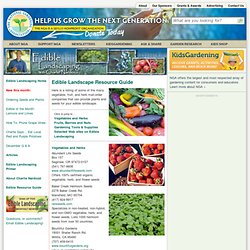 Click to jump to ..Vegetables and HerbsFruits, Berries and NutsGardening Tools & SuppliesSelected Web sites on Edible Landscaping Vegetables and Herbs Abundant Life Seeds Box 157 Saginaw, OR 97472-0157 (541) 767-9606 www.abundantlifeseeds.com Offers 100% certified organic vegetable, herb, and flower seeds Baker Creek Heirloom Seeds 2278 Baker Creek Rd. Mansfield, MO 65704 (417) 924-8917 rareseeds.com Specializes in non-treated, non-hybrid, and non-GMO vegetable, herb, and flower seeds.
Tomato Staking Techniques Evaluation | Master Gardeners of Santa Clara County. This is a summary of what we learned from our 2001 tomato project in regards to tomato staking methods.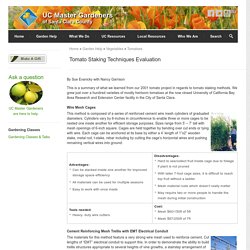 We grew just over a hundred varieties of mostly heirloom tomatoes at the now closed University of California Bay Area Research and Extension Center facility in the City of Santa Clara. Wire Mesh Cages This method is composed of a series of reinforced cement wire mesh cylinders of graduated diameters. Cylinders vary by 6-inches in circumference to enable three or more cages to be nested one inside another for efficient storage purposes. EdibleLandscapingGuide.pdf (application/pdf Object) The Urban Farmer. Build an A-Frame Tomato Trellis. March 15th, 2009 Email 65 users recommend Michael Gellatly.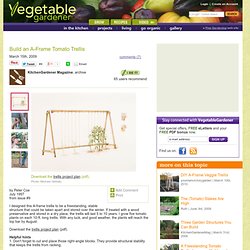 Potato Grow Bag. Garden Tips | Walter Andersen Nursery. Norcal Nursery, Inc. (AgBASE™) AgBASE® : Find foods fast, at a fair price! Garden Tools | Garden Supplies | Organic Gardening Supplies | Organic Seeds | Organic Fertilizer. Pinetree Garden Seeds - Vegetables, Flowers, Herbs, Annuals, Perennials. Home of a gazillion plants. Aphids Aphids are small, soft-bodied insects with long, slender mouth parts that they use to pierce stems, leaves, and other tender plant parts and suck out plant fluids.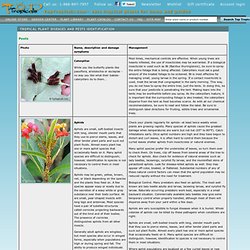 Almost every plant has one or more aphid species that occasionally feeds on it. Many aphid species are difficult to distinguish; however, identification to species is not necessary to control them in most situations. Aphids may be green, yellow, brown, red, or black depending on the species and the plants they feed on. Scale insects / RHS Gardening Advice. Scales are limpet-like insects that feed by sucking sap from a wide range of plants, including houseplants, greenhouse plants and many fruit and ornamental plants grown outdoors.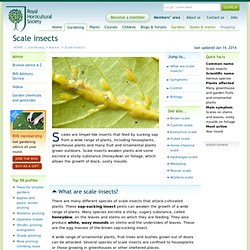 Scale insects weaken plants and some excrete a sticky substance (honeydew) on foliage, which allows the growth of black, sooty moulds. What are scale insects? There are many different species of scale insects that attack cultivated plants. Fruit ripening period. MiniGardens-EarthBox. The original EarthBox® gardening system—a great value!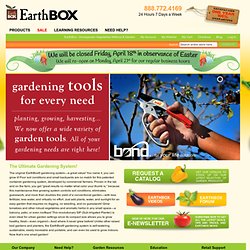 You name it, you can grow it! Poor soil conditions and small backyards are no match for this patented container gardening system, developed by commercial farmers. Proven in the lab and on the farm, you get "great results no matter what color your thumb is," because this maintenance-free growing system controls soil conditions, eliminates guesswork, and more than doubles the yield of a conventional garden—with less fertilizer, less water, and virtually no effort. Just add plants, water, and sunlight for an easy garden that requires no digging, no weeding, and no guesswork!
Grow tomatoes and other robust vegetables and aromatic herbs in any small space—a balcony, patio, or even rooftops!
---