Webb
Creative Social Blog | The Voice of the Creative Social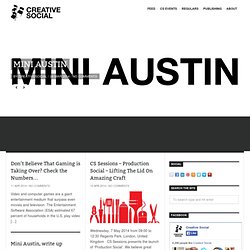 Don't Believe That Gaming is Taking Over? Check the Numbers… Video and computer games are a giant entertainment medium that surpass even movies and television. The Entertainment Software Association (ESA) estimated 67 percent of households in the U.S. play video […] CS Sessions – Production Social – Lifting The Lid On Amazing Craft Wednesday, 7 May 2014 from 09:00 to 12:30 Regents Park, London, United Kingdom CS Sessions presents the launch of 'Production Social'.
Swedish advertising agencies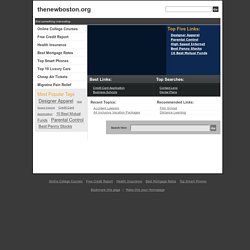 A true story about survival in the Adirondack Mountains. The park covers 6.1 million acres, a land area greater than Vermont, or than Yellowstone, Yosemite, Grand Canyon, Glacier, and Great Smoky Mountains National Parks combined. The Adirondacks are also home to thousands of black bears, deadly snakes, and countless other dangers. Abandoned in the middle of the park with no survival experience and very few supplies, the entire journey was documented and filmed.
Beginning CSS (Part 1 of 5)
Dreamweaver Tutorial - 2 - Creating a Basic Webpage
CSS Tutorial - 1 - Introduction to CSS
PHP Tutorial #1 - Covering the basics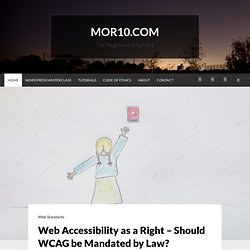 There is a reason why the drivers' seat in a car is adjustable: Not every body is built the same, and to appeal to as wide an audience as possible auto makers know they need to make it possible to drive a car whether you are 1m 30cm or 2m 30cm. The adjustable car seat makes driving accessible for the majority of the adult population. With this in mind, join me for a short experiment: If you're on a computer open a separate tab in your browser, navigate to your favourite website and try to navigate through the site using just your keyboard. Chances are it will be a frustrating experience. This is the inaccessible web. And its retirement is long overdue, not just because accessibility is a rights issue but also because accessibility makes the sites we make … well … accessible.
Design is Philosophy -WordPress tutorials and thoughts on social media, Microsoft Expression, CSS and the philosophy of design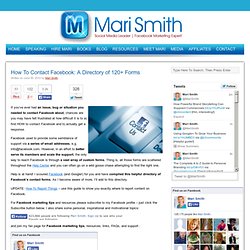 If you've ever had an issue, bug or situation you needed to contact Facebook about, chances are you may have felt frustrated at how difficult it is to a) find HOW to contact Facebook and b) actually get a response. Facebook used to provide some semblance of support via a series of email addresses, e.g. info@facebook.com. However, in an effort to better serve its members and scale the support, the only way to reach Facebook is through a vast array of custom forms. Thing is, all those forms are scattered throughout the Help Center and you can often go on a wild goose chase attempting to find the right one. Help is at hand!
Deep Thoughts by Mark Otto
07 Apr 2014 This morning I was mentioned in a brief Twitter conversation, and because Jeffrey is the best, I feel obliged to reply. @brendandawes @elliotjaystocks I'm interested in @mdo's take—from a brilliant designer who also created the bootstrap framework.— Jeffrey Kalmikoff (@jeffrey) April 7, 2014 I encourage you to read the mentioned post by Elliot Jay Stocks. In it Elliot asks the question, Why have today's designers stopped dreaming? Between the article and the tweets, there are two topics I'd like to comment on.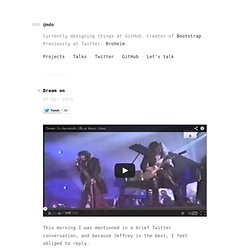 So long, and thanks for all the fish After three years, 52 Tiger is closing its doors. Here's a big thanks to all my sponsors and readers. I appreciate your support. It was fun writing for you all these years. From today on, I'll be focusing my professional efforts on my job at TUAW.
52 Tiger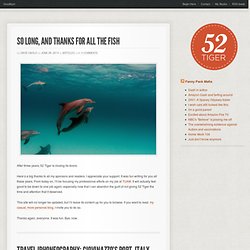 PaulStamatiou.com — Tech News, Reviews and Guides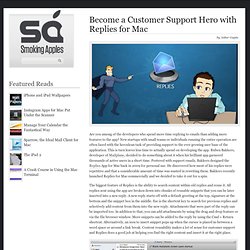 Smoking Apples — Your premier source of Apple, Mac, and iPhone news, views, and reviews.
Are you among of the developers who spend more time replying to emails than adding more features to the app? New startups with small teams or individuals running the entire operation are often faced with the herculean task of providing support to the ever growing user base of the application. This is turn leaves less time to actually spend on developing the app. Ruben Bakkers, developer of Mailplane, decided to do something about it when his brilliant app garnered thousands of active users in a short time. Pestered with support emails, Bakkers designed the Replies App for Mac back in 2009 for personal use. He discovered how most of his replies were repetitive and that a considerable amount of time was wasted in rewriting them.