Webb
Online Image Converter. Creative Social Blog | The Voice of the Creative Social.
Swedish advertising agencies
Tutorials. TheNewBoston – Free Educational Video Tutorials on Computer Programming and More! Beginning CSS (Part 1 of 5) Dreamweaver Tutorial - 2 - Creating a Basic Webpage. CSS Tutorial - 1 - Introduction to CSS.
PHP Tutorial #1 - Covering the basics. Design is Philosophy -WordPress tutorials and thoughts on social media, Microsoft Expression, CSS and the philosophy of design. How To Contact Facebook: A Directory of 120+ Forms. If you've ever had an issue, bug or situation you needed to contact Facebook about, chances are you may have felt frustrated at how difficult it is to a) find HOW to contact Facebook and b) actually get a response.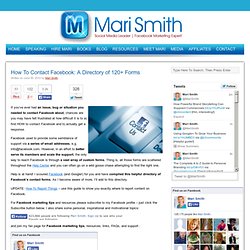 Facebook used to provide some semblance of support via a series of email addresses, e.g. info@facebook.com. However, in an effort to better serve its members and scale the support, the only way to reach Facebook is through a vast array of custom forms. Thing is, all those forms are scattered throughout the Help Center and you can often go on a wild goose chase attempting to find the right one. Help is at hand! Amy Porterfield - Social Media Strategy Consultant. Deep Thoughts by Mark Otto. Improving the human experience one day at a time.
52 Tiger. PaulStamatiou.com — Tech News, Reviews and Guides. Smoking Apples — Your premier source of Apple, Mac, and iPhone news, views, and reviews. Web Design.
---