Useful stuff
Web Fonts. Trends. Shuffle. The 15 Best WordPress Plugins to Use in 2011. This list is updated each year to reflect only the best plugins.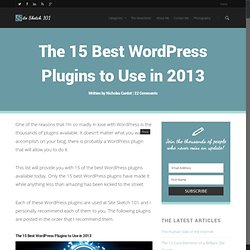 Many plugins from last year have been replaced and this is what made the cut. One of the reasons that I'm so madly in love with WordPress is the thousands of plugins available. It doesn't matter what you want to accomplish on your blog, there is probably a WordPress plugin that will allow you to do it. This list will provide you with 15 of the best WordPress plugins available today. Only the 15 best WordPress plugins have made it while anything less than amazing has been kicked to the street.
Guides
Inspiration. Free to use photos/creative commons. Information about colors, etc.
---