Расширение
Captura toda la pantalla o cualquier porción, anota con rectángulos, círculos, flechas, líneas y texto, sube y comparte con un clic. "1. Capturar con un clic. Recortar (o seleccionar) cualquier parte si se desea 2. Anotar con rectángulos, círculos, flechas, líneas y texto 3.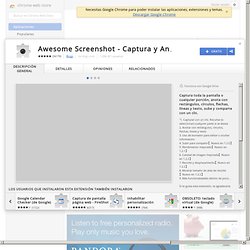 Интернет-магазин Chrome - Awesome Screenshot: Capture & Annotate
Интернет-магазин Chrome - Веб-клиппер Evernote
Интернет-магазин Chrome - FreshStart - Cross Browser Session Manager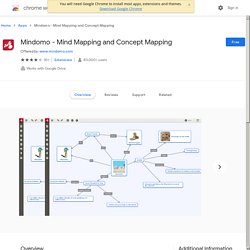 Интернет-магазин Chrome - Mindomo - Mind mapping and Brainstorming
Mind Mapping Software with a unique Presentation Mode. Clarify your goals and objectives, work and collaborate in real time. Mind mapping allows you to graphically store complex concepts, tasks, ideas, and other related information in a structured form. Mindomo has many uses in education, business, information storage, or anywhere an overall picture of a task, idea, or plan could be shown. With its extensive and easy to use features, Mindomo is a perfect tool for anyone. Some our features: - Presentation Mode - Collaborate in real time - Embed video and audio files - Spell Checker - Export and import mind maps - Add task info and auto calculate - Create folders and organize map - Password protect your maps - Friends list - Comment and vote on topics - Add multi level numbering - Work offline with Mindomo Desktop
Интернет-магазин Chrome - Clearly
Интернет-магазин Chrome - WOT
Pearltrees permet de collectionner, d'organiser et de partager tout ce que vous aimez sur le web. Pearltrees est un moyen gratuit et amusant d'organiser vos pages web, fichiers, photos et notes afin de les retrouver et de les partager partout, très facilement. Profitez de la communauté Pearltrees pour découvrir des nouveautés au coeur de vos intérêts et enrichir votre compte. Retrouvez tout ce que vous gardez dans Pearltrees depuis votre ordinateur, votre mobile ou votre tablette.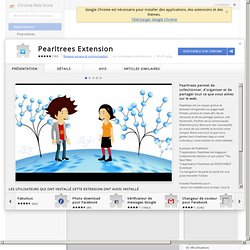 Интернет-магазин Chrome - Delibookmarks (Delicious Bookmarks)