Movies
You Missed It: The 10 Most Unfairly Overlooked Movies Of 2011
This time of year, everyone looks back on the last 12 months and takes stock, of what went right and what went wrong, what we're going to do better next year. When you write about movies for a living or even see a lot of them, that list usually is just a bunch of film titles-- what you loved goes into a top 10 list, what you hated gets passionately derided, and everything in the middle can sometimes slip away entirely. But everyone knows that movies aren't just "great" or "awful," and every year there are movies that are perfectly good, maybe even great, that get overlooked entirely. Whether it's because they were box office flops, unfairly critically maligned or somehow otherwise ignored, there are always movies that seem in danger of getting forgotten entirely in the rush to move on to the next year. Which is why we've put together this list, the 10 Most Unfairly Overlooked Movies of 2011, highlighting the films we want to make sure you don't forget.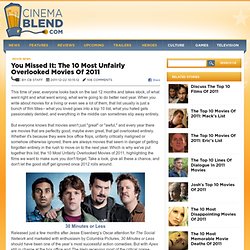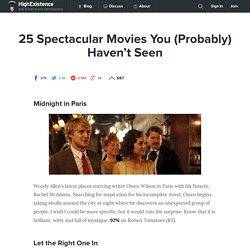 Midnight in Paris Woody Allen's latest places starving writer Owen Wilson in Paris with his fiancée, Rachel McAdams. Searching for inspiration for his incomplete novel, Owen begins taking strolls around the city at night where he discovers an unexpected group of people. I wish I could be more specific, but it would ruin the surprise. Know that it is brilliant, witty and full of mystique. 92% on Rotten Tomatoes (RT).
2012 is here and movie fans are pretty excited, as the year twenty-twelve promises some highly anticipated sci-fi films (Prometheus), some promising animated originals (Brave, Paranorman), the usual awards season art house entries (Licoln, Great Gatsby), and a super-powered showdown between Marvel's The Avengers, and DC/Warner Bros.' The Dark Knight Rises. Should that Mayan doomsday prophecy turn out to be true, it'll be hard to say that we didn't go out on a high note, as far as movies are concerned. In our guide we'll take a look at the movies of 2012 that will be occupying our weekends at the theater all throughout the year. We'll also keep this post updated as release dates are shifted and new movies are added to the calendar, so be sure to bookmark this post for future reference. For your convenience, we've separated the 2012 movie releases into the the months of the year.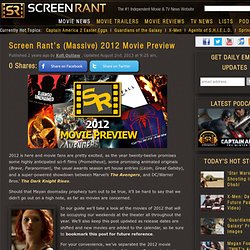 Screen Rant's (Massive) 2012 Movie Preview
Welcome on EzyWatch.com place where you can watch videos as long as you want. We support bypass solutions for most popular video hosting websites and Megavideo alternatives. Currently you can use video links from putlocker.com, novamov.com, sockshare.com, videoweed.com, veoh.com, divxstage, filebox, filenuke, movreel, movshare, nosvideo, nowdownload, nowvideo, sharerepo, sharesix, vidbux, videobam, videoslasher, vidhog, maxvideo, youtube and vidxden !