Must visit sometime in near future
Room Descriptions and Rates || Directions Room Information Award-winning Inn & Fine Dining The perfect retreat for your Berkshire visit Boston Magazine "Best of Boston 2005" award winner "Best Inn in the Berkshire" The Williamsville Inn is a historic Country Inn built in 1797 by Christopher French.
The Williamsville Inn: West Stockbridge, MA: Welcome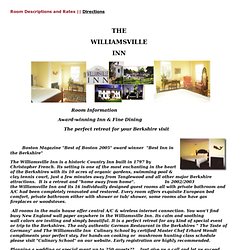 2013 | White Light Festival 2013 | Lincoln Center for the Performing Arts
Menla Mountain Retreat & Conference Center is owned and operated by Tibet House US, as a developing center for the dissemination of Tibetan healing arts and sciences. Menla features a variety of events year round. Learn about our upcoming programs at Menla. For more on Menla, visit the Menla website at: www.menla.org Menla Mountain Retreat & Conference Center is set on 320 acres in the historic Catskill Mountains of NewYork State.
Menla Mountain Retreat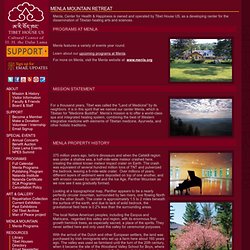 Retreats and Workshops « No Yoga, No Peace
Tibet House US
Preachers Rock, Preikestolen, Norway Blue Caves - Zakynthos Island, Greece Skaftafeli - Iceland Plitvice Lakes – Croatia Crystalline Turquoise Lake, Jiuzhaigou National Park, China Four Seasons Hotel - Bora Bora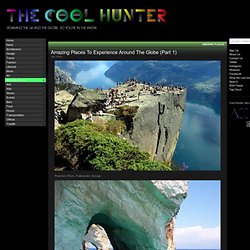 Museum Mile Festival | New York's Biggest Block Party
Nature Valley Trail View
Photo Gallery | Palazzo Rimondi Rethymno Crete
Фотожурнал Коржонова Данила - Тонкие струны Байкала или 400 км на коньках! Часть 1: Бугульдейка-Ольтрек
Всё началось с мечты. Мечты увидеть чистейший лёд Байкала, прикоснуться к святыне Сибири, почувствовать мощь Озера и впитать его красоту. Хотя кроме таких высокоморальных мыслей не покидала идея просто погонять на коньках по здоровенному катку и поснимать Байкальские ледяные красоты. Путь длиною в 400 км на коньках был пройден нами меньше, чем за 2 недели и поместился в эти строчки.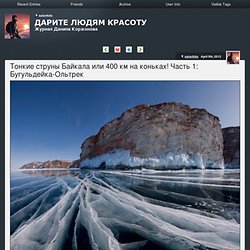 Nicholas Roerich Museum New York
Schedules & Admission Highlights at New York City Museums & Galleries
schedules & admissions highlights museums & galleries The Metropolitan Museum of Art. Photo: Alex Lopez The Metropolitan Museum of Art.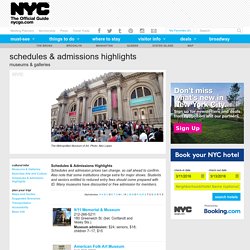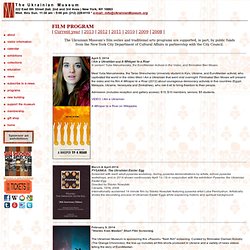 SATURDAY APRIL 6 3:00PMKinofest NYCVenue: The Ukrainian Museum YOUNG UKRAINIAN FILMMAKER SHORTS Session curated by and introduced by Kinofest NYC Program Coordinator Andrij Witiuk; film selections organized in Ukraine by Liza Klyuzko and Lena Yacovitska (Karpenko-Kary). Screenwriter Kateryna Babkina (Evil) will be available for post-screening Q&A. SunshowerDirected by Anastasia Maksimchyk Ukrainian (w/Eng. subtitles) Ukraine, 2012, 10 min A jaded couple have a petty argument over the purchase of a shower head. The WardrobeDirected by Liza Klyuzko Ukrainian (w/Eng. subtitles) Ukraine, 2012, 11 min Based on a Guy de Maupassant short story, a University student prostitutes herself to make ends meet. 'Wardrobe' screened at the Molodist Fast Film Festival in Ukraine.
The Ukrainian Museum (NYC) Programs: Film, Book Presentations, Concerts, Lectures, and Special Events -- Archive