Art
▶ PIXELS by PATRICK JEAN.
Maxim Dondyuk
Breathtaking Surreal Self Portraits by 20-Year-Old Rachel Baran
Emily Amey Jewelry
Igor Morski - Portfolio
Illusion › The Most Amazing Artistic Creations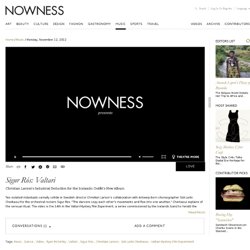 The Restaurateur Makes His London Debut With a New Sex Shop Fronted Mexican Joint Chorizo, lobster and lime reveal their unexpectedly lascivious side in still life photographers Metz + Racine's saucy homage to London's newest hotspot, La Bodega Negra. Using a color palette and mini-sets inspired by the Mexican architect Luis Barragán, Metz + Racine enlisted ingredients from the eatery's menu.
Sigur Rós: Valtari
Lovers
Photography
Matej Peljhan
Wooster Collective
Palden Lhamo Dusolma | Educational Interactive Library
deviantART: where ART meets application!
Seeing with Photography Collective is a group of photographers based in New York City who are visually impaired, sighted and totally blind. Coming from diverse backgrounds and life experiences, we share an awareness of sight loss, along with the determination to dialogue and integrate our images into a more universal context. Sighted assistants focus and compose the view camera's frame directed by the blind artist. Then, in a darkened room, we leave the camera's shutter open as we slowly paint our sitter with a small flashlight ...human scaled exposures, lasting many minutes, rather than the instant shutter click we typically hear.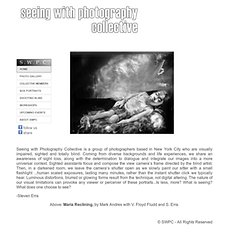 Seeing With Photography Collective
Remember Summertime Scrap Tires Sailing Hay Bales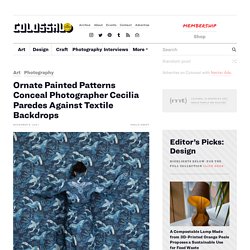 Colossal | Art, design and visual ingenuity.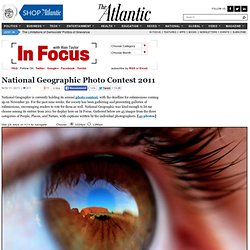 National Geographic Photo Contest 2011 - In Focus
National Geographic is currently holding its annual photo contest, with the deadline for submissions coming up on November 30. For the past nine weeks, the society has been gathering and presenting galleries of submissions, encouraging readers to vote for them as well. National Geographic was kind enough to let me choose among its entries from 2011 for display here on In Focus.
Евгени Динев — Пейзажна фотография
Within 'Somewhere' We are transported to a time where the boundaries between what is real and what is simulated are blurred. We live online and download places to relax, parks and shopping malls. We can even interact with our friends as if they were in the same room with simulated tele-presence. Everyone is connected and immersed in nanorobotic replications of any kind of object or furnishings, downlodable on credit based systems.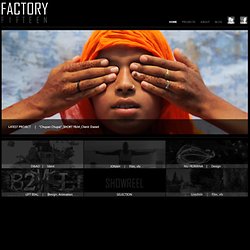 FACTORY FIFTEEN
zhgun.ru
Explore / Tags / illustration
robert seidel | news
Kenji Kojima / RGB MusicLab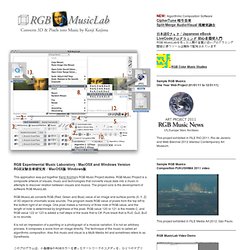 RGB Experimental Music Laboratory / MacOSX and Windows Version RGB実験音楽研究所 / MacOSX版 Windows版 This application was put together Kenji Kojima's RGB Music Project studies. RGB Music Project is a composite artwork of visuals, music and technologies that converts visual data into a music in attempts to discover relation between visuals and musics. The project core is the development of software RGB MusicLab. RGB MusicLab converts RGB (Red, Green and Blue) value of an image and surface points (X, Y, Z) of 3D object to chromatic scale sounds.
Anna Garforth
Art Project, powered by Google
Interactives | Exhibitions | 2007 | Reverón | Index
MUSEO
Discover hundreds of videos curated by some of the world's most exceptional talent. Browse the categories to find performances, concerts, plays, rehearsals, interviews, gallery tours, and documentaries. Each art form has its subsections listed in the drop down menus and all the videos have accompanying text highlighting the artists involved and putting their work in context. Each curator has their own page and accompanying videos.
Welcome to HiBROW - Explore the world of HiBROW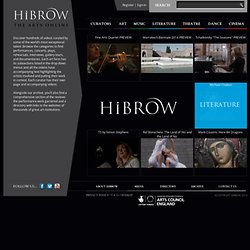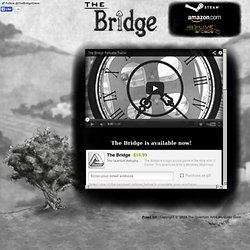 The Bridge is a 2D logic puzzle game that forces the player to reevaluate their preconceptions of physics and perspective. It is Isaac Newton meets M. C. Escher. Manipulate gravity to redefine the ceiling as the floor while venturing through impossible architectures.
The Bridge
Dear Esther
videorative portrait of Randall Okita | Sergio Albiac