SocialMedia & Tech
Report_FINAL_130712
Once upon a time, Pinterest was this cool new social media platform that no one had really heard of yet. I could pin things without the worry of getting weird looks from anyone I knew in real life (hello cheeky someecards) and lament how everyone else was TOTALLY missing out.
Pinterest Best Practices: 5 Signs You're Pinning It Wrong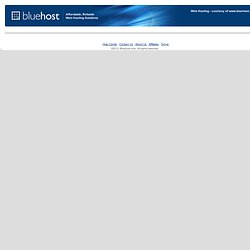 Social media is more effective when you're not making mistakes.
Three Dangerous B2B Social Media Mistakes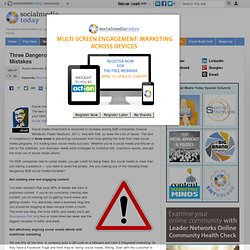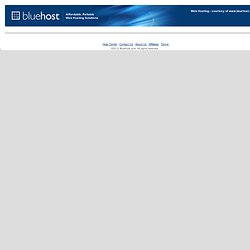 With PR taking the lead on digital initiatives now more than ever, it's becoming increasingly difficult to separate work from life.
5 Ways To Avoid Social Media Burnout | PR Geek Speak
Study: PR Gets Higher Marks Than Advertising for Social Media Use - PRNewser
Jennifer Aniston Goes Viral By Mocking All Viral Videos: Online Video News «
How To Build Social Media Awareness Into Your Website
An old man is approached by a traveler. He's asked how to get to Dublin. The old man replies: "I sure wouldn't start from here."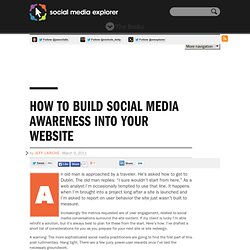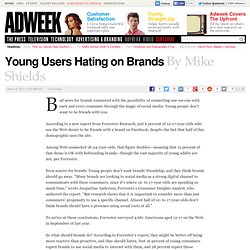 Young Users Hating on Brands
Bad news for brands enamored with the possibility of connecting one-on-one with each and every consumer through the magic of social media: Young people don't want to be friends with you. According to a new report from Forrester Research, just 6 percent of 12-17-year-olds who use the Web desire to be friends with a brand on Facebook, despite the fact that half of this demographic uses the site. Among Web-connected 18-24-year-olds, that figure doubles—meaning that 12 percent of that demo is OK with befriending brands—though the vast majority of young adults are not, per Forrester.
6 B2B social media questions I've been asking myself lately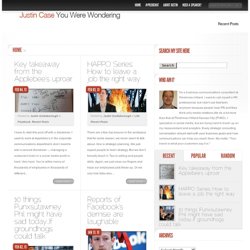 I am honored to be a 2013 candidate for the Leukemia Lymphoma Society Man/Woman of the Year campaign. Each year, 25-30 individuals dedicate 10 weeks (March 7-May 23 this year) to reach out to their community and raise more than $500,000 for the Leukemia and Lymphoma Society (LLS). I will be sharing a cancer story each week of the...
Social Media – What's The Abbreviation? [POLL] |
[tweetmeme source="social_penguin" only_single=false http://www.thesocialpenguinblog.com ]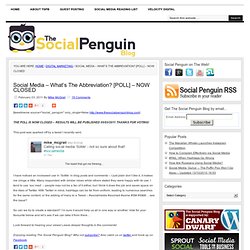 Facebook vs Twitter [infographic]
Social Media High School « PR Geek Speak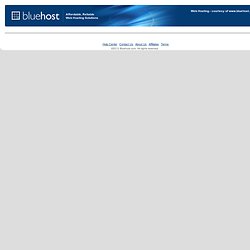 Do you ever feel as if you're back in High School every time you log in to Twitter or Facebook?
comic strip for 09/14/2010 from the official Dilbert comic strips archive.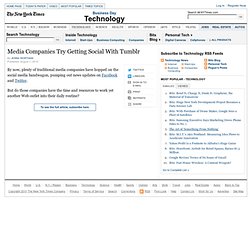 Media Companies Try Getting Social With Tumblr
But do those companies have the time and resources to work yet another Web outlet into their daily routine?
The Twitchhiker: The amazing story of how Paul Smith travelled the world for free using only Twitter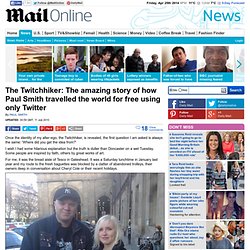 By Paul Smith UPDATED: 00:59 GMT, 11 July 2010
Social Network Trailer Cranks Up Rancor Behind Facebook's Beginnings | Underwire
Letterman, Oprah and Leno teamed up this year for a Super Bowl ad promoting Dave's "Late Show" on CBS. Oprah and Letterman did a similar ad in 2007 called "Super Bowl of Love," mocking their alleged 16-year feud. In this case it was Dave and Jay's relationship that was the punchline.
Oprah, Leno, And Letterman Team Up For Super Bowl Ad (VIDEO)
If there's one thing I've learned during my 15 years in sales (mostly selling software), it's that a lot of businesses don't deliver a consistent, cohesive message when communicating with buyers.
Engagement Marketing Blog | Silverpop
I can't think how many times students have asked me some variation on this question. I often require my students to participate on PROpenMic, and at least one of them will say, "I don't really get what we're supposed to be doing." (By the way, pros and educators, that's just more proof of this .)
Teaching PR: Answering an FAQ: "How do I use PROpenMic?"
How the Letterman-Oprah-Leno Super Bowl Ad Came Together - Media
Jay and Dave together?
Pitching to bloggers takes preparation, clarity and patience |
Social media is free.
The Real Cost of Social Media and Other Myths
Doritos Commercial - Little Boy - Super Bowl by @jose3030 - Twit
The Maturation of Social Media ROI
Steven Pearlstein - The Amazon-Macmillan book saga heralds publi
Dynamic Visualization of Social Networking Will Accelerate Learn
Network Interference: A Legal Guide to the Commercial Risks and
Do You Have a Conversation Strategy?
Forrester crimps bloggers: epic E2.0 fail | Irregular Enterprise
Do You Play Foursquare?
The Biggest Social Media Mistake | The Fast Growth Blog
Speak to your TRUE fans. They'll do the rest. : Luymes PR
Pepsi Skips Super Bowl TV Advertising for Social Media - Yahoo!
The Importance of Managing Your Online Reputation « emergent by
Jon Stewart DESTROYS Blogosphere, MUTILATES It, Slaps Blogs In F
The Maturation of Social Media ROI
The Real Cost of Social Media and Other Myths
My picks for the 99 most useful Social Media (and PR) Blog posts
The Information Divide: The Socialization of News | Brian Solis
Case Studies, Articles & Books
In Review: FriendorFollow.com
Applied Social Psychology & Social Media: The Overjustification
Real Friends vs Social Media Friends
5 SIMPLE IDEAS FOR USING HYBRID MARKETING | Mango! Creative Juic
Top 100 Social Media Blog Twitter List by Sarah Evans on Listori
How To Set Social Media Goals | SocialMouths
Life is unfair!