Applications
Firefox 4. Gimp. Open Source Windows - Free Windows software, all open-source, all Windows XP and Vista. 101 Free Alternatives to Commonly Used Paid Software. Written by Sean McColgan on September 22, 2010 If you're running a business, then one of the highest costs you may be faced with is equipping your IT systems with the relevant software.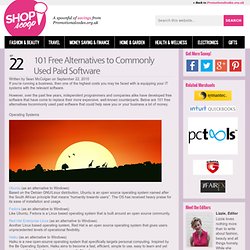 However, over the past few years, independent programmers and companies alike have developed free software that have come to replace their more expensive, well-known counterparts. Below are 101 free alternatives tocommonly used paid software that could help save you or your business a lot of money. Operating Systems. 50 Open Source Tools to Make Your Life Easier. The open source community is vibrant, continually growing, and just loves to create applications and tools to make lives easier.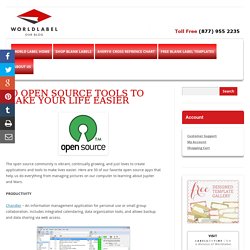 Here are 50 of our favorite open source apps that help us do everything from managing pictures on our computer to learning about Jupiter and Mars. Chandler – An information management application for personal use or small group collaboration. Includes integrated calendaring, data organization tools, and allows backup and data sharing via web access. 20 Top Desktop Blogger Editors To Manage Your Blog Easily. Blogging is a thing that is getting very common on internet now-a-days.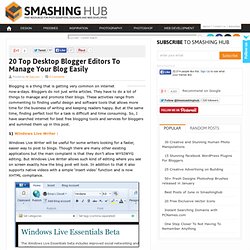 Bloggers do not just write articles. They have to do a lot of things to manage and promote their blogs. These activities range from commenting to finding useful design and software tools that allows more time for the business of writing and keeping readers happy. But at the same time, finding perfect tool for a task is difficult and time consuming. VLC: Free streaming and multimedia solutions for all OS! FlightGear Flight Simulator. The OSSwin project: Open Source for Windows! Tools and utilities for Windows. Many useful ports of GNU utilities to Win32 by Karl M Syring are available at UnxUtils sourceforge site.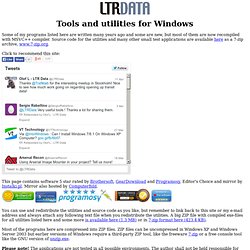 Other useful tools and interesting source code using undocumented native API:s and an Ext2 filesystem for NT project by Adrey Shedel. Click here for update history for this page (last update 08 February 2014) DC++ your files, your way, no limits. The ClamAV LiveCD Project in Launchpad. The ClamAV Live CD is a small (~120 MB), lightweight antivirus Live CD built on Ubuntu with ClamAV installed for easy and thorough virus scanning of mainly Windows machines.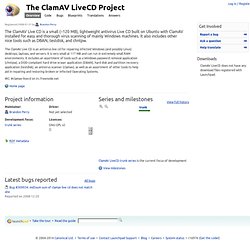 It also includes other nice tools such as DBAN, testdisk, and chntpw. The ClamAV Live CD is an antivirus live cd for repairing infected Windows (and possibly Linux) desktops, laptops, and servers. 25 Best SSH Commands / Tricks. OpenSSH is a FREE version of the SSH connectivity tools that technical users of the Internet rely on.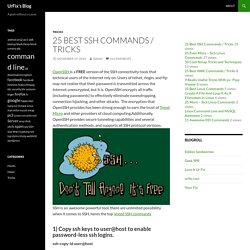 Users of telnet, rlogin, and ftp may not realize that their password is transmitted across the Internet unencrypted, but it is. OpenSSH encrypts all traffic (including passwords) to effectively eliminate eavesdropping, connection hijacking, and other attacks. The encryption that OpenSSH provides has been strong enough to earn the trust of Trend Micro and other providers of cloud computing.Additionally, OpenSSH provides secure tunneling capabilities and several authentication methods, and supports all SSH protocol versions. SSH is an awesome powerful tool, there are unlimited possibility when it comes to SSH, heres the top Voted SSH commands.
---