Web tools
Flickr Slideshow - create flickr photo slideshows for your website or blog. Dashboard - DISQUS. Networked Blogs - NetworkedBlogs.com. Dashboard - Pivotal Tracker. Login | MailChimp - email marketing made easy. Free File Hosting - Online Storage; Upload Mp3, Videos, Music. Backup Files. Alerts - Monitor the Web for interesting new content. Webbhotell Binero. Gratis och kvalitetssäkrade namninsamlingar. Video - Breaking News Videos from CNN.com - Artificial intelligence in your hands. Pistorius trial cross-examination ends1:11Jewish center shooting suspect identified1:12Day care hit-and-run suspect in custody1:11Girl unwraps soldier dad for birthday0:49What is Bitcoin?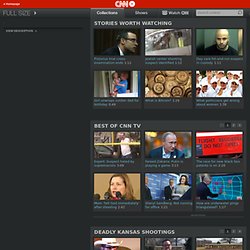 1:29What politicians get wrong about women1:38 Expert: Suspect hated by supremacists3:09Fareed Zakaria: Putin is playing a game3:13The race for new black box patents is on2:20Mom 'felt God immediately' after shooting2:42Sheryl Sandberg: Not running for office1:21How are underwater pings triangulated? 1:27Sources: Malaysia plane dropped altitude Hear police radio call after stabbing Students stabbed at Pennsylvania school Zakaria: Russia's trying to create chaos Piecing together a plane accident puzzle Nancy Grace: Regret doesn't excuse deed. Pingdom Tools. Internet Buttons | Welcome. The Best Social Media Icons All In One Place. 464 shares 8 Free & Useful Minimal Icon Sets Icons are certainly a very important element of a design.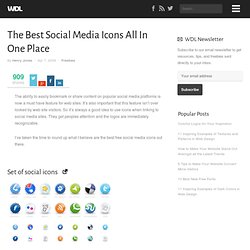 It doesn't matter if you are putting together a website or app, icons will be the key for several user interactions. This is why it's always good to fill your library with good icons you can count on. The good thing is that there are… Vector Social Media Icons. This free set includes 80 icons of the most popular social media networks on the internet.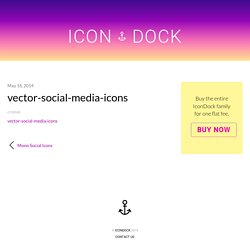 The icons are designed in 32px and 16px vector format. With the vector format, you can scale the icon to any size to fit with your design or use it in high quality print materials. 100+ Social Bookmarking Icon Packs ~ Coder Plus. Coder Plus Home » Icons » 100+ Social Bookmarking Icon Packs 100+ Social Bookmarking Icon Packs By Coder November 4, 2009Icons12 Comments Social Bookmarking is a very effective way of promoting your blogs/websites Here is a huge list of Social Bookmarking Icon Packs,(Most of which are provided for free with the Creative Commoms Licensing) designed by some of the best designers around..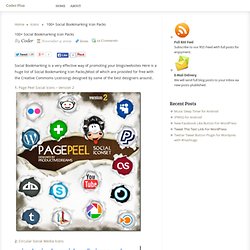 Create a Social Networking Site with Ning, the Best Social Site Platform. Sign Up for the Google Maps API - Google Maps API Family - Google Code. Easystreet - Make Your Own Street Sign. Find Free Clipart | Free Clip Art Images. My Maps - MindMeister. Checkout - Merchants. Free screen color picker from ColorSchemer. [pc]FREEv1.1ColorSchemer ColorPix ColorPix is a useful little color picker that grabs the pixel under your mouse and transforms it into a number of different color formats.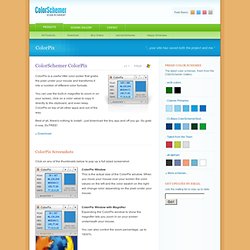 You can use the built-in magnifier to zoom in on your screen, click on a color value to copy it directly to the clipboard, and even keep ColorPix on top of all other apps and out of the way. Best of all, there's nothing to install - just download the tiny app and off you go. Kuler. BgPatterns — Background Patterns Maker.
---