Web tools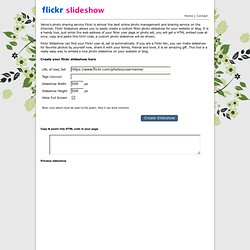 Flickr Slideshow - create flickr photo slideshows for your website or blog
Yahoo's photo sharing service Flickr is almost the best online photo management and sharing service on the Internet, Flickr Slideshow allows you to easily create a custom flickr photo slideshow for your website or blog. It is a handy tool, just enter the web address of your flickr user page or photo set, you will get a HTML embed code at once, copy and paste this html code, a custom photo slideshow will be shown. Flickr Slideshow can find your Flickr user id, set id automatically. If you are a Flickr fan, you can make slideshow for favorite photos by yourself now, share it with your family, friends and lover, it is an amazing gift. This tool is a really easy way to embed a nice photo slideshow on your website or blog.
Dashboard - DISQUS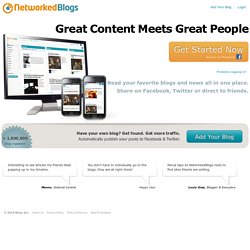 Networked Blogs - NetworkedBlogs.com
Get Started Now Access via Facebook Problems logging in? Are you using AdBlock, Facebook Disconnect, or another browser extension that blocks Facebook Connect? Try disabling it. This is likely the reason, especially if you don't see a "login" button.
Dashboard - Pivotal Tracker
Login | MailChimp - email marketing made easy
Free File Hosting - Online Storage; Upload Mp3, Videos, Music. Backup Files
Alerts - Monitor the Web for interesting new content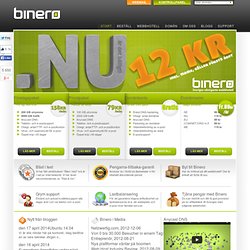 Webbhotell Binero
Binero AB Företagspaket För dig med krav 200 GB utrymme 4000 GB trafik Anycast DNS Telefon- och e-postsupport Obegr. antal FTP- och e-postkonton Virus- och spamskydd för e-post Öppet köp i 45 dagar Privatpaket Passar de flesta
Gratis och kvalitetssäkrade namninsamlingar
Pistorius trial cross-examination ends1:11Jewish center shooting suspect identified1:12Day care hit-and-run suspect in custody1:11Girl unwraps soldier dad for birthday0:49What is Bitcoin?1:29What politicians get wrong about women1:38 Expert: Suspect hated by supremacists3:09Fareed Zakaria: Putin is playing a game3:13The race for new black box patents is on2:20Mom 'felt God immediately' after shooting2:42Sheryl Sandberg: Not running for office1:21How are underwater pings triangulated?1:27Sources: Malaysia plane dropped altitude Hear police radio call after stabbing Students stabbed at Pennsylvania school Zakaria: Russia's trying to create chaos Piecing together a plane accident puzzle Nancy Grace: Regret doesn't excuse deed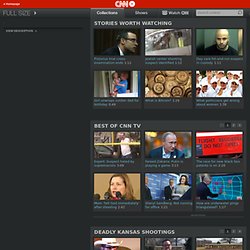 Video - Breaking News Videos from CNN.com - Artificial intelligence in your hands
Pingdom Tools
Nobody Likes a Slow Website We built this Website Speed Test to help you analyze the load speed of your websites and learn how to make them faster. It lets you identify what about a web page is fast, slow, too big, what best practices you're not following, and so on. We have tried to make it useful both to experts and novices alike.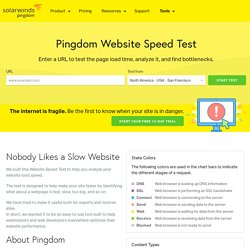 Internet Buttons | Welcome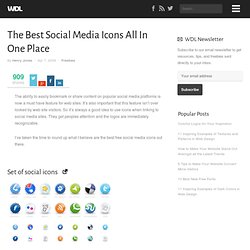 464 shares 8 Free & Useful Minimal Icon Sets Icons are certainly a very important element of a design. It doesn't matter if you are putting together a website or app, icons will be the key for several user interactions. This is why it's always good to fill your library with good icons you can count on. The good thing is that there are…
The Best Social Media Icons All In One Place | Freebies
Vector Social Media Icons
This free set includes 80 icons of the most popular social media networks on the internet. The icons are designed in 32px and 16px vector format. With the vector format, you can scale the icon to any size to fit with your design or use it in high quality print materials.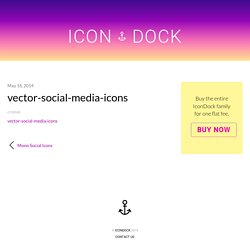 100+ Social Bookmarking Icon Packs ~ Coder Plus
Coder Plus Home » Icons » 100+ Social Bookmarking Icon Packs 100+ Social Bookmarking Icon Packs By Coder November 4, 2009Icons12 Comments Social Bookmarking is a very effective way of promoting your blogs/websites Here is a huge list of Social Bookmarking Icon Packs,(Most of which are provided for free with the Creative Commoms Licensing) designed by some of the best designers around..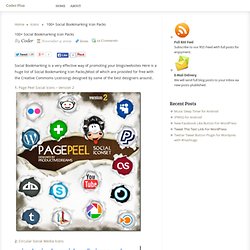 Create a Social Networking Site with Ning, the Best Social Site Platform
Sign Up for the Google Maps API - Google Maps API Family - Google Code
Easystreet - Make Your Own Street Sign
The internet is a scary place, full of puzzles and shadowy individuals. The internet is full of images. It has been, ever since one scientist realized he could use it to send scant pictures of Lieutenant Uhura to another scientist. Images come in various flavors of Copyright protection.
Find Free Clipart | Free Clip Art Images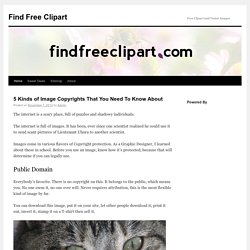 My Maps - MindMeister
Checkout - Merchants
Free screen color picker from ColorSchemer
[pc]FREEv1.1ColorSchemer ColorPix ColorPix is a useful little color picker that grabs the pixel under your mouse and transforms it into a number of different color formats. You can use the built-in magnifier to zoom in on your screen, click on a color value to copy it directly to the clipboard, and even keep ColorPix on top of all other apps and out of the way. Best of all, there's nothing to install - just download the tiny app and off you go.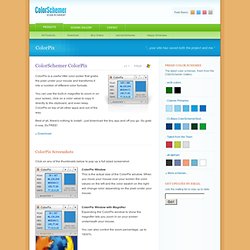 kuler
BgPatterns — Background Patterns Maker