Web tools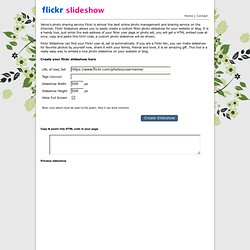 Flickr Slideshow - create flickr photo slideshows for your website or blog
Yahoo's photo sharing service Flickr is almost the best online photo management and sharing service on the Internet, Flickr Slideshow allows you to easily create a custom flickr photo slideshow for your website or blog. It is a handy tool, just enter the web address of your flickr user page or photo set or photo group, you will get a HTML embed code at once, copy and paste this html code, a custom photo slideshow will be shown. Flickr Slideshow can find your Flickr user id, set id or group id automatically. If you are a Flickr fan, you can make slideshow for favorite photos by yourself now, share it with your family, friends and lover, it is an amazing gift. This tool is a really easy way to embed a nice photo slideshow on your website or blog.
Dashboard - DISQUS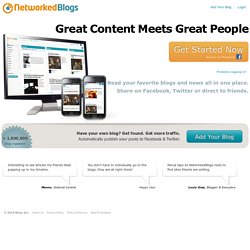 Networked Blogs - NetworkedBlogs.com
Get Started Now Access via Facebook Problems logging in? Are you using AdBlock, Facebook Disconnect, or another browser extension that blocks Facebook Connect? Try disabling it. This is likely the reason, especially if you don't see a "login" button.
Dashboard - Pivotal Tracker
Login | MailChimp - email marketing made easy
Free File Hosting - Online Storage; Upload Mp3, Videos, Music. Backup Files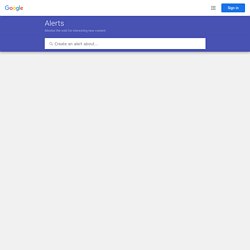 Alerts - Monitor the Web for interesting new content
Avec les alertes Google, vous êtes averti par e-mail lorsque de nouveaux résultats correspondant aux termes que vous recherchez sont publiés (Web, actualités, etc.). Saisissez une requête de recherche que vous souhaitez surveiller. Vous verrez un aperçu du type de résultats que vous recevrez. Exemples d'utilisation des alertes Google : Suivi de l'évolution d'un sujet d'actualitéRéception d'informations sur les activités récentes d'un concurrent ou d'un secteurSuivi de l'actualité d'une personnalitéSuivi des résultats d'une équipe sportive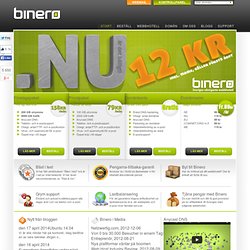 Webbhotell Binero
Binero AB Företagspaket För dig med krav 200 GB utrymme 4000 GB trafik Anycast DNS Telefon- och e-postsupport Obegr. antal FTP- och e-postkonton Virus- och spamskydd för e-post Öppet köp i 45 dagar Privatpaket Passar de flesta
Gratis och kvalitetssäkrade namninsamlingar
Canine combat vet guards Pentagon halls1:56Soldier's shocking airport surprise1:52Gay Olympian: We've come a long way2:20WWII veteran receives special gift2:27Gay skater thought Olympics was impossible2:57Donor puts $3,500 ring in donation bucket1:27 W. Virginia Governor: 'It's pretty bad'4:29Mayor: Chemical spill is like a prison1:58Material has impacted the water supply2:15Chemical leak contaminates water source1:54Manchin: We'll find the culprit in spill2:48Fed. emergency in West Va. chemical leak2:35Chemical spill contaminates water Many without water after chemical spill GOP members gloat over Christie troubles2:39Who is former aide Bridget Anne Kelly?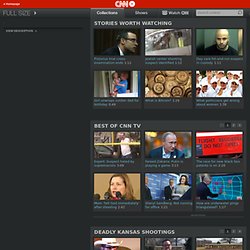 Video - Breaking News Videos from CNN.com - Artificial intelligence in your hands
Pingdom Tools
Nobody Likes a Slow Website We built this Website Speed Test to help you analyze the load speed of your websites and learn how to make them faster. It lets you identify what about a web page is fast, slow, too big, what best practices you're not following, and so on. We have tried to make it useful both to experts and novices alike.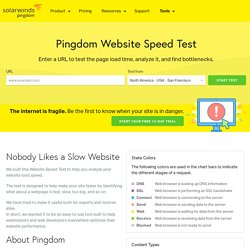 Internet Buttons | Welcome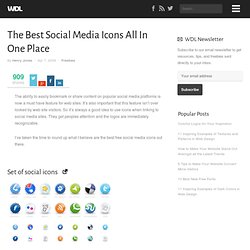 The ability to easily bookmark or share content on popular social media platforms is now a must have feature for web sites. It's also important that this feature isn't over looked by web site visitors. So it's always a good idea to use icons when linking to social media sites. They get peoples attention and the logos are immediately recognizable. I've taken the time to round up what I believe are the best free social media icons out there. Set of social icons
The Best Social Media Icons All In One Place | Freebies
Vector Social Media Icons
This free set includes 80 icons of the most popular social media networks on the internet. The icons are designed in 32px and 16px vector format. With the vector format, you can scale the icon to any size to fit with your design or use it in high quality print materials.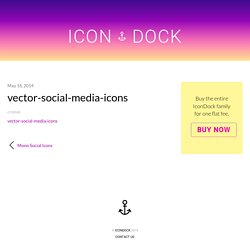 100+ Social Bookmarking Icon Packs ~ Coder Plus
Coder Plus Home » Icons » 100+ Social Bookmarking Icon Packs 100+ Social Bookmarking Icon Packs By Coder November 4, 2009Icons12 Comments Social Bookmarking is a very effective way of promoting your blogs/websites Here is a huge list of Social Bookmarking Icon Packs,(Most of which are provided for free with the Creative Commoms Licensing) designed by some of the best designers around..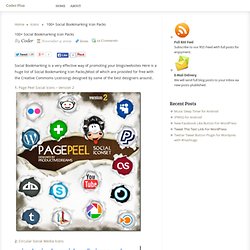 Create a Social Networking Site with Ning, the Best Social Site Platform
Sign Up for the Google Maps API - Google Maps API Family - Google Code
Easystreet - Make Your Own Street Sign
The internet is a scary place, full of puzzles and shadowy individuals. The internet is full of images. It has been, ever since one scientist realized he could use it to send scant pictures of Lieutenant Uhura to another scientist. Images come in various flavors of Copyright protection.
Find Free Clipart | Free Clip Art Images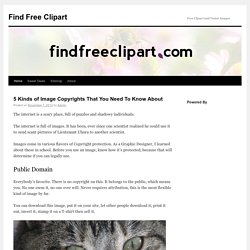 My Maps - MindMeister
Checkout - Merchants
Free screen color picker from ColorSchemer
[pc]FREEv1.1ColorSchemer ColorPix ColorPix is a useful little color picker that grabs the pixel under your mouse and transforms it into a number of different color formats. You can use the built-in magnifier to zoom in on your screen, click on a color value to copy it directly to the clipboard, and even keep ColorPix on top of all other apps and out of the way. Best of all, there's nothing to install - just download the tiny app and off you go.
kuler
BgPatterns — Background Patterns Maker