Sociala media
Presentkort i Karlstad: Spara upp till 70% med din Groupondeal i Karlstad. Offers in NYC Uptown - $59 for a consultation, exam, treatment and massage at Angrist Chiropractic & Wellness Care ($275 value) Hans-olof Hagberg på Netlog. The #1 Bookmarking & Sharing Service. Google Introduces Facebook Competitor, Emphasizing Privacy. Do Nothing for 2 Minutes. FRONTLINE: digital nation - life on the virtual frontier. FRONTLINE: digital nation: watch the full program. I wanted to wait a bit because it seemed like it'd be more interesting to listen to all of you.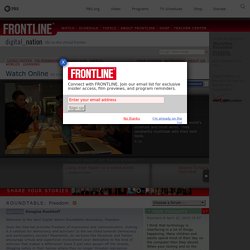 There used to be a name for what I was doing, "lurking" -- it dates back to a very different time in the net's history, when usenet and mailing lists were the main forms of communication. It was hard to talk about lurkers then, for the obvious reason that no one knew much about them; it hasn't gotten much easier since. The idea of lurkers has all but vanished now, buried by a succession of ways to try and slice and dice them: "eyeballs," pageviews, users, subscribers, friends, followers, etc, etc. I think these changes are relevant in this context because Doug's initial questions put a lot of emphasis on expression: participation and activism on the one hand, and a concern that "social networks" (as if there were any other kind) might be diminishing the quality of people's engagement, on the other. Today's Most Popular Study Guides.
Integrated Communication and Advertising From A Digital Perspective. Leading a brand?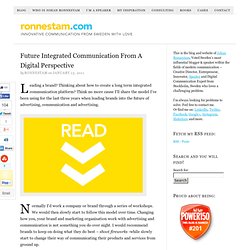 Thinking about how to create a long term integrated communication platform? Think no more cause I'll share the model I've been using for the last three years when leading brands into the future of advertising, communication and advertising. Normally I'd work a company or brand through a series of workshops. We would then slowly start to follow this model over time. Yfrog - Share your images/videos on Twitter! Curation: The Next Big Thing? A free app that helps you remember. HootSuite.
---