Installation
ServerPress.com | Developer and Designer Solutions for WordPress. Checklist: 15 Things You MUST DO Before Changing WordPress Themes. 15 Point Checklist: WordPress Start-Up Guide After Installation. 15 Things You Should Do Before Writing a Word Some people install a new WordPress site more often than they change their underwear.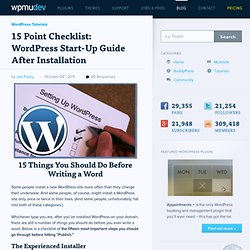 And some people, of course, might install a WordPress site only once or twice in their lives. (And some people, unfortunately, fall into both of these categories.) Whichever type you are, after you've installed WordPress on your domain, there are still a number of things you should do before you ever write a word. Below is a checklist of the fifteen most important steps you should go through before hitting "Publish." Updating WordPress. Updating WordPress Languages: English • Español • Français • suomi • עברית • Italiano • 日本語 • ქართული • Português do Brasil • Русский • Slovenčina • 中文(简体) • 中文(繁體) • (Add your language) WARNING: The upgrade process will affect all files and folders included in the main WordPress installation.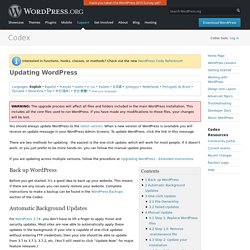 WPBeginner - Beginner's Guide for WordPress. Useful WordPress Configuration Tricks That You May Not Know. Complete Guide to Set Up a WordPress Blog and Make Money. How to set up a WordPress Blog and Make Money image byMike Licht, NotionsCapital.com Are you a writer?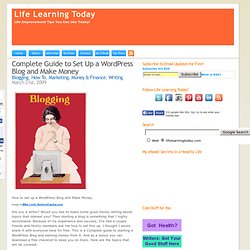 Mac, Apache, MySQL, PHP. Free Hosting. Byet provides you with an ad-free load balanced free hosting service including PHP, MySQL, FTP, Vistapanel & more!.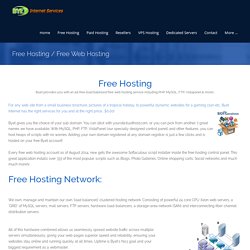 For any web site from a small business brochure, pictures of a tropical holiday, to powerful dynamic websites for a gaming clan etc, Byet Internet has the right services for you and at the right price... $0.00! Byet gives you the choice of your sub domain. You can stick with yoursite.byethost.com, or you can pick from another 7 great names we have available. With MySQL, PHP, FTP, VistaPanel (our specially designed control panel) and other features, you can host heaps of scripts with no worries. Adding your own domain registered at any domain registrar is just a few clicks and is hosted on your free Byet account! Wpng-calendar - A Wordpress plugin for integrating a Google calendar.
Overview The Wordpress Google calendar plugin allows for the integration of a Google calendar into a Wordpress blog.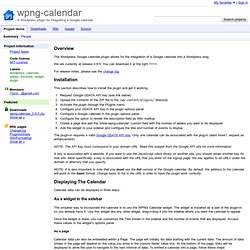 We are currently at release 0.8.5. You can download it at the right ===>. For release notes, please see the change log. Gör din blogg snabb som en racerbil och få bättre placering hos Google — theCloudhost bloggen. How to Enable Wordpress MU (Multisite) into Wordpress 3.0. We have talked a lot about WordPress 3.0 and its capabilities.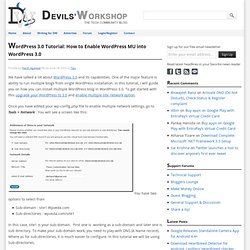 One of the major feature is ability to run multiple blogs from single WordPress installation. In this tutorial, I will guide you on how you can install multiple WordPress blog in WordPress 3.0. To get started with this upgrade your WordPress to 3.0 and enable multiple site network option. Once you have edited your wp-config.php file to enable multiple network settings, go to Tools > Network : You will see a screen like this: You have two options to select from. Plugins needed to pimp up your Wordpress community website.
WordPress is the most used free platform for creating blogs and other kind of sites.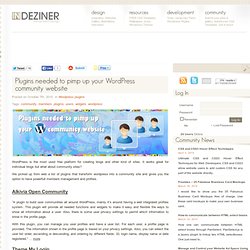 It works great for individual blogs but what about community sites? We picked up from web a list of plugins that transform wordpress into a community site and gives you the option to have powerfull members management and profiles. Alkivia Open Community. Building Community Sites with WordPress: 15 Plugins to Get Started - Noupe Design Blog. Mar 18 2010 Most bloggers would love to see more of a sense of community among the regular visitors to their blog.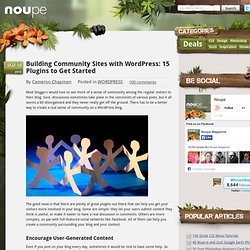 Sure, discussions sometimes take place in the comments of various posts, but it all seems a bit disorganized and they never really get off the ground. There has to be a better way to create a real sense of community on a WordPress blog. The good news is that there are plenty of great plugins out there that can help you get your visitors more involved in your blog. Some are simple: they let your users submit content they think is useful, or make it easier to have a real discussion in comments. Xampp for windows. Installing WordPress Locally on Your Mac With MAMP. Installing WordPress Locally on Your Mac With MAMP What is MAMP?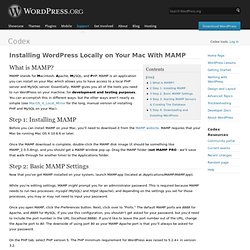 MAMP stands for Macintosh, Apache, MySQL, and PHP. MAMP is an application you can install on your Mac which allows you to have access to a local PHP server and MySQL server. Essentially, MAMP gives you all of the tools you need to run WordPress on your machine, for development and testing purposes. Installing WordPress Locally. This is the first chapter of the Complete WordPress Theme Guide series.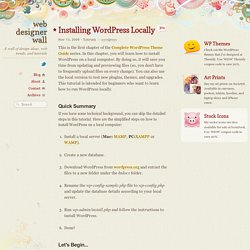 In this chapter, you will learn how to install WordPress on a local computer. By doing so, it will save you time from updating and previewing files (so, you don't have to frequently upload files on every change). You can also use the local version to test new plugins, themes, and upgrades. This tutorial is intended for beginners who want to learn how to run WordPress locally.
Quick Summary. Installing WordPress. Installing WordPress Languages: Español • English • Français • Italiano • 日本語 • 한국어 • Português do Brasil • Русский • Slovenčina • ไทย • 中文(简体) • 中文(繁體) • (Add your language) WordPress is well-known for its ease of installation. Under most circumstances, installing WordPress is a very simple process and takes less than five minutes to complete. Many web hosts now offer tools (e.g.
---