Life after internet
Remember the life of a loved one, together | 1000Memories
My Webwill
Death Switch
This year's Learning! 100 winners share common experiences. These honorees have been transforming their learning and talent programs.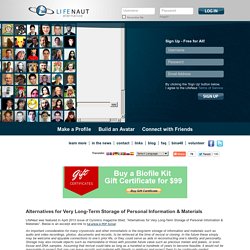 LifeNaut
VirtualEternity
Free Digital Estate Planning Software | The Secure Way To Transfer or Delete Your Email | Social Media Accounts When You Die | Entrustet.com
About PasswordBox PasswordBox is the world's first digital life manager. It's a free service that allows users to securely store, retrieve and share passwords and other personal data anytime, anywhere, on any device. PasswordBox provides robust online security for users without sacrificing convenience and ease of use. With the acquisition of Legacy Locker, PasswordBox is the only company in the world that offers users the ability to protect their digital legacy during life and after through a unique, patent-pending process.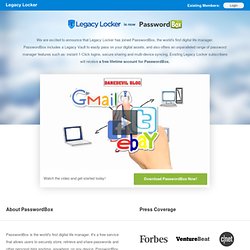 Legacy Locker - The safe and secure way to pass your online accounts to your friends and loved ones.