Life after internet
Death and the Internet: How your online identity can live on after death - SmartPlanet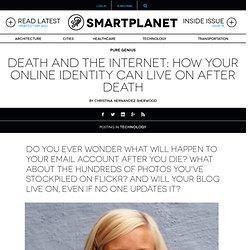 Ever wonder what will happen to your email account after you die? What about the hundreds of photos you've stockpiled on Flickr ? And will your blog live on, even if no one updates it? Sure, it's a morbid subject.
My Webwill
Death Switch
VirtualEternity
Free Digital Estate Planning Software | The Secure Way To Transfer or Delete Your Email | Social Media Accounts When You Die | Entrustet.com
Legacy Locker - The safe and secure way to pass your online accounts to your friends and loved ones.