Cycling
unnamed pearl
Beautiful Bicycle: Sönkes' NOS Cinelli Laser - PROLLY IS NOT PROBABLY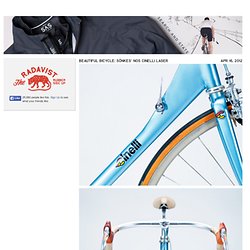 Photos by Robin Nilssen Yeah, go ahead and file this under "oh my fucking god". So it seems that a plane, loaded with NOS Cinelli Lasers crash-landed in Stockholm many years ago. On an epic journey through the forests, in search of ancient runes, Sönkes came across the mangled vessel, only to find all of the bikes were destroyed, save for one. He took it home and found it to be in incredible, NOS condition.
Brick Lane Bikes
FollowMe Tandem Coupling
From £599.99 £799.99 free UK delivery on orders > £20
On-One Carbon 456 Frame Limited Edition / Original Matt Black with Black Decals / 18 In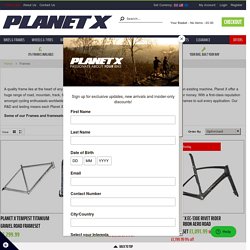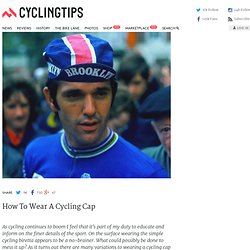 How To Wear A Cycling Cap
First, The Death Of The Cycling Cap The cycling cap has changed little throughout the years but somewhere along the way it's taken a wrong turn. The men of the 60′s, 70′s and 80′s epitomised the look of the cap and brought it into a style of its own. But I fear those days are gone.
Folding Travel Bikes using S and S Machine Bicycle Torque Couplings™
Builder Profile
President, Lennard Zinn Author of the best-selling books: -"Zinn and the Art of Mountain Bike Maintenance" -"Zinn and the Art of Road Bike Maintenance" Also senior technical writer for VeloNews and velonews.com The biggest frame builder in existence builds big frames. Makes big sense! At 6'6" Lennard Zinn knows what it takes. Light, strong, stable and comfortable custom road and mountain bikes for people from 6'3" and up. If you are over 6'3", our Big and Tall Custom Bike may be the bicycle you have dreamed of but thought could not be found. You are well aware of the difficulties in finding a bicycle to fit you and perform well.
S&S Couplings
All sizes | S&S Couplings
Balance Bikes - buy a Balance Bike
Thessaloniki Cycle Chic
vélocouture
Specialized 's Stumpjumper FSR was one of the very first full-suss trail bikes, with a design heritage that dates back to the early '90s. Brought bang up-to-date with an elegant frame design, 120mm of rear wheel travel and a good-looking spec list, it's a strong contender in its class. Ride & handling: All-round excellence is within grasp with a bit of shock tweaking Specialized know how important the FSR range is to their reputation. The design has matured and evolved over so many generations, it's a tribute to the engineering team that the current incarnation remains so true to its roots of all-round excellence. Surprisingly relaxed angles hint at handling that's biased towards higher speeds, but this isn't the case.
Specialized FSR XC Comp Review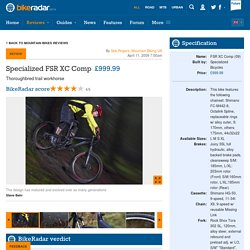 ffffixas
CyclingNews - Τα πάντα για την ποδηλασία
Home: rembetis Historische Fahrräder - Vintage Bikes - An-und Verkauf
Wallingford Bicycle Parts www.wallbike.com
Cycles of Yesteryear Home Page
Cyclist Friends - Η ποδηλατική μας παρέα