Computers
Warning/Disclaimer ityadi: Assuming that you, the person facing this problem, owns a licensed, legitimate copy of the software. You got no business taking my name when the aunty-piracy overlords throw you in ze gulag for using warez – Comprende ? The problem lies not with the Software [ Unigraphics NX ], but with its license manager that is supposed to run as a service in the computer. It enables you to run Unigraphics NX on workstations that access the license manager before running.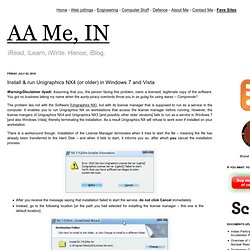 Install & run Unigraphics NX4 (or older) in Windows 7 and Vista - AA Me, IN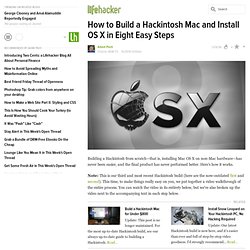 How to Build a Hackintosh Mac and Install OS X in Eight Easy Steps
Building a Hackintosh from scratch—that is, installing Mac OS X on non-Mac hardware—has never been easier, and the final product has never performed better. Here's how it works. Note: This is our third and most recent Hackintosh build (here are the now-outdated first and second ). This time, to make things really easy on you, we put together a video walkthrough of the entire process. You can watch the video in its entirety below, but we've also broken up the video next to the accompanying text in each step below. The Full Step by Step in Video Form
State Country This transaction is secure
Multi Monitor - Dual Monitor - KVM switch
7 Interesting and Useful Things to do with your USB Pen Drive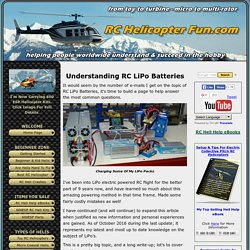 This is a big topic and a long write-up, probably why I kept putting it off. I am not going into a deep explanation of battery physics here; if you want that kind of information check this site out : www.batteryuniversity.com That site is one of the best battery theory resources I have found to date. My little RC LiPo battery page here goes over the most common questions I seem to be getting asked. I also get asked about RC Battery Chargers all the time, here is my Battery Charger page if you want to learn about what to look for in a good charger.
Understanding RC LiPo Batteries
AC&NC | RAID.edu - RAID Levels - RAID Level 0 - RAID 0
Any OSx86 installation guide can seem daunting at first glance, especially when trying to remember cryptic terminal commands and sorting through volumes of misinformation on the web. This guide requires no coding, terminal work, or Mac experience of any kind. You will not need access to a Mac. In fact, it's easier and faster for me to install Snow Leopard with fully working components on my system than it is to install Windows 7.