Games
Love About.txt
Love is a game that I have been developing for over five years, alone and without funding. I have tried to make the game of my dreams and to push the envelope of what a game can be in every area. After countless iterations, innovations, and experiments I think I have created something special. Love has become a game unlike any other. Now I really think you should play it. So much that I'm making the game FREE.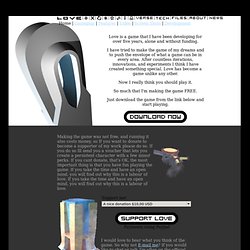 Hi there! LÖVE is an *awesome* framework you can use to make 2D games in Lua. It's free, open-source, and works on Windows, Mac OS X and Linux.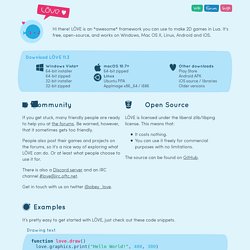 LÖVE - Free 2D Game Engine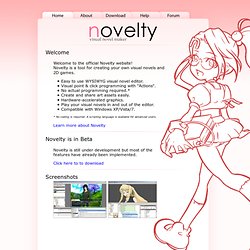 Novelty - Visual novel maker
Welcome to the official Novelty website! Novelty is a tool for creating your own visual novels and 2D games. Easy to use WYSIWYG visual novel editor. Visual point & click programming with "Actions". No actual programming required.* Create and share art assets easily.
2D Game Engine and Framework