Conference
TechCrunch Disrupt. LeWeb'11. AllThingsD. Clinton Global Initiative. The World Economic Forum | World Economic Forum-The World Economic Forum. TEDxSansFrontieres - Innovation - Entrepreneurship- Eventbrite. Invalid quantity.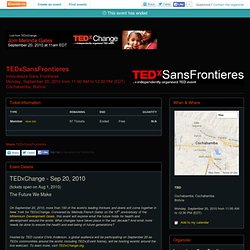 Please enter a quantity of 1 or more. The quantity you chose exceeds the quantity available. Please enter your name. Please enter an email address. Film Festival. Jan 22 – Feb 1, 2015 Park City, Utah Sundance Film Festival 2014 Submit Your Film • Press Center • Donate Mariel Hemingway Sheds Light On Mental Illness in Running From Crazy Watch Sunday, OWN, 9/8c.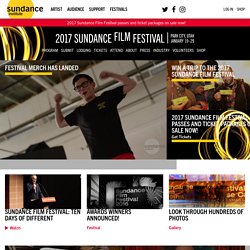 Home. Global Leadership Summit 2011 | London Business School. The rapid advance of technology in the digital age has had a profound impact on society, politics and the economy.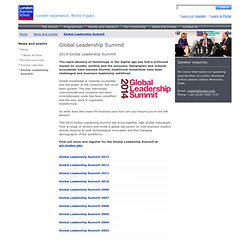 Geographic and cultural boundaries have become blurred, traditional hierarchies have been challenged and business leadership redefined. Global knowledge is instantly accessible and the power of the consumer has never been greater. The way individuals communicate and consume has been revolutionised, scale has been amplified and the way work is organised, transformed. So what does this mean for business and how can you ensure you're not left behind?
---