VST's and other software
Analog Warfare | Angular Momentum
VirtualMIDISynth is a software MIDI synthesizer implemented as a Windows multimedia user driver, accessible as a standard MIDI Out device. It works on Windows XP (SP3) / Vista (SP1) / 7 (SP1) / 8 (both x86 and x64), and is based on the great BASS library from un4seen.
VirtualMIDISynth | CoolSoft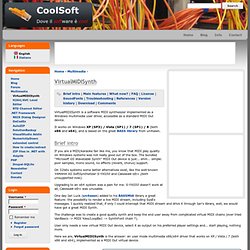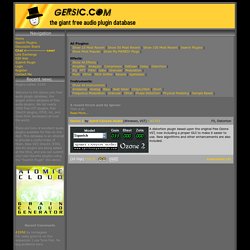 Plugins Listed: 2339
Store
PG Music Inc. - Band-in-a-Box, RealBand, and more
One Man Band - Virtual arranger keyboard and style editor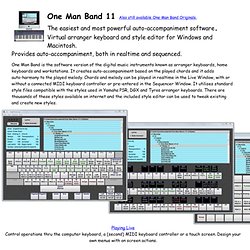 One Man Band 11 Also still available One Man Band Originals.
Home - PLUGIN ALLIANCE - ENGLISH
Sonic Core
What is Catanya? Catanya is an advanced VSTi Pattern Arpeggiator with recordable Midi Output and easy DAW integration containing 1200 built-in ready to use patterns suitable for every musician or producer who likes to spice up his compositions. What is so unique about this new Arpeggiator?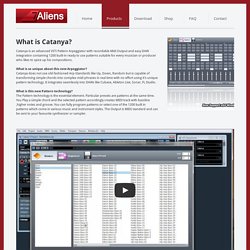 Catanya VST MIDI Arpeggiator
Home | MARVIN PAVILION
about Man in eSAPCE.mov Man in eSPACE.mov soundtrack. Download some .mp3s here.Man in eSPACE.mov presentation.
mast-r.org : links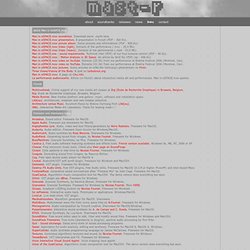 VSTi Synthesizer and Algorithmic musicsytems by H.G. Fortune
Vengeance Sound
Elektrostudio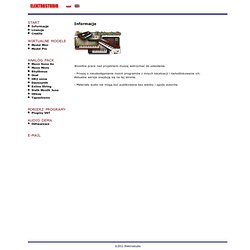 - Model Mini został uaktualniony do wersji 1.04. Zostało naprawione niwelowanie się fal SQUARE oraz opcja Feedback. - Z racji utrudnionego dostępu do internetu mogę czytać i odpowiadać na listy, oraz pracować w sieci, zaledwie raz w tygodniu.
VST Warehouse
Rough Rider is a modern compressor with a bit of "vintage" style bite and a uniquely warm sound.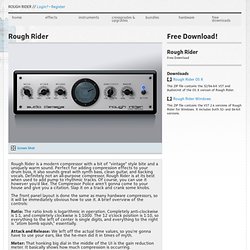 Audio Damage :: Rough Rider
Soundbanks - Xenos Soundworks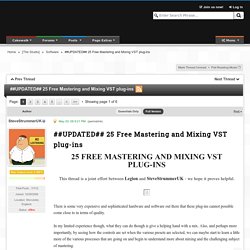 ##UPDATED## 25 Free Mastering and Mixing VST plug-ins
This thread is a joint effort between Legion and SteveStrummerUK - we hope it proves helpful. There is some very expensive and sophisticated hardware and software out there that these plug-ins cannot possible come close to in terms of quality. In my limited experience though, what they can do though is give a helping hand with a mix. Also, and perhaps more importantly, by seeing how the controls are set when the various presets are selected, we can maybe start to learn a little more of the various processes that are going on and begin to understand more about mixing and the challenging subject of mastering. We've attempted to show a preset on each screenshot, and wherever possible, we've snapped the VST in action, so you get to see all the pretty lights! Click on the product name to go direct to the download page.
IK Multimedia - Main
Synapse Orion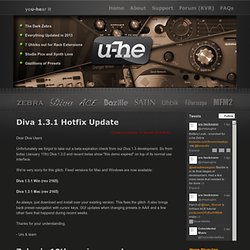 Details Created on Tuesday, 16 July 2013 12:10 In an attempt to lighten the mood of those waiting impatiently for Bazille to finally arrive, we have prepared a collection of frivolously alluring wallpapers - an enticing peek into what the final GUI will look like...
u-he
REAPER | Audio Production Without Limits
Products - Omnisphere - Features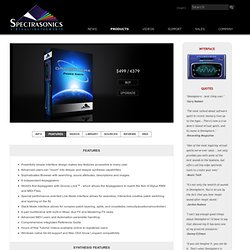 "Omnisphere - best thing ever."
Home | reFX
Rob Papen virtual synthesizers, instruments and effect plug-ins.
Betabugs
Free Plugin List
NITROUS PM+ features two v/a oscillators from Chris Kerry, offering 10 waveforms, phase modulation, per-osc unison and hard sync.
Killerz
Audiomastermind
Plugins Listed: 2339
free audio plugin database