VST's and other software
Analog Warfare | Angular Momentum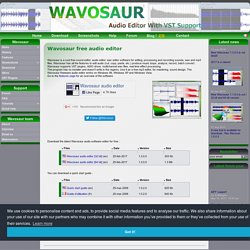 Wavosaur is a cool free sound editor, audio editor, wav editor software for editing, processing and recording sounds, wav and mp3 files. Wavosaur has all the features to edit audio (cut, copy, paste, etc.) produce music loops, analyze, record, batch convert. Wavosaur supports VST plugins, ASIO driver, multichannel wav files, real time effect processing. The program has no installer and doesn't write in the registry.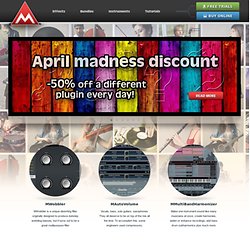 News 20.09.2013 All effects have been updated to 7.13 and MMultiBandComb released7.13 is a compatibility update, which fixes a few problems which were occuring with previous versions. This includes cursor support on Mac OS X, freezing of graphics on some Windows computers etc. It is highly recommended to install this update. Please use the newest installers from our download page. The big brother of MComb, the mighty multi-comb filter MMultiBandComb, has been released.
VirtualMIDISynth is a software MIDI synthesizer implemented as a Windows multimedia user driver, accessible as a standard MIDI Out device. It works on Windows XP (SP3) / Vista (SP1) / 7 (SP1) / 8 (both x86 and x64), and is based on the great BASS library from un4seen. Brief intro If you are a MIDI/karaoke fan like me, you know that MIDI play quality on Windows systems was not really good out of the box. The bundled "Microsoft GS Wavetable Synth" MIDI Out device is just... ehm... simple: poor samples, mono sound, no effects (reverb, chorus) support. On 32bits systems some better alternatives exist, like the well-known YAMAHA XG SoftSynthetizer S-YXG50 and Cakewalk-sfz+ (both unsupported now).
VirtualMIDISynth | CoolSoft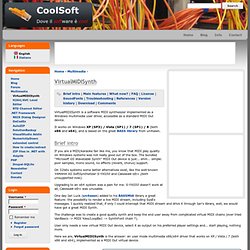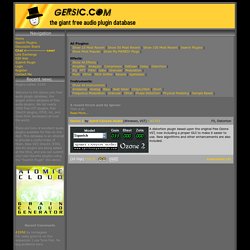 Plugins Listed: 2339 Welcome to the Gersic.com free audio plugin database, the largest online database of free audio plugins. We list nearly 2000 free VST plugins, free DirectX plugins, RTAS, AU, and more from developers all over the world. There are tons of excellent audio plugins available for free on the Web. This database is an attempt to provide a useful index of them.
Store
PG Music Inc. - Band-in-a-Box, RealBand, and more
One Man Band - Virtual arranger keyboard and style editor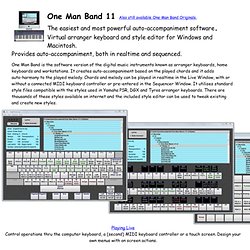 One Man Band 11 Also still available One Man Band Originals. The easiest and most powerful auto-accompaniment software. Virtual arranger keyboard and style editor for Windows and Macintosh. Provides auto-accompaniment, both in realtime and sequenced.
Home - PLUGIN ALLIANCE - ENGLISH
Sonic Core
What is Catanya? Catanya is an advanced VSTi Pattern Arpeggiator with recordable Midi Output and easy DAW integration containing 1200 built-in ready to use patterns suitable for every musician or producer who likes to spice up his compositions. What is so unique about this new Arpeggiator?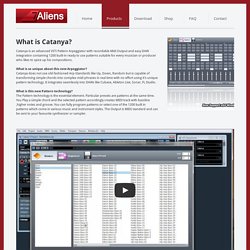 Catanya VST MIDI Arpeggiator
Home | MARVIN PAVILION
about Man in eSAPCE.mov Man in eSPACE.mov soundtrack. Download some .mp3s here.Man in eSPACE.mov presentation.
mast-r.org : links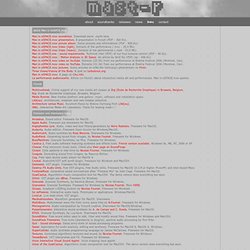 VSTi Synthesizer and Algorithmic musicsytems by H.G. Fortune
Vengeance Sound
Elektrostudio
Electri-Q (posihfopit edition) is based on Electri-Q (which is based on posihfopit). It has the same features as posihfopit, but it inherits the stability of Electri-Q. All newer features of the Electri-Q (linear/maximum phase mode) are missing. Electri-Q - posihfopit edition is a simple, intuitive, but powerful minimum phase EQ, which makes it very easy to adjust the magnitude of any audio material.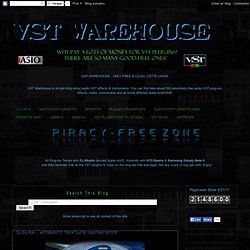 VST Warehouse
Rough Rider is a modern compressor with a bit of "vintage" style bite and a uniquely warm sound. Perfect for adding compression effects to your drum buss, it also sounds great with synth bass, clean guitar, and backing vocals. Definitely not an all-purpose compressor, Rough Rider is at its best when used to add pump to rhythmic tracks. Of course, you can use it however you'd like.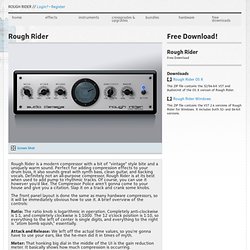 Audio Damage :: Rough Rider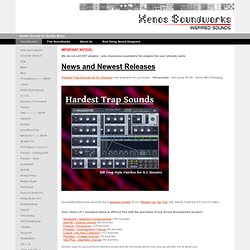 We do not sell VST plugins - only expansion soundsets for plugins the user already owns - and will no longer be offering refunds for misinformed purchases. "70s and 80s Synths' for Massive now available for purchase (Intro price $5.95). Demo MP3 Pending. SoundsAndGear.com recently did a detailed review of our "Straight Up Hip Hop" set, where it earned 4.5 out of 5 stars. Your choice of 1 soundset below is offered free with the purchase of any Xenos Soundworks product: - Vanguard - Quantum Consiousness (140 sounds) - Sylenth - Eclectic Dance (50 sounds) - Firebird - Pyromania (128 sounds) - Predator - Hydrospheric Trance (40 sounds) - Cobalt - Hip Hop Collection (101 sounds) - Predator - Vintage Sounds (32 sounds) - VAZ Plus - Oscillator Orange (50 sounds)
Soundbanks - Xenos Soundworks
##UPDATED## 25 Free Mastering and Mixing VST plug-ins
This thread is a joint effort between Legion and SteveStrummerUK - we hope it proves helpful. There is some very expensive and sophisticated hardware and software out there that these plug-ins cannot possible come close to in terms of quality. In my limited experience though, what they can do though is give a helping hand with a mix. Also, and perhaps more importantly, by seeing how the controls are set when the various presets are selected, we can maybe start to learn a little more of the various processes that are going on and begin to understand more about mixing and the challenging subject of mastering. We've attempted to show a preset on each screenshot, and wherever possible, we've snapped the VST in action, so you get to see all the pretty lights! Click on the product name to go direct to the download page.
IK Multimedia - Main
My Store Account | Product Registration SONAR X3 Producer SONAR X3 Studio SONAR X3 Music Creator 6 Touch Z3TA+ 2 Latest News |
Synapse Orion
Details Created on Sunday, 12 January 2014 00:40 Dear Diva Users
u-he
We've added dozens of small improvements to help speed your REAPER workflow. Take comping is more predictable, with takes remaining aligned by recording pass, even after splitting and deleting errors. Previewing and inserting media is easier, because you can highlight, loop, and insert subsections of media files. Switch between different MIDI clips more easily in the MIDI editor.
REAPER | Audio Production Without Limits
Products - Omnisphere - Features
"Omnisphere - best thing ever."-Gary Numan "The most talked about software synth in recent memory lives up to the hype...There's now a true desert-island virtual synth, and its name is Omnisphere." -Recording Magazine "One of the most inspiring virtual synths we've ever used... not only provides you with some of the best sounds in the business, but offers cutting-edge synthesis tools to create your own."
Rob Papen virtual synthesizers, instruments and effect plug-ins.
Betabugs
Killerz
Audiomastermind
free audio plugin database