Soups
Roasted Cauliflower-Bacon Soup
Happy New Year! You may have seen a few posts in my Facebook and Twitter feeds about the ridiculous, crazy, wild news of a TV show inspired by BrokeAss Gourmet and my adventures in and out of the kitchen. I've had a few requests for an explanation of, um, how the hell that happened, so I thought I'd share one in the same place this whole thing started: my blog. In early 2011, I got an email from an agent at Creative Artists Agency. He loved BrokeAss Gourmet, and wanted to know if I had ever considered doing something with it in the scripted TV realm. Say, a sitcom?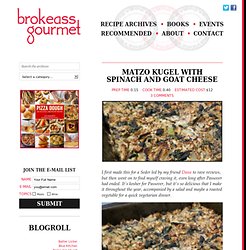 Roasted Asparagus Soup
Just Mushroom Soup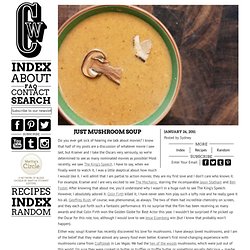 Do you ever get sick of hearing me talk about movies? I know that half of my posts are a discussion of whatever movie I saw last, but Kramer and I take the Oscars very seriously, so we're determined to see as many nominated movies as possible! Most recently, we saw The King's Speech. I have to say, when we finally went to watch it, I was a little skeptical about how much I would like it.
Artichoke and Spinach Soup
Summer Vegetable Soup