Soups
Roasted Cauliflower-Bacon Soup. One of the most gratifying things about being a food blogger is hearing from a reader that my blog helped solve a problem.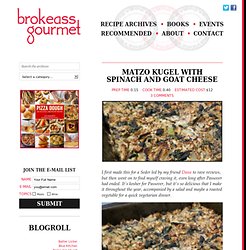 Whether it's that someone needed the perfect dish to bring to a party and found the winning recipe on my site, or a reader who previously felt he or she didn't have the skills or money necessary to cook well at home, and then found recipes on BrokeAss Gourmet to overcome that, I get all warm and fuzzy when I hear I was able to make a difference in someone's culinary life. In that spirit, I'm excited to introduce to you a new feature here on BrokeAss Gourmet: #DearBrokeAss, wherein I attempt to help solve your food and cooking dilemmas. Read on for some of the queries I received this week. Got questions? I want to help you out! Roasted Asparagus Soup. Just Mushroom Soup. Do you ever get sick of hearing me talk about movies?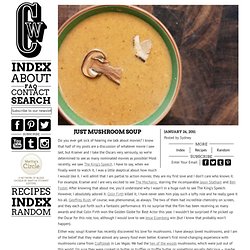 I know that half of my posts are a discussion of whatever movie I saw last, but Kramer and I take the Oscars very seriously, so we're determined to see as many nominated movies as possible! Most recently, we saw The King's Speech. I have to say, when we finally went to watch it, I was a little skeptical about how much I would like it. Artichoke and Spinach Soup. Summer Vegetable Soup.
---