Recommendations
15 Books You Should Have Read in 2010 - Culture. Image by Jane Mount, Courtesy 20x200 Yes, we read Freedom this year and yes, it was good.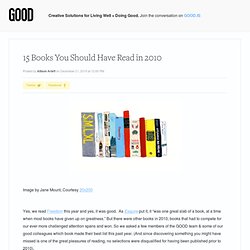 As Esquire put it, it "was one great slab of a book, at a time when most books have given up on greatness." But there were other books in 2010, books that had to compete for our ever more challenged attention spans and won. So we asked a few members of the GOOD team & some of our good colleagues which book made their best list this past year. THE SNARK HANDBOOK | snark handbook, snide book, funny book. Wildly Witty Snark: biting wit, a smart remark or a sly and disparaging comment.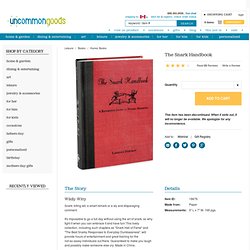 It's impossible to go a full day without using the art of snark, so why fight it when you can embrace it and have fun! This lively collection, including such chapters as "Snark Hall of Fame" and "The Best Snarky Responses to Everyday Dumbassness", will provide hours of entertainment and great training for the not-so-sassy individuals out there. Guaranteed to make you laugh and possibly make someone else cry. Made in China. Best books: lists by Danny Yee. Here are 63 books from the 1366 reviewed that have particularly impressed me, divided into fiction and nonfiction lists.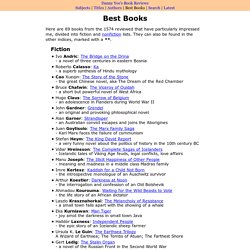 They can also be found in the other indices, marked with a "**". Fiction. Nobel winner slams Bible as 'handbook of bad morals' - Atheist News and Quotes. Dangerouslittlebooks.com.
---