Music blogs
Some of my favourite music blogs, enjoy and add some if you wish Jan 13
Cartilage Consortium
Les héroïnes du mal - Le Chien Another example of mink-lined 7inch: frustrated by the chamber orchestra main theme ? Turn it to get a surprisingly synthetic B-side that will cuddle your ears. From polish director Walerian Borowczyk, these Immoral Women belong to the list of now classic erotic french oddities. A few names from the casting might sound more or less familiar to you: on the woman's side Gaëlle Legrand and Pascale Christophe, on the men's one Jean-Claude "What a flash" Dreyfus or the institutionnal Henri Piegay (a name we met a few days ago here regarding another 7") Real life being sometimes more crazily creative and unexpectable than fiction, you'll find as co-composer the now right-wing deputee, air pilot, photograph and musician Olivier Dassault: a surrealistic profile that makes him the most unexpectable member of a Dassault lineage I will let to your appreciation ...
d e a t h o f t h e l e f t u n f i n i s h e d
Artist: Kammerflimmer Kollektief Album: "Cicadidae"Release Date: April 14, 2003Genre: Abstract, Neo-Classical, Chamber-Music, Post-RockMood: Sophisticated, Autumnal, Fractured, ElegantReminds Of: Jaga Jazzist, Flanger, Triosk, The Cinematic OrchestraWhat People Think: Discogs, AmazonDefinitely Worth Buying: Boomkat, Amazon, CdUniverse Tracklist1. Neumond Inselhin 2. Sie Tranken Regen 3. Über Die Wasserscheide 4.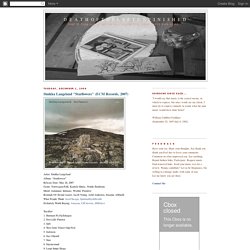 This is What I Call Minimal 80s! Vol. 05
So hello to you all and thanks for your patience. I'm just back from working on the next two Vas Deferens Organization projects in California, which is why there's been a lapse here on Mutant, but new posts should hopefully appear within a week or so now that I can devote myself again to Mutant related activities. Until then and if you're in New York next week, please don't miss the chance to take in VDO collaborator Michael Alan's performance at the Brooklyn's New Museum's Untapped street festival. This takes place in Manhattan on May 4th from noon to 4 PM at Sara D. Roosevelt Park, a bacchanal that'll include music from our collaboration with him.
MUTANT SOUNDS
Tommi Stumpff (born 1 February 1958 in Düsseldorf) is a former German musician. He emerged as one of the notable artists in German EBM (electronic body music) scene during the 1980s.Stumpff spent his childhood with his family in Paris and Brüssel before moving back to his birthplace, Düsseldorf. In the late 1970s he formed his first punk band, Der KFC, being the lead singer.His solo debut album Zu spät Ihr Scheisser was released from Schallmauer-Records of Dusseldorf. Its total sales was disappointing, reached only 3000 units.The following single Contergan Punk was released from another label, Giftplatten, in 1983. It was produced by the legendary sound engineer, Conny Plank.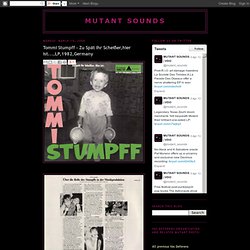 Tommi Stumpff - Zu Spät Ihr Scheißer,hier ist...,LP,1982,Germany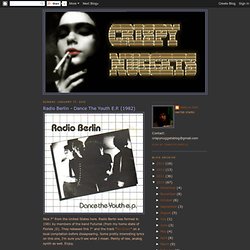 Nice 7" from the United States here. Radio Berlin was formed in 1981 by members of the band Futurisk (from my home state of Florida ;D). They released this 7'' and the track "Go Down" on a local compilation before dissapearing.
Radio Berlin - Dance The Youth E.P. (1982)
Analog CyberPunk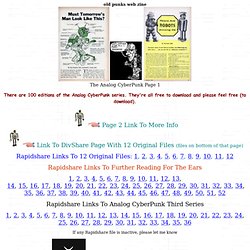 old punks web zine The Analog CyberPunk Page 1 There are 100 editions of the Analog CyberPunk series.
Darksynthesia - obscure sounds
Bastian Void - Ported
Wiel's Time Capsule (in an Electric Storm)
D.A.F. - Live Odissea 2001, Milano, 1981-11-05 A.K.A. Deutsche Amerikanische Freundschaft 01 Sato Sato02 Alle Gegen Alle03 Der Mussolini 04 Verlier Nicht Den Kopf05 Als Wär's Das Letzte Mal 06 Mein Herz Macht Bum 07 Verschwende Deine Jugend08 Ich Und Die Wirklichkeit / Ich Will / Muskel09 Kebabträume10 Knochen Auf Knochen11 Greif Nach Den Sternen 12 Der Mussolini 13 Der Räuber Und Der Prinz14 Sex Unter Wasser15 Verschwende Deine Jugend16 Alles Ist Gut From the notes:Infact the gig has 18 songs. Due to the fact that the band played differentlyrics to a same backing track, this is sometimes difficult to figure out thetitles...
The wake - here comes everybody lp
the postpunk 80s underground Saturday, May 23, 2009 The wake - here comes everybody lp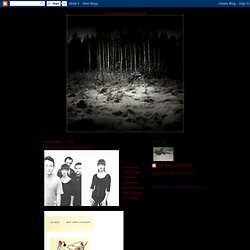 Today is very important for the blog We Love Punk i have thepleasure and honor to post this great and rare compilation for all my friends who visit this blog and follow my posts. Banned was short-lived punk rock band from one town in London, formed in 1977 and stopped with this name at 1978...was one of the one-hit wonders bands with cover of 60's Garage song of Syndicate Of SoundLittle Girl reached high on the charts (#36).. They had one more great cover to 60's Garage song of Paul Revere & The RaidersHim Or Me ...This Cd released by Cherry Records in 2004 with all songs of Banned and 6 tracks by Precious Littlethe first band of Singer/Drummer Paul Sordid ... Also including and 2 tracks by Retros the next title name of Banned...New LinkEnjoy
We Love Punk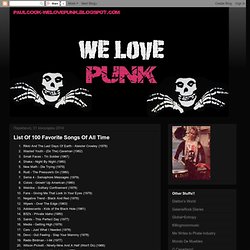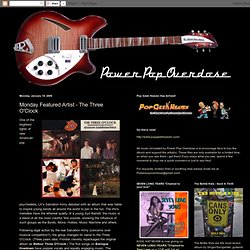 Monday Featured Artist - The Three O'Clock
One of the brightest lights of new American pop psychedelia, LA's Salvation Army debuted with an album that was liable to inspire young bands all around the world to join in the fun. The trio's melodies have the ethereal quality of a young Syd Barrett; the music is a blend of all the most colorful '60s sounds, showing the influence of such groups as the Byrds, Move, Hollies, Music Machine and others. Following legal action by the real Salvation Army (concerns over musical competition?), the group changed its name to the Three O'Clock. (Three years later, Frontier cleverly repackaged the original album as Befour Three O'Clock.) The five songs on Baroque Hoedown have poppier vocals and equally engaging music.
PVAc to 44.1 kHz
The members of Racey came from all around. But when Racey was first formed in 1976 by singer RICHARD GOWER, they began their career by playing in pubs and clubs in the West of England. By the autumn of 1976 they performed their first professional shows and were booked to play a one-month residency at the night club JOMFRUBURET, Copenhagen, Denmark.
[Fallait que ça sorte] Les Pourvoyeurs de Powerpoptimisme #3 | C'est Entendu
Les contours de la scène powerpop aux Etats Unis à la fin des années 70 étaient plutôt bien définis et le mouvement était somme toute organisé, avec des groupes servant de locomotive aux autres. A la même époque, les choses n'étaient pas si simples en Angleterre. En dehors de quelques groupes stylistiquement incontestables (comme les excellents Records) beaucoup de formations avaient alors un son à la lisière de multiples genres musicaux comme la new wave ou le revival mod... Difficile alors de faire le tri et de déterminer avec certitude ce qui est powerpop et ce qui ne l'est pas . Doit-on considérer The Jam, les Buzzcocks, Squeeze, XTC, Elvis Costello ou Joe Jackson comme de la powerpop ? M'est avis que non (*1) mais j'en conviens, c'est une question d'appréciation...
Ozzie Music Man
GAPULEROS BLOG
Well, I figured that since a copy of this 12" recently fetched $910 on eBay, why not share the record so everyone could hear what the hype is all about? Some people are trying to sell bootleg copies of this for hundreds of dollars as well... I have managed to track down two of the original members of the group, including Greg, the songwriter/singer. Here is what he had to say about the group: "We never again pressed anything else under the moniker Short-Wave Mystery but there are more songs that I have on tape, from that era. Most of the tracks on that record were written and recorded by myself when I was attending Santa Barbara City College down in Isla Vista, CA around the 1985-1986 time frame.
The Short Wave Mystery - Pilots 12"
Sexy folies : émission du 28 mai 1986, vidéo Sexy folies : émission du 28 mai 1986, vidéo Divertissement Humour - Archives vidéos Divertissement Humour
1983
The Voyagers - Distant Planet (1984)
music ruined my life
Killed By Death Records | Punk | Hardcore | Powerpop | Mod | This is NOT a record label
power pop criminals
VINYL GOLDMINE - Lost New Wave & Power Pop Gems
Foxhole
the M.A.S.T.E.R. C.O.N.T.R.O.L.
Source
Systems of Romance
MUTANT SOUNDS
FLASH ATHLETIC
Iamnosuperman
NEONBABIES (Inga Humpe)
Awesome Tapes from Africa
brobots! - The Girls - "Jeffrey I Hear You"
FRA LIPPO LIPPI
Requiem pour un twister
The Last Days of Man On Earth | Punk Wave Whatever
Slabs of the Tabernacle
Girls in the Garage - Vol. 1-2-3-4-6-7-8-9-10
Late For The Sky 3
Radio Berlin - Dance The Youth E.P. (1982)
Free Music Archive
ALTERED ZONES
Love Inks : Delicious Scopitone
Analog CyberPunk
A Viable Commercial
no longer forgotten music
HAPPY NEW WAVE
Le Musicassette ›
Fokkawolfe