Interesting
Free Trials - Home
Whether you are a fan of mouseless computing or not, most people reading this blog are .Net developers and that means that a lot of you spend a considerable amount of time in Visual Studio. There are common key-sequences and shortcuts that you can use inside of studio that allow you to keep the context switching from keyboard to mouse at a minimum. I am going to make a note of showing both the accessor sequence and the appropriate shortcut (if it has one). I am a big fan of accessor key traversal for several reasons: your muscle memory will kick in after a handful of times of performing the traversal accessor traversal is something that you can do easily in any windows application (unless it does not provide accessor keys!!)
Useful VS.NET Key Sequences/Shortcuts
Polar Rose | Partners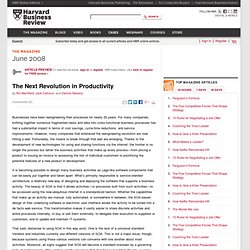 The Next Revolution in Productivity - HBR.org
The Idea in Brief
This is a list of articles about search engines, including web search engines, selection-based search engines, metasearch engines, desktop search tools, and web portals and vertical market websites that have a search facility for online databases. By content/topic General P2P search engines Geographically limited scope Semantic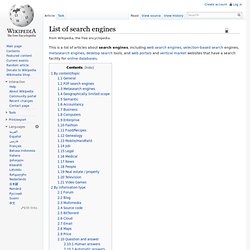 List of search engines
Semaphore - Software development, Offshore software development,
Predicting trends is fraught with difficulty. Throwing caution to the wind, five leaders in software development offered what they expect will be major trends in 2008. Two themes cut across fields.
Software development trends in 2008: Outsourcing, agile developm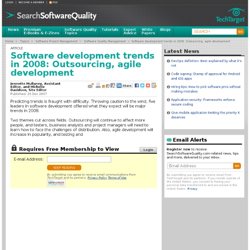 Do Software Development Projects Dispersed Across the Globe Deli
Acronis True Image 2009 Home
The Best Online Backup Services - Reviews by PC Magazine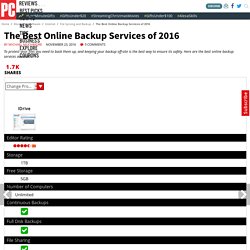 With World Backup Day upon us once more, take some time to consider your data-protection plan. Online backup makes this easy, affordable, and secure. OB Roundup This year's ersatz World Backup Day holiday coincides with a real one, Easter, and, while you could make analogies about resurrecting your data, the holiday the event's organizers want to focus on the one that comes a day later: April Fool's Day: If you're not backed up, there's a chance you could end up looking like a fool.
After an extensive review of online backup services, we have concluded that Mozy Pro is the all-around winner for those serious about online backup protection. Criteria for this evaluation included data transfer speed, software features, service capabilities, etc. While Mozy also offers an unlimited home service plan, we do not suggest it for most due to the capped transfer speed and one problem that was experienced with the home-level service. Intronis eSureIT is the runner-up in our testing. While their software is capable, and the service offers some very interesting features, such as Intelliblox and multiple PC backup support, higher pricing, slower transfer speeds, and the fact that revisions count against the disk space quota cause Mozy Pro to come out on top. We have also reported a few suggestions to Intronis regarding usability enhancements that should be made to the software.
The Best Online Backup Service | Gadget Advisor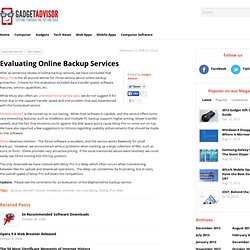 Kids Games on ZuiGames
Remember The Milk - Blog