Gestion TI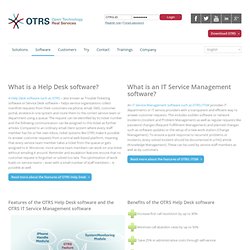 Software - OTRS Help Desk - ITIL V3 compliant OTRS ITSM | OTRS
Benefits of the OTRS Help Desk software Increase first call resolution by up to 30% Minimize call abandon rates by up to 50% Save 25% in administrative costs through self-service Resolve recurring incidents 95% faster
The open source ITIL software listed here are common software used by organizations as key enablers to their ITIL processes. There are five main disciplines within ITIL which has open source ITIL software to support the discipline's processes: photo credit: matt hutchinson Service Delivery Service Support Infrastructure Management Application Management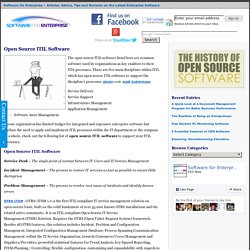 Open Source ITIL Software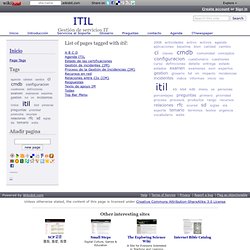 ITIL
Click here to edit contents of this page. Click here to toggle editing of individual sections of the page (if possible). Watch headings for an "edit" link when available. Append content without editing the whole page source. Check out how this page has evolved in the past.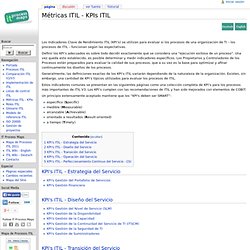 Métricas ITIL - KPIs ITIL - IT Process Wiki
Los Indicadores Clave de Rendimiento ITIL (KPI's) se utilizan para evaluar si los procesos de una organización de TI – los procesos de ITIL – funcionan según las expectativas. Definir los KPI's adecuados es sobre todo decidir exactamente qué se considera una "ejecución exitosa de un proceso". Una vez queda esto establecido, es posible determinar y medir indicadores específicos. Los Propietarios y Controladores de los Procesos están preparados para evaluar la calidad de sus procesos, que a su vez es la base para optimizar y afinar continuamente los diseños de los procesos. Generalmente, las definiciones exactas de los KPI's ITIL variarán dependiendo de la naturaleza de la organización. Existen, sin embargo, una cantidad de KPI's típicos utilizados para evaluar los procesos de ITIL.
Main Page - OneCMDB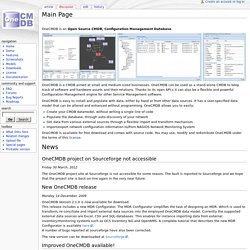 From OneCMDB OneCMDB is an Open Source CMDB, Configuration Management Database. OneCMDB is a CMDB aimed at small and medium sized businesses. OneCMDB can be used as a stand-alone CMDB to keep track of software and hardware assets and their relations. Thanks to its open API:s it can also be a flexible and powerful Configuration Management engine for other Service Management software.
the ultimate team organization software
Home Software distribute under GNU/GPL licence GLPI make life better ! 19 February 2014 GLPI 0.85 Beta-Test
GLPI - Gestionnaire libre de parc informatique