DIY links
Get flash to fully experience Pearltrees
embedded by Embedded Video YouTube Direkt Why build a DIY Segway? The main reason that I wanted to build a DIY Segway was simply because I wanted to see if it was possible.
What is it?
Over the years, segway has been slowly gaining popularity, I've seen them used everywhere around where I live including malls (where security guards use them inside the mall), and even my own apartment complex's security guards, who zoom by my apartment on a daily basis.
I've made a lot of television in the last decade and gotten to work with a lot of fun people. Leo Laporte, Kevin Rose, Roger Chang, Robert Heron, Serafina, Jim, the whole Revision3 crew... the list could go on for a while.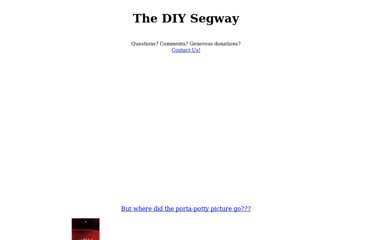 Questions? Comments?