DIY links
Description of DIY Segway. Petter's Robot dreams » DIY Segway. Embedded by Embedded Video YouTube Direkt Why build a DIY Segway?
The main reason that I wanted to build a DIY Segway was simply because I wanted to see if it was possible. Easy build self balancing electric skateboard. What is it?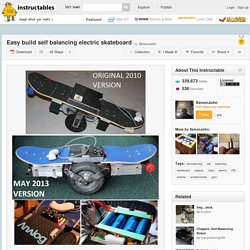 Twin wheeled skateboard that works like a Segway. Electric skateboards exist already with powered rear wheels. Plan here was to build something like a Segway but in the form of a skateboard. It knows which way is "up" via a combination of gyroscope and and accelerometer sensors, using a complementary (not complimentary) filter which reads and combines data from both 100 times per second. Inspired by segway™ - making a self-balancing 2 wheel vehicle. Top 5 DIY Segways and How to Make Segway From Scratch! Over the years, segway has been slowly gaining popularity, I've seen them used everywhere around where I live including malls (where security guards use them inside the mall), and even my own apartment complex's security guards, who zoom by my apartment on a daily basis.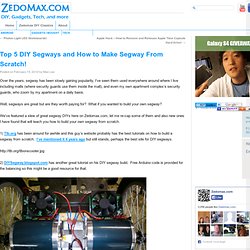 Well, segways are great but are they worth paying for? What if you wanted to build your own segway? We've featured a slew of great segway DIYs here on Zedomax.com, let me re-cap some of them and also new ones I have found that will teach you how to build your own segway from scratch. 1) Tlb.org has been around for awhile and this guy's website probably has the best tutorials on how to build a segway from scratch. Build Yourself A 'Segway' - Systm. The DIY Segway. Questions?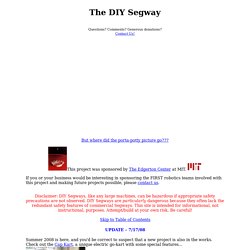 Comments? Generous donations? Contact Us! But where did the porta-potty picture go??? This project was sponsored by The Edgerton Center at MIT.
---