12-15 May
How does it work? - GlobalMay.org
Photos - Google+
ejemplos acciones para el 12M
12mbxl
JsEe7ZwlWH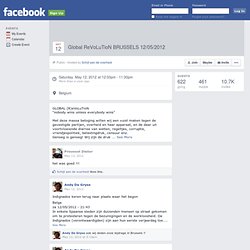 Belga wo 09/05/2012 - 15:35 Volgens Dolor, de vereniging van kleine aandeelhouders, heeft een kwijting voor bestuursleden bij Dexia slechts een beperkte juridische waarde. De echte foute beslissingen dateren van 2006 tot 2008 en die komen nu niet op de agenda van de vergadering van aandeelhouders.... lees ook Dexia verliest 431 miljoen euro in 1e kwartaal Vlaanderen wil uitstel voor kwijting bestuur Dexia Advocaat Geert Lenssens van Dolor merkt op dat zijn organisatie in november een strafklacht heeft ingediend tegen Dexia wegens marktmanipulatie. Die aansprakelijkheid is nu echter niet aan de orde op de aandeelhoudersvergadering die vandaag plaatsvindt. VRT "De kwijting die gegeven wordt, heeft bovendien ook maar betrekking op het boekjaar 2011, en we weten allemaal dat de belangrijke foute beslissingen genomen zijn in de periode 2006-2008, zoals gesteld in het expertenrapport van de parlementaire commissie. Die beslissingen komen vandaag niet ter sprake."
Global ReVoLuTioN BRUSSELS 12/05/2012
DRY – International |  #12m 12 May 2012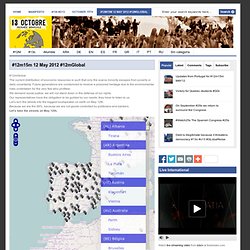 #12mGlobal The current distribution of economic resources is such that only the scarce minority escapes from poverty or daily uncertainty. Future generations are condemned to receive a poisoned heritage due to the environmental risks undertaken for the very few who profiteer. We demand social justice, we will not stand down in the defense of our rights. Our representatives have the obligation to be guided by our needs; they have to listen to us.
Call for #GlobalSpring for #GlobalChange
Agenda of the content meeting for #12M12 and #15M12
Occupy Wall Street Calls for May Day General Strike