12-15 May
How does it work? - GlobalMay.org. Photos. Ejemplos acciones para el 12M. 12mbxl. JsEe7ZwlWH. Global ReVoLuTioN BRUSSELS 12/05/2012. DRY – International |  #12m 12 May 2012. #12mGlobal The current distribution of economic resources is such that only the scarce minority escapes from poverty or daily uncertainty.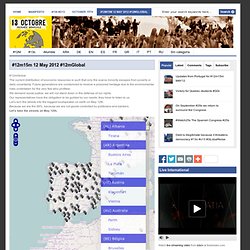 Future generations are condemned to receive a poisoned heritage due to the environmental risks undertaken for the very few who profiteer. We demand social justice, we will not stand down in the defense of our rights. Our representatives have the obligation to be guided by our needs; they have to listen to us. Call for #GlobalSpring for #GlobalChange.
Agenda of the content meeting for #12M12 and #15M12. Occupy Wall Street Calls for May Day General Strike.
---