Nails
Pencil Nail Art
ohmygoshpolish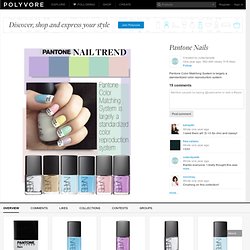 Pantone Nails
Nails dazzle with extreme radiance in a limited-edition, numbered set. Each coffret features two sparkling powders and a special adhesive base coat. The fine powders, in Black and luminous Gold, create a jewel-like manicure. Whether applied to one nail as an accent or as a complete manicure, Dior Sparkling Nail powders create an elegant, brilliant couture finish.
Turqoise Nail Art
Stripey Nail Art
Map Nail Art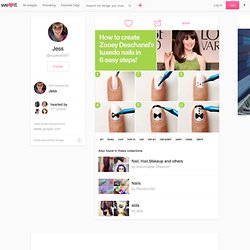 Reporting an entry If this image belongs to you or is your intellectual property, please submit a copyright notification instead of reporting it. We encourage users to report abusive images and help us moderate the content on We Heart It.
Tuxedo Nails
Water Spotted Nails
SPLATTERED NAIL EFFECT! (using a straw!)
Animated Cartoon Nails?!
vanessa_carinaa 25 months ago Tutorial - how to create colorful thin stripes! *this is just the easiest way for me to create stripes which look very thin and even, without having to cut scotch tape. I hope the tutorial helps you.*. 1-get yourself some striping tape. eBay sells rolls of 10 for about $3. 2-paint whichever colors you want to show through the stripes, it can be one color or various.
Rasta Nails
DIY: How to make Glow in the Dark Nail Polish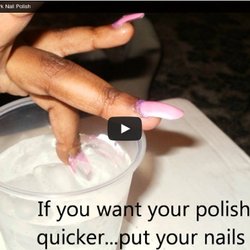 This video is currently unavailable. Sorry, this video is not available on this device. by $author Share this playlist Cancel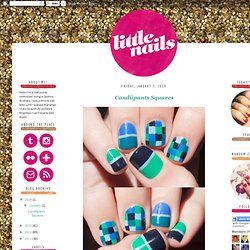 Little Nails
Kester Black's Spring/Summer collection Tropicana is a bright, lively bundle of colour. Anna, the brains behind Kester Black, has such a knack for creating beautiful, cohesive collections. All five colours are fantastically bright and summery and match each other perfectly. All apart from Laugua are practically neon and don't require a white base coat to get that intense neon colour.
Monarch Butterfly Nail Art Design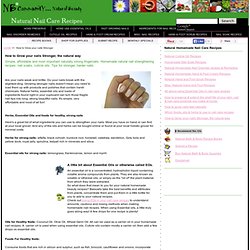 Strengthen Weak Nails
An essential oil is a concentrated, hydrophobic liquid containing volatile aroma compounds from plants. They are also known as volatile or ethereal oils, or simply as the "oil of" the plant material from which they were extracted. So what does that mean to you for your natural homemade beauty recipes? Basically take the best benefits and attributes from plants, concentrate them and put them in a little bottle for you to add to your natural recipes. Check out Using EOs in your nail care recipes to understand amounts, cautions and mixing methods when making homemade nail recipes. When using Essential oils, a little truly goes along way!
How to Paint Nails Like A Pro
Hi, Today I'll show you a very useful tutorial for those really annoying situations when you have ten beautiful long nails and one of them breaks.
Konad Addict: How to fix a broken nail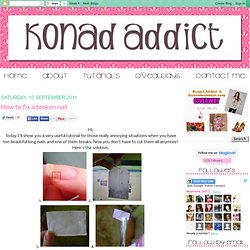 I got a note last week after posting the Bettle Burnout Nails asking what I meant by corpse nails. Since I woke up a little early today (and was confident my doctor's office staff had a good sense of humor) I decided to do a quick tutorial on how to sponge in this zombie-like manicure. Same deal with the beetle nails, this is all about the light sponging and layering. I started with a base of Essie Great Expectations in 3 coats (for a color like this, I don't mind the extra work, and because it's on the sheer side it's a good match for this design) then used ZOYA Charity to sponge around the tips. Couple of things to note here: first, you see those spots near the tip where there's basically no Charity? That's because I had too much polish on my sponge and was picking up polish that I'd already put down.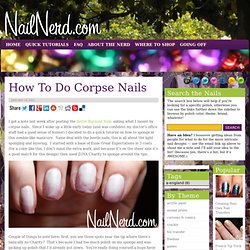 Corpse Nails
Quilted Nails
We were immediately inspired the moment we saw bare nails with blood-like, drippy polish accompany Prabal Gurung's spring collection at New York Fashion Week. Halloween is one of our favorite holidays and thus, the timing couldn't have been better to recreate this deliciously daring DIY for our phalanges. Though a more vampy, burgundy color went down the runway, I went for more vibrant red . . . but the best part about this tutorial is that you can make it your own with just about any color, for any season! You'll need: Dip the toothpick into the nail polish bottle so that the tip collects a round bead of polish.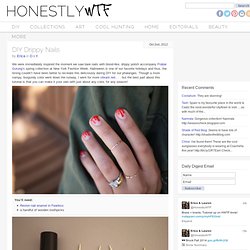 Saran Wrap Nails by The Crafty Ninja
As a child (and, I'll admit it, full grown adult), my favourite princess was Ariel from The Little Mermaid. I love the idea of a beautiful sea siren with her flowing locks and beautiful jewel tone fish scales. Now that it's summer and I'm all about hitting the beach, I've been inspired by my favourite princess to bring you a mani fit for a mermaid! We first came across the fish scale technique on this blog and we loved the idea of easily creating it by just using your handy dandy dotting tool. It's definitely a good idea to play around with the colours on this mani too. We thought it was only appropriate to use aquas, teals and blues for an underwater theme.
Mermaid Nails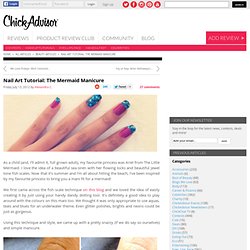 Scales Manicure
This video is currently unavailable. Sorry, this video is not available on this device. by $author Share this playlist Cancel
Anchor Nail Design
Cute Tulip Nails
Nail Taping Tips & Tricks
I've been wanting to try out paint splattered nails for ages now, however it seems like alot of hard work and also kind of messy! So me being supposedly 'savvy' and all I came up with a probably just as messy idea...but slightly more fun and prettier. Also it looks alot more delicate than having a paint splattered effect and alot less nail arty and more wearable. Now like I say... it is kind of messy so you will need at least one face wipe/baby wipe and something to do it on like the back of a magazine.
CLOUD Nail Art
Half Moon Manicure
Emma Watson Elle UK Nail Design
Water Marble Nail Art
Watercolor Nails Tutorial - Nail Art 101
This watercolor nails technique is really cool, but it takes a bit of practice. It creates a really soft look, kind of the opposite of water marbling! This was my first try and it was a bit of a mess, I'm going to try it again, for sure! In this tutorial I used Beauty UK in White, O.P.I in La Paz-itively Hot, NYC in Spring Street, Barry M in Spring Green, Nina Ultra Pro in Blue Blaze, and Seche Vite top coat. If you're here from Stumbleupon...welcome!
Newspaper Nail Art
Comic Strip Nail Art
Easy Galaxy Nail Art
Eyeshadow Matte Nail Polish
Steam Punk Nail Tutorial
Cute ICE CREAM Nail Art
Nail Tutorial: Cute Cupcakes