Knitting
Kitchener Stitch Tutorial - Kitchener Stitch - Knitting Crochet Sewing Embroidery Crafts Patterns and Ideas!
Kitchner stitch is a technique for invisibly weaving together live stitches. The photo above shows Kitchner stitch worked in contrasting yarn so that you can see what it does. Knitters tend to shy away from learning this stitch because it seems complicated when all written out, but it's actually very simple to do; the only real challenge is keeping track of where you are in the steps.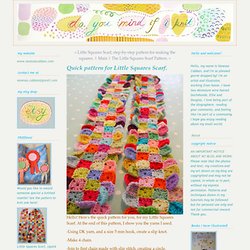 Hello!
do you mind if i knit: Quick pattern for Little Squares Scarf.
 The Knit Witch -  A site for the knitting and crochet enthusiast
Hello Yarn Knitting Patterns
Wool Works: the online knitting compendium