Knitting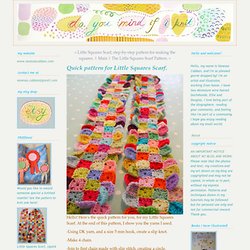 Hello! Here's the quick pattern for you, for my Little Squares Scarf. At the end of this pattern, I show you the yarns I used. -Using DK yarn, and a size 5 mm hook, create a slip knot. -Make 4 chain.
do you mind if i knit: Quick pattern for Little Squares Scarf.
Loading... Please wait... resources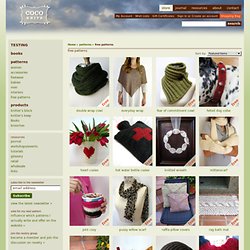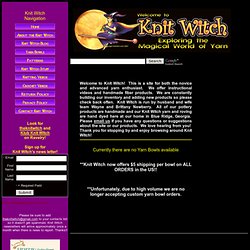 The Knit Witch -  A site for the knitting and crochet enthusiast
Knit Witch Navigation Look for theknitwitch and
Wool Works: the online knitting compendium
Welcome to Knitting Pattern Central--an often updated online directory featuring precisely 15,743 links to free knitting patterns & tutorials. Choose from 50+ categories, including clothing, hats, afghans, stuffed animals, toys, dishcloths, and much more. Begin browsing by category at the Free Knitting Pattern Directory or by keyword using KPC's site search feature: If you are a beginner at knitting, take a look at both the growing Tutorial Directory (links to video or photo tutorials) and the unique Knitting Stitches selection. Get motivated by browsing some Encouragement and Testimonials and Tips 'n Tricks submitted by other knitters.