Implicit
Andrew Park, our founder and Director is an artist, illustrator and Scribe and has been working with large corporations at high profile conferences and events, helping to transform information into pictures for over 15 years. He says, 'I have always drawn. It is a very elemental thing to me.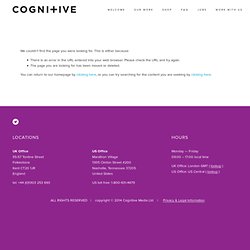 Cognitive Media | History | Supercharge yourself. Think, talk and work more creatively.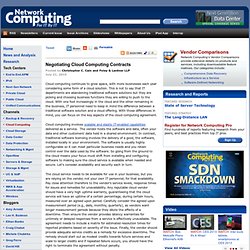 Posted by Christopher C. Cain, Foley & Lardner LLP July 21, 2010 Cloud computing continues to grow apace, with more businesses each year considering some form of a cloud solution. This is not to say that IT departments are abandoning traditional software solutions but they are picking and choosing business functions they are willing to push to the cloud. With one foot increasingly in the cloud and the other remaining in the business, IT personnel need to keep in mind the difference between a traditional software solution and a cloud offering.
Negotiating Cloud Computing Contracts
Virtual Friends vs. Physical Friends
Marketing plan
A marketing plan may be part of an overall business plan.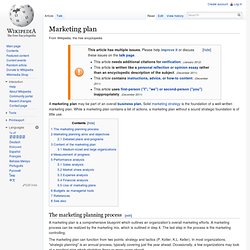 5 Lessons We've Learned Using AWS
In my last post I talked about some of the reasons we chose AWS as our computing platform.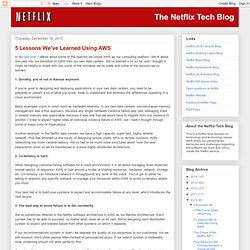 Webmail :: Sent
IT researcher IDC reported May 10 that the combination of an aging server installed base, IT managers' increasing need to rein in virtual machines, and a general upturn in the buying environment is boosting sales of commodity-type servers used in public and private cloud-computing systems. Based on its first cloud computing survey focused exclusively on servers, IDC predicted that server revenue in the public cloud category will grow from $582 million in 2009 to $718 million in 2014. Server revenue for the much larger private cloud market will grow from $7.3 billion to $11.8 billion [about 62 percent] in the same time period, IDC said. Cloud, or utility, computing serves up computing power, data storage or applications from one data center location over a grid to thousands or millions of users on a subscription basis.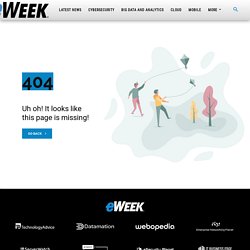 IDC Predicts Steady Growth in Cloud Server Market Through 2014 - Data Storage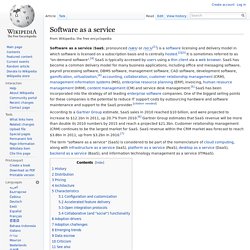 Software as a service (SaaS; pronounced /sæs/ or /sɑːs/[1]), sometimes referred to as "on-demand software" supplied by ISVs or "Application-Service-Providers" (ASPs),[2] is a software delivery model[3] in which software and associated data are centrally hosted on the cloud. SaaS is typically accessed by users using a thin client via a web browser.
Cloud computing is all the rage.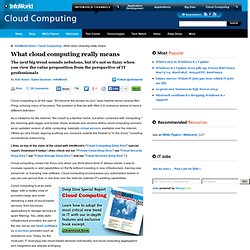 powered by Web Image Sort by: Relevance Date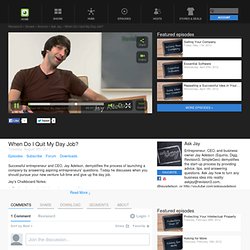 When Do I Quit My Day Job? - Ask Jay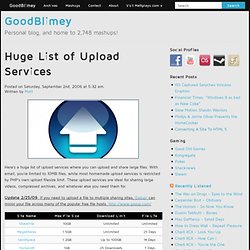 Here's a huge list of upload services where you can upload and share large files. With email, you're limited to 10MB files, while most homemade upload services is restricted by PHP's own upload filesize limit. These upload services are ideal for sharing large videos, compressed archives, and whatever else you need them for. : If you need to upload a file to multiple sharing sites, Gazup! can mirror your file across many of the popular free file hosts. http://www.gazup.com/ This list was originally posted by Phil over at Shacknews .
Huge List of Upload Services at GoodBlimey – Home to 2,748 mashups!
Get 50GB Free Storage for iOS
iCloud Is a Bigger Deal Than You Think: It's the Future of Computing
Looking for software that's available now that's similar to online service Dropbox (http://getdropbox.com/), but not necessarily online. I've been looking for software that's kind of like what Dropbox demonstrates in the video on its homepage, in that: - it synchronises files across multiple machines, - it does so instantaneously (and with delta compression), and - it is cross platform.
Alternatives to Dropbox? - dropbox sync synchronisation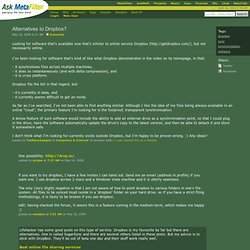 The Best Way to Store Stuff in the Cloud
Ten Reasons Why Tonido is better than Dropbox | CodeLathe Blog
Everybody's darling DropBox is an awesome service that allows you to synchronize files among different computers. But the caveat is that the free account provides measly 2 GB storage. If you are looking for a free value alternative that provides both full access to all your files as well as sync you might want to check out Tonido .