BOOKS
Retro Fonts: Amazon.co.uk: Gregor Stawinski: 9781856696814. Retro Fonts is a fantastic compilation of over 400 of the best retro fonts from 1830 to the end of the 20th century.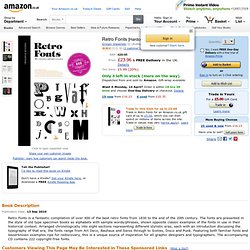 The fonts are presented in the style of old type specimen books as alphabets with sample words/phrases, shown opposite classic examples of the fonts in use in their historical context. Arranged chronologically into eight sections representing different stylistic eras, each with an introduction discussing the typography of that era, the fonts range from Art Deco, Bauhaus and Swiss through to Sixties, Disco and Punk. Featuring both familiar fonts and lesserknown examples ripe for rediscovery, this is a unique source of inspiration for all graphic designers and typographers. The accompanying CD contains 222 copyright-free fonts. Retro Fonts (9781856696814): Gregor Stawinski. The Great American Antique Toy Bazaar 1879-1945: 5,000 Old Engravings from Original Trade Catalogs (Dover Pictorial Archives) (9780486411897): Ronald S. Barlow.
Bizarre & Ornamental Alphabets. Welcome to Dover Publications! Since 1941, we've offered great books at amazing prices, including over 600 titles that sell for less than $2.00! With over 9,000 value-priced titles we have books for almost every interest. Dover collections include fun, ed. Meet Mr.Product. From the expansive Jolly Green Giant to the neat Tidy Bowl Man, from the natty Mr.
Peanut to the cute little Morton Salt Girl, ad characters are as familiar to us as family members. In Meet Mr. Product you'll find a vibrantly colourful tribute to these pop-culture icons. This chunky compendium is filled with hundreds of famous and recently unearthed "spokes-characters," grouped according to ad genre (Meet Ms. Fluffy Rice, Meet Mr. 9780811835893 - Iberlibro. Log in.
---